Round 1: Fireworks Kick Off Candidates Chess Tournament in Berlin
The 2018 Candidates tournament in Berlin got off to a flying start as three of the four games ended decisively. Fabiano Caruana, who narrowly missed out on winning the 2016 Candidates tournament in Moscow, got off to a perfect start by defeating his American compatriot, Wesley So. Sergey Karjakin of Russia, who won the 2016 Candidates, lost the longest game of the day to Shakhriyar Mamedyarov of Azerbaijan after he blundered in a difficult endgame. And Vladimir Kramnik of Russia outmaneuvered another Russian, Alexander Grischuk, to win their first-round encounter.

The tournament, which is being organized by Agon, the commercial partner of the World Chess Federation, the game's governing body, has a prize fund of 420,000 euros. The winner will receive 95,000 euros, but, more importantly, he will earn the right to play Magnus Carlsen, the world champion, for the title in a match in London this November.

There are eight players in the competition: Caruana and So, who qualified based on their average rating in 2017; Levon Aronian of Armenia and Ding Liren of China, who were the winner and runner-up, respectively, of last year's World Cup tournament; Mamedyarov and Grischuk, who were the winner and runner-up in last year's Grand Prix (a series of four elite tournaments, that was also organized by Agon); Karjakin; and Kramnik, an ex-world champion, who was given a wild-card entry by Agon.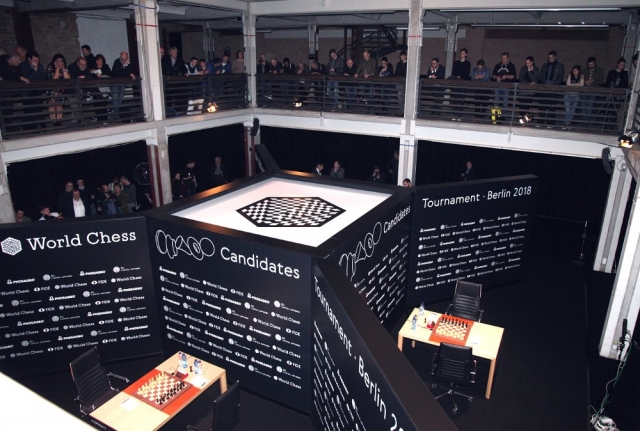 The venue for the tournament is Kuehlhaus (or "cool house" in English), an industrial building in central Berlin that was built in the early 20th century as a cold-storage facility for fresh produce. Among the principal sponsors of the tournament are PhosAgro, a giant Russian fertilizer company; Kaspersky Lab, a global cybersecurity firm; E.G. Capital Advisors, an investment management company; S.T. Dupont, a global luxury goods maker; and Isklar, a Norwegian mineral water company.

With so much at stake, the early rounds of the Candidates can be dull as the players are often cautious and afraid to take chances. But Round 1 was full of surprises as the players were aggressive, even resorting to openings that are little used and thought to be somewhat inferior.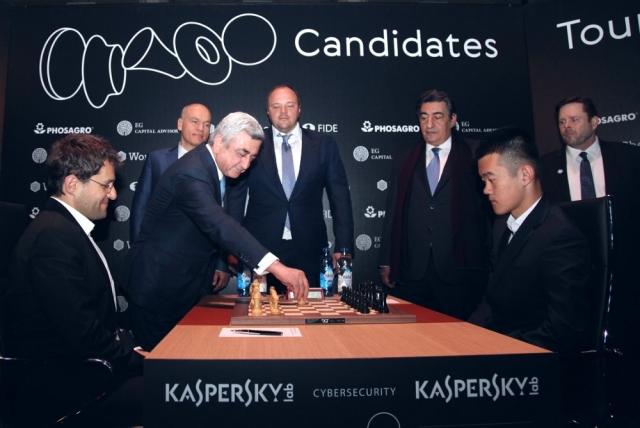 The President of Armenia Serzh Sargisyan at the presence of FIDE Deputy President Georgios Makropoulos, President of RCF Andrei Filatov and Russian Chess Federation Vice President, CEO PJSC PhosAgro Andrey Guryev and the Deputy Chief Arbiter Hal Bond, made a first symbolic move in the game between Levon Aronian and Ding Liren

Caruana beat So as he spun a mating net around So's king. The opening was a well-known line of the Catalan and So, who had Black, had a good position out of the opening. But he began to go awry on Move 15 as he opened the center by playing e5. He miscalculated the danger resulting the forced sequence of moves that followed. Caruana was able to force strategic weaknesses in the So's defensive position. When So made some inaccurate moves, Caruana crashed through and So resigned after 33 moves.

Against Karjakin, Mamedyarov, who has soared to a career-high ranking of No. 2 in the world, employed a rare sideline in the Ruy Lopez. Karjakin, who was White, did not respond well and Mamedyarov seized the initiative out of the opening. Karjakin, who is noted for his defensive prowess, fought back, but he was never able to equalize. After a long struggle, he finally cracked, blundering a pawn with 58 Kg3. Mamedyarov finished him soon after.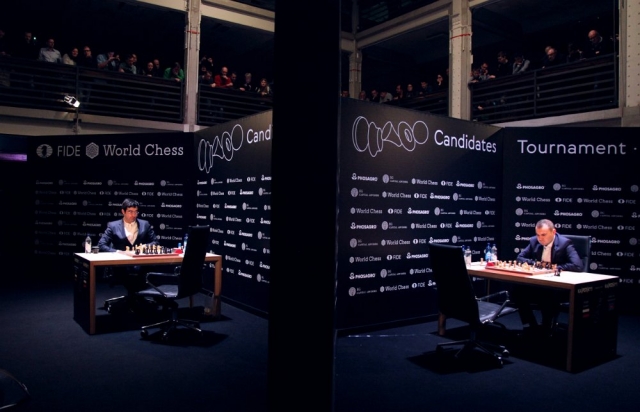 Kramnik, who is noted for his opening preparation, also surprised his opponent early. For years, Kramnik hued closely to classical openings strategies, but lately, he has begun to experiment. Against Grischuk, Kramnik played 3 b3. While not a bad move, it should not lead to any opening advantage. Indeed it did not. But once he got an equal position, Grischuk, who likes to play actively, began to make some small mistakes as he probed for an advantage. As so often happens, his aggression backfired and he would up in a slightly worse endgame. Against Kramnik, that is usually a lethal situation. Kramnik employed immaculate technique to secure victory.

The game between Aronian and Ding ended in a three-fold repetition of the position, an automatic draw, but it was a sharp battle that could have gone in either player's favor. Ding said that he was surprised by Aronian's eighth move (8 h4), after which he was no longer in his pre-game preparation. According to a computer evaluation, Aronian could have played 19 Rb2, winning material, but Aronian said afterward that he distrusted the resulting position because of the awkward placement of his pieces and his exposed king.

Game 2 is Sunday at 3 PM, local Berlin time. It can be watched live at Worldchess.com, the official site of the World Championship.

Round 1 Photo Gallery