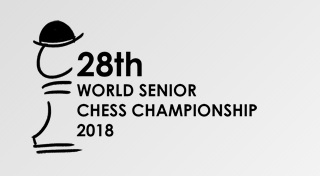 The World Senior Championships in the age categories "50+" and "65+" have finished in Bled, Slovenia.
Karen Movsziszian from Armenia won the "50+" World Senior Championship with 8.5/11. Georgian GMs Giorgi Bagaturov and Zurab Sturua took the silver and bronze medals with 8/11.


Vlastimil Jansa from Czech Republic and Yuri Balashov from Russia shared the 1st place in the "65+" championship with 9.5/11. Vlastimil Jansa took the gold thanks to his superior tie-break. Nukhim Rashkovsky from Russia won the bronze medal with 8.5 points.

Elvira Berend from Luxembourg won the "50+" Women's World Senior Championship with 8.5/11. Russian players Tatiana Grabuzova and Galina Strutinskaia finished on the second and the third places with 8/11.


Former Women's World Champion Nona Gaprindashvili from Georgia became the winner of the "65+ World Senior Championship among women with 8.5/11. Valentina Kozlovskaya from Russia finished half a point behind. Ludmila Tsifanskaya from Israel was third with 7, 5/11.


Ofstad Per from Norway has got the annual award from the Belarus Chess Federation "Kupreichik Cup" for the most beautiful game at the World Senior Championship in fearless style of Viktor Kupreichik.


The Commission, who decided on the award-winner, consisted of GM Adrian Mikhalchishin, GM Yuri Balashov, IM Evgeny Mochalov and Honorary FIDE member Boris Kutin.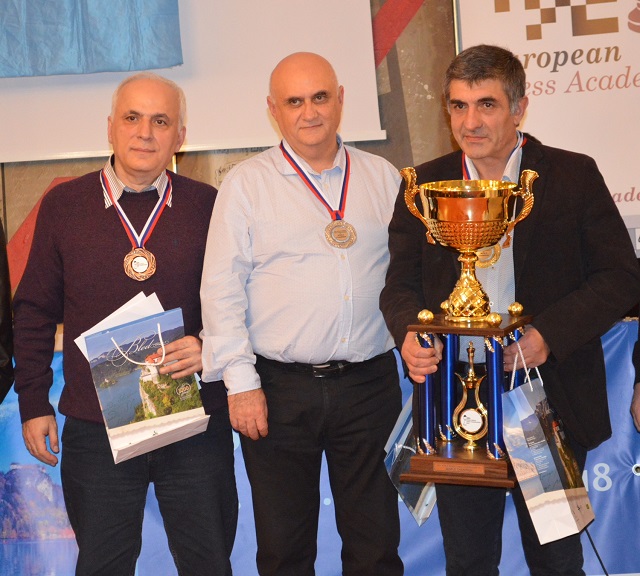 Open 50+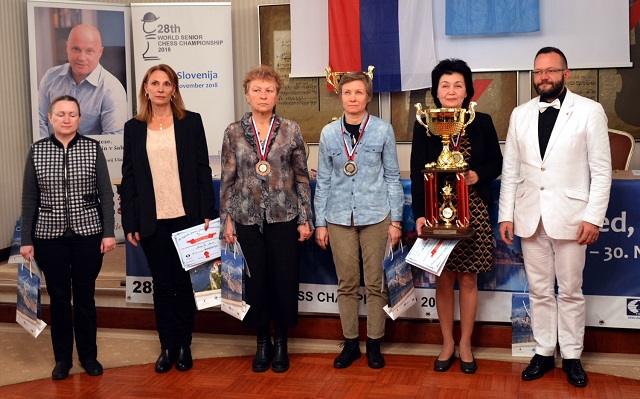 Women 50+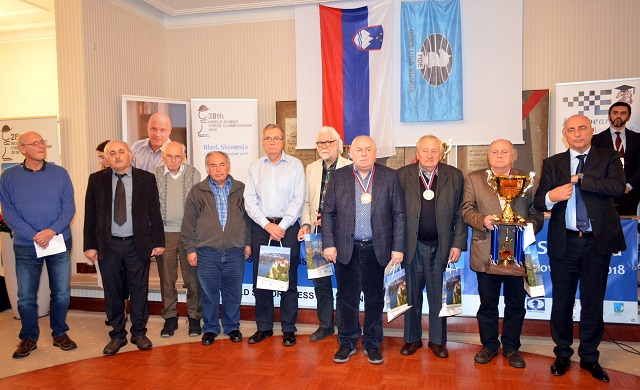 Open 65+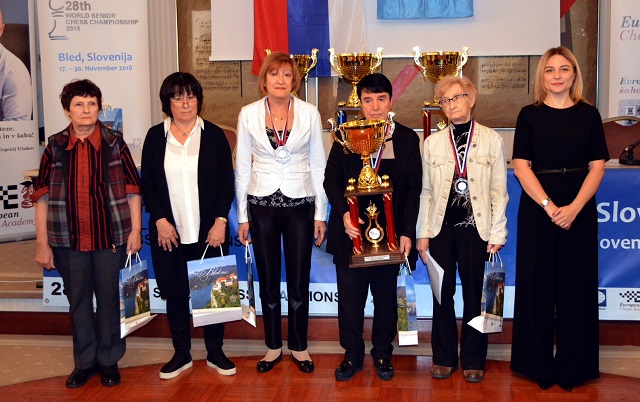 Women 65+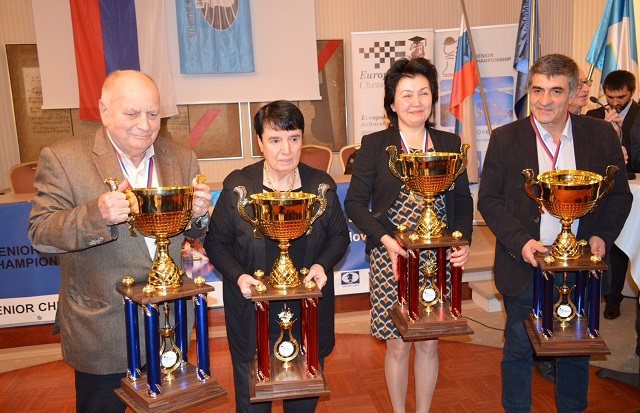 Open and Women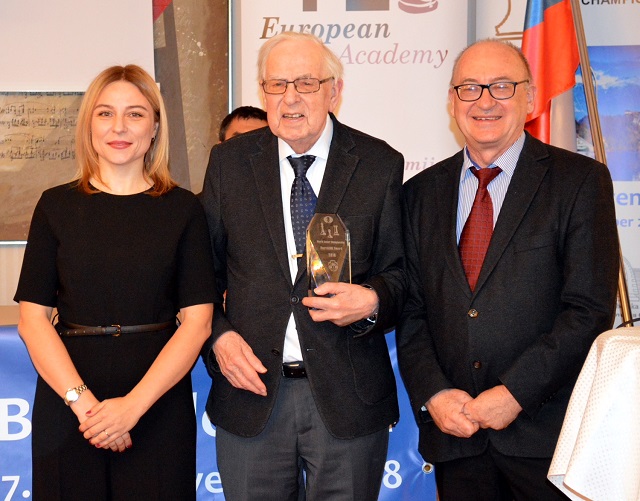 FIDE Vice-President Anastasia Sorokina, the winner of "Kupreichik Cup" Ofstad Per and GM Adrian Mikhalchishin
---
WSCC2018 - Report after Round 9


The 28th World Senior Chess Championship, which is being held from November 17th until November 29th2018, is currently in full swing. The championship is divided into 4 categories: Open 50+, Open 65+, Women 50+ and Women 65+. 330 participants come from 57 different countries and all continents. Among these players are 20 Grandmasters and 10 women Grandmasters.
The tournament in category Open 50+ is extremely tied. After 9 rounds GM Karen Movsziszian from Armenia and GM Bagaturov Giorgi from Georgia are in the lead. Both of them managed to score 7 and half points. 3rd place is currently being claimed by Russian IM Kalegin Evgenij with 7 points. If there will be no big surprises, someone among those three players will become the winner.
We have a very similar situation in the category Open 65+. We have two leaders: GM Jansa Vlastimilfrom Czech Republic and GM Baslashov Yuri from Russia. Both of them scored amazing 8 points. With 7 points another Russian GM Rashkovski is following them.
Among Women things are not that complicated. In category Women 50+ WGM Elvira Berend is in the clear lead with 7 and half points. She scored 1 point more than the second and third positioned players WGM Gabuzova Tatiana and WGM Stutinskaia Gallina - both from Russia.
In the oldest category among women – Women 65+ we have a new leader. The legendary Nona Gaprindashvili from Georgia finally took over the lead from now second WGM Kozlovskaya Valentina from Russia. 3rd is WIM Tsifanskaya Ludmila from Israel.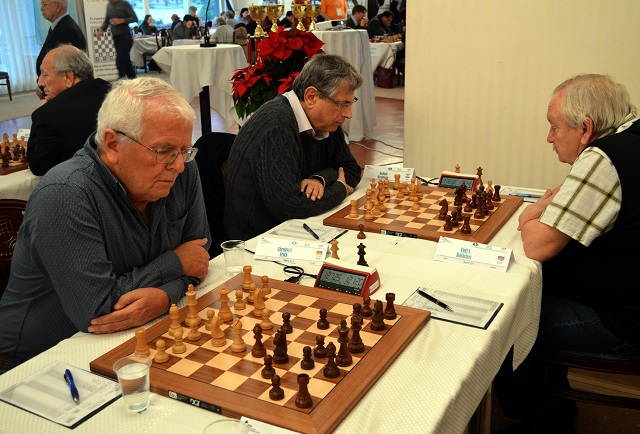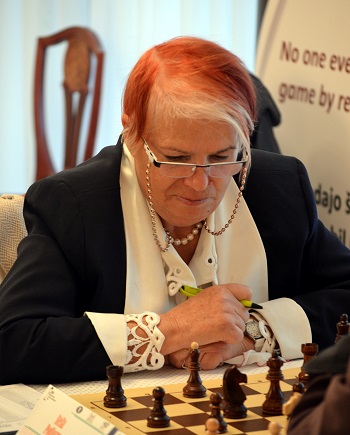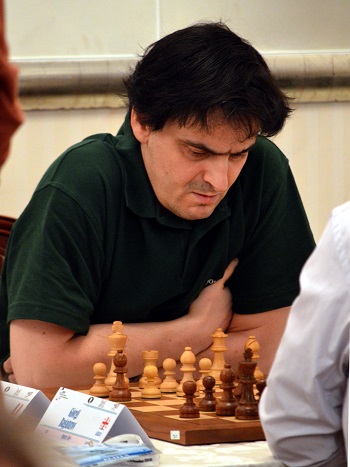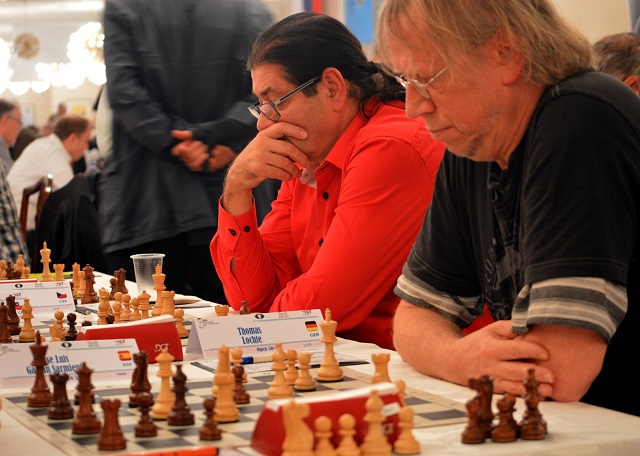 ---
WSCC2018 - Report after Round 8
Open 50+

 
 
 
 
 
 
 

1

2

GM

Movsziszian Karen
ARM

2513

7

0

39

42,5

2

9

GM

Bagaturov Giorgi
GEO

2417

6,5

0

38

41,5

3

10

IM

Kalegin Evgenij
RUS

2413

6

0

36,5

40

Open 65+

 
 
 
 
 
 
 

1

4

GM

Balashov Yuri S
RUS

2445

7

0,5

39,5

43,5

2

5

GM

Jansa Vlastimil
CZE

2437

7

0,5

39

43

3

3

GM

Rashkovsky Nukhim N
RUS

2482

6,5

0

40

43,5

Women 50+

 
 
 
 
 
 
 

1

3

WGM

Strutinskaia Galina
RUS

2201

6,5

0,5

34,5

38

2

1

WGM

Berend Elvira
LUX

2332

6,5

0,5

34

37,5

3

2

WGM

Grabuzova Tatiana
RUS

2326

5,5

0

35,5

39

Women 65+

 
 
 
 
 
 
 

1

4

WGM

Kozlovskaya Valentina
RUS

2154

6

0

34,5

38,5

2

1

GM

Gaprindashvili Nona
GEO

2301

5,5

0

34

37

3

9

 
Serjmyadag Damdin
MGL

1864

5,5

0

32,5

36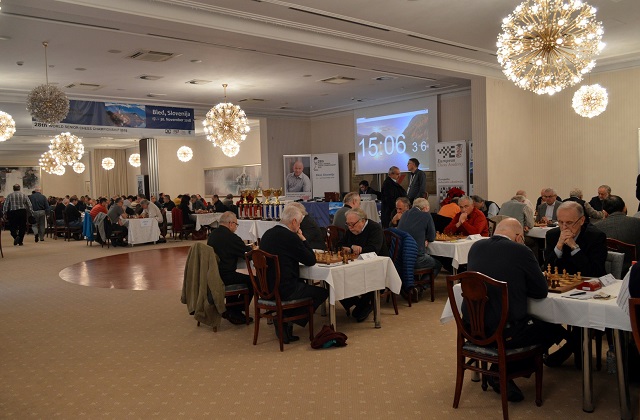 Official Website
Link results
Photo Gallery
---
WSCC2018 - Report after Round 6

In meantime 6 rounds have been played in Senior World Chess Championship in Bled (Slovenia).

Open +50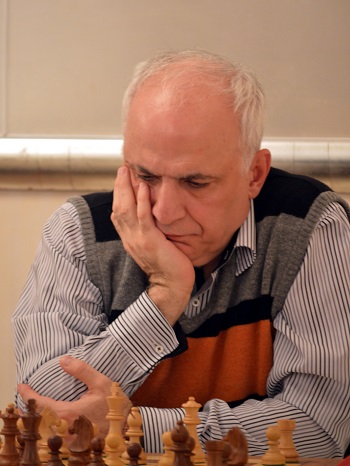 Number one seeded GM Zurab Sturua (GEO) shared the point in round 6 after a big fight against GM Karen Movsziszian (ARM). With this the leading group consists in five players, all with 5 points.

Top standing after round 6 Open +50:
1. GM Karen Movsziszian (ARM)
2. GM Giorgi Bagaturov (GEO)
3. GM Henrik Danielsen (ISL)
4. GM Zurab Sturua (GEO)
5. GM Ketevan Arakhamia-Grant (SCO)
(all with 5 points)

Open +65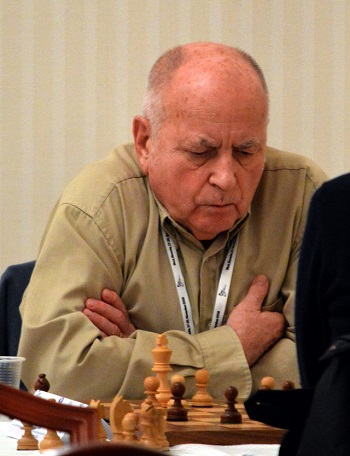 In fifth round the two top seeded players GM Anatoli Vaisser (FRA) and GM Evgeny Sveshnikov (RUS) didn't had a positive day: both lost - to IM Nathan Birnboim (ISR) and GM Vlastimil Jansa (CZE). Jansa in round 6 won also the game on board 1 against IM Nils-Gustaf Renman (SWE) and is now the only leader.


Top standing after round 6 Open +65:
1. GM Vlastimil Jansa (CZE) 6
2. GM Yuri S. Balashov (RUS) 5,5
3. GM Nukhim N. Rashkovsky (RUS) 5
4. IM Nils-Gustaf Renman (SWE) 5

Women +50

WGM Galina Strutinskaia (RUS) is the only leader with 5 points. She already played against the two top seeded players WGM Elvira Berend (LUX) and WGM Tatiana Grabuzova (RUS).

Top standing after round 6 Women +50:

1. WGM Galina Strutinskaia (RUS) 5
2. WGM Elvira Berend (LUX) 4,5
3. WIM Ilena Krasenkova (RUS) 4,5
4. WIM Ingrid Lauterbach (ENG) 4,5

Women +65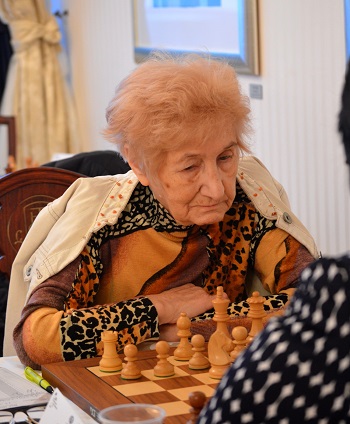 In this section there is a clear leader: WGM Valentina Kozlovskaya (RUS) scored 5,5 points out of 6. The rest of the field has 4 points or less. Can someone stop the leader?


Top standing after round 6 Women +65:

1. WGM Valentina Kozlovskaya (RUS) 5,5
2. WIM Tamara Sorokina (RUS) 4
3. GM Nona Gaprindashvili (GEO) 4
4. WIM Ludmila A. Tsifanskaya (ISR) 4
5. WFM Valeria Dotan (ISR) 4

After the sixth round there was a free day.

This rest day was used to organize a rapid tournament in memorial to the great Slovenian GM Albin Planinc. 155 players out of 32 nations, 12 GM, 19 IM, 2 WGM, 3 WIM, 15 FM, 6 WFM are the impressive numbers of this tournament.

The tournament was won by GM Mladen Palac (CRO) with 7,5 points. Other 3 players scored the same points, but had a lower tie-break.

Final result rapid tournament "1st Albin Planinc Memorial":

1. GM Mladen Palac (CRO) 7,5
2. GM Nukhim N. Rashkovsky (RUS) 7,5
3. GM Marko Tratar (SLO) 7,5
4. GM Maxime Lagarde (FRA) 7,5
5. GM Ognjen Cvitan (CRO) 7
6. IM Branko Rogulj (CRO) 7
7. GM Evgeny Sveshnikov (RUS) 7
8. IM Leon Mazi (SLO) 7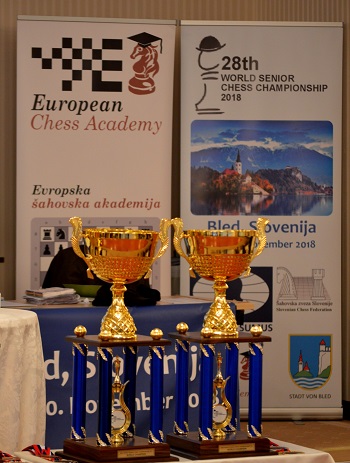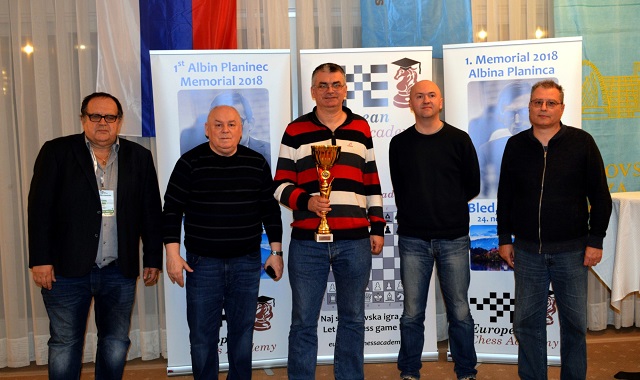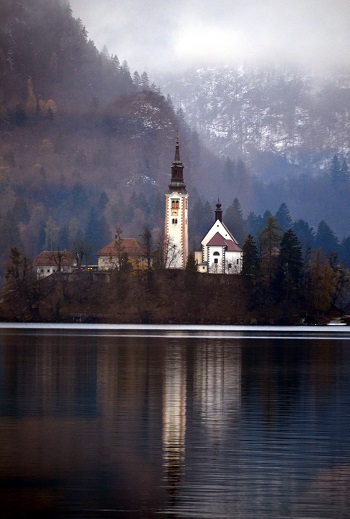 Official Website
Link results
Photo Gallery