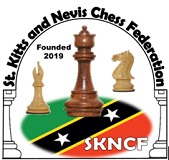 A new sporting organization, the St. Kitts & Nevis Chess Federation (SKNCF) has recently been formed. Spokesperson for the organization, Mr. Sam Franks, revealed here today that the SKNCF is in the process of initiating a number of events to inform players, enthusiasts, and indeed the general public, of its formation. This is in an effort to promote and encourage the playing of the world's most popular and challenging board game – Chess - in St. Kitts and Nevis.

This initiative for the formation and promotion of the Chess Federation is being spearheaded by The Ripple Institute SKN - as part of its programming for the Wholesome Development of Children and Youth, and the Ministry of Education, Youth, Sports & Culture whose purview, in addition to being the guardians of our children's education, also oversees other areas which will benefit from this activity, namely youth development, sports and culture.

The first elected president of SKNCF, Dr. IzBen Williams, asserts that where 'youth chess' (and in particular 'school chess') programs have been implemented they have been shown to provide a range of educational benefits to pupils, including the development of critical thinking skills such as: problem solving and abstract reasoning, patience, strategic and creative thinking, rational decision making, and sportsmanship. In addition, it results in improved overall school academic performance, enhanced social skills and bolstered self-esteem.

Patron of SKNCF, retired president of the Caribbean Court of Justice, Sir Dennis Byron, has applauded The Ripple Institute for its important initiative in spearheading the establishment of SKNCF. Sir Dennis is certain it would play a significant role in molding the mindset and outcome of our youth and that it could create many other positive benefits for our community. He also observed that chess can influence mental agility not just in youth, but at all ages. 
To mark the occasion of its launching SKNCF has invited a Grand Master of chess, Mr. Nigel Short, MBE to participate in its launching exercises during which he is expected to engage up to twenty-five (25) local chess players simultaneously in what has been termed a Chess Fest.

Regarded as the strongest player in the United Kingdom in the twentieth century, Mr. Short earned the Grand Master title at the age of 19 and was the first English player to play in a World Chess Championship match. Of reputed hundreds of millions of players worldwide, he was ranked third in the world by FIDE, the World Chess Federation, in January 1988, a position he held for eighteen months.

Mr. Short is a former president of the Commonwealth Chess Association and a three-time Commonwealth Chess Champion. He travels the world playing, coaching and promoting the game and has won tournaments on six continents. He has been a regular contributor to The Sunday Times, The Daily Telegraph, the Daily Mail, The Sunday Telegraph, The Financial Times and other British newspapers with his chess columns and book reviews.

Mr. Short will be accompanied by Mr. Ian Wilkinson, QC, renowned Jamaican jurist, the President of the Jamaica Chess Federation and two-time Jamaica Veterans Chess Champion, who was instrumental in elevating the standard of chess in Jamaica and institutionalizing it in the education system. Thousands of children in Jamaica now participate in school-chess programs there. Mr. Wilkinson has himself published books instructing players at all levels on the skills involved in the playing of chess. Both Grandmaster Short and Mr. Wilkinson are Vice-Presidents of FIDE and sit on its governing Presidential Board.

Chess Fest will take place at Bank Street on Saturday 9th March 2019, starting at 2:00 p.m. It is expected that the event would attract scores of spectators, chess players and enthusiasts, especially youths from across St. Kitts and Nevis.

All are invited to witness these public exhibition games, with display of globally acknowledged mastery at the game of chess.

Persons requiring further information, or interested in becoming members of St. Kitts and Nevis Chess Federation, may visit The Ripple Institute at 12 Independence Square West, Basseterre, or contact SKNCF by email This e-mail address is being protected from spambots. You need JavaScript enabled to view it or call: 661-1979; 661-5313; 662-9030; 765-1979.