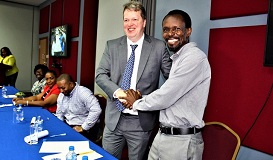 Grandmaster Nigel Short, Vice President of the World Chess Federation (FIDE), concluded a visit to St. Lucia to promote the sport of Chess on the island. He was received at an event held by the National Community Federation (NCF) under the patronage of former Governor General H.E. Dame Pearlette Louisy at the Financial Centre on March 4th. Mr. Short's visit corresponded with the creation of the St. Lucia Chess Federation (SLCF), which was recently granted provisional membership in FIDE at the presidential board meeting held in Astana, Kazakhstan March 4-6. Also in attendance at the event were Mrs. Liota Charlemagne-Mason, Deputy Permanent Secretary of the Ministry of Youth Development and Sports, and representatives from the Ministry of Education as well as corporate sponsors and local Chess enthusiasts.

Speaking at the reception, Mr. Short congratulated the SLCF on its inception and said he looked forward to seeing St. Lucia field a team at the upcoming Chess Olympiad scheduled in 2020 in Khanty-Mansiysk, Russia. Executive Director of the NCF Ms. Michelle Phillips highlighted the academic and social benefits enjoyed by students participating in the foundation's scholastic chess programs across St. Lucia, and noted that newly-founded SLCF will create more opportunities for international competition beyond the school level.

The following day, Mr. Short met with H.E. Hon. Emmanuel Neville Cenac, Governor General of St. Lucia, and Hon. Allen Chastanet, Prime Minister of St. Lucia. Mr. Chastanet expressed his support for the new Chess projects launching in the country and recognized the positive effect Chess has in youth educational and social development.

On March 6th, Mr. Short gave a simultaneous Chess exhibition, playing against adults and students from St. Mary's College, Micoud Secondary, and Richfond Combined. As was expected, Mr. Short won all 24 games, but many participants recorded their matches for future study and were glad to have the chance to play against an opponent of world-class caliber. Mr. Short stressed to the participants that only by playing strong players under tournament conditions could the new club prepare for the rigors of international competition.

Mr. Short's visit to St. Lucia is part of a broader push to expand FIDE membership to federations in the English-speaking Caribbean. Having already made stops in Grenada and St. Vincent, he will continue today to Antigua, St. Kitts and Nevis, and the Cayman Islands.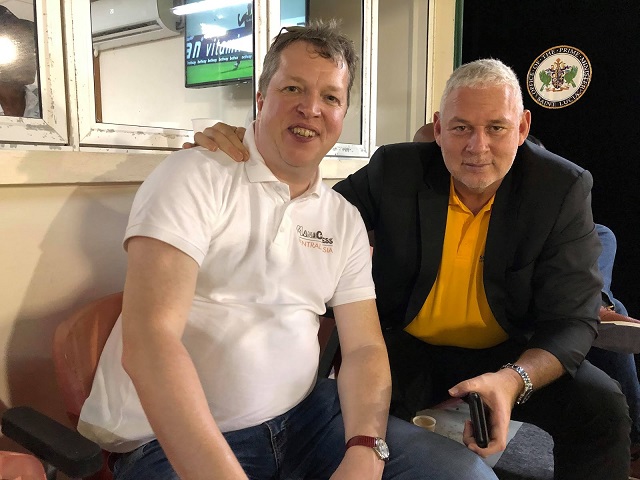 Nigel Short and Hon. Allen Chastanet, Prime Minister of St. Lucia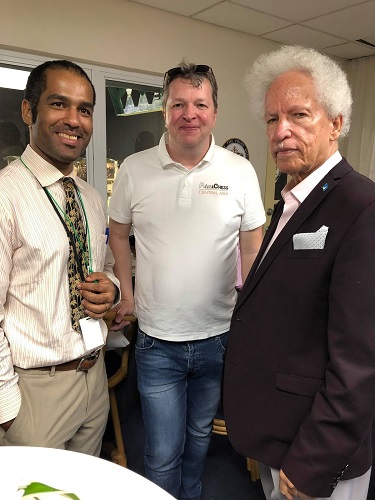 Nigel Short, H.E. Hon. Emmanuel Neville Cenac, Governor General of St. Lucia, and Seryozha Cenac - Senior Crown Counsel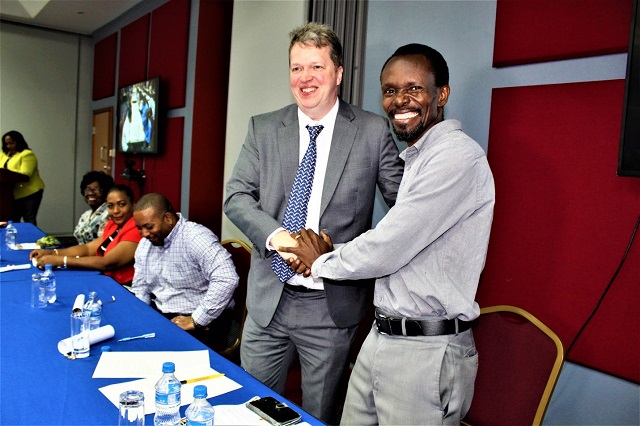 Nigel Short congratulates Andy Alexander, President of the St. Lucia Chess Federation