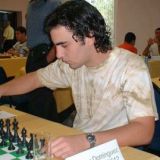 The World Blitz Championship was won by GM Leinier Dominguez of Cuba who was undefeated with 11.5 points, accumulated from his 8 victories and 7 draws against most of the major players in the world ranking.

He beat Russians Alexander Grischuk and Alexander Morozevich (second in the world ranking), Hungarian Judith Polgar, Azerbaijan's Shakhriar Mamedyarov, French Vlad Tkachev, Israeli Boris Gelfand, Egyptian Amin Bassem and host Murtas Kazhgaleev and drewagainst now former champion Ukrainian Vassily Ivanchuk, Sergey Rublevsky, Teimour Radjabov, Gata Kamsky, Krihrian Sasikiran, and Peter Svidler, another of the elite players.

Leinier, born on September 23rd 1983, was compared by specialists that attended this tournament, with late Jose Raul Capablanca (World Champion 1921-1927).

IV World Blitz Almaty KAZ(KAZ), 8-8 xi 2008
cat. XIX (2702)


1
2
3
4
5
6
7
8
9
0
1
2
3
4
5
6


1.
Dominguez Perez, Leinier
g
CUB
2719
*
½
½
1
1
½
1
1
½
1
1
½
½
1
½
1
11.5
2911
2.
Ivanchuk, Vassily
g
UKR
2786
½
*
½
1
0
1
1
½
0
1
1
½
1
1
1
1
11.0
2871
3.
Svidler, Peter
g
RUS
2727
½
½
*
½
0
½
1
½
1
1
0
1
1
1
1
½
10.0
2825
4.
Grischuk, Alexander
g
RUS
2719
0
0
½
*
1
1
½
1
1
1
½
½
1
0
1
1
10.0
2825
5.
Mamedyarov, Shakhriyar
g
AZE
2731
0
1
1
0
*
½
1
0
0
1
1
1
1
1
0
1
9.5
2794
6.
Radjabov, Teimour
g
AZE
2751
½
0
½
0
½
*
½
1
1
½
1
1
0
1
1
1
9.5
2793
7.
Kazhgaleyev, Murtas
g
KAZ
2640
0
0
0
½
0
½
*
1
1
0
½
1
1
1
½
1
8.0
2726
8.
Morozevich, Alexander
g
RUS
2787
0
½
½
0
1
0
0
*
0
1
0
½
1
1
1
1
7.5
2696
9.
Kamsky, Gata
g
USA
2729
½
1
0
0
1
0
0
1
*
½
½
0
½
0
1
1
7.0
2679
10.
Gelfand, Boris
g
ISR
2719
0
0
0
0
0
½
1
0
½
*
½
½
1
1
1
1
7.0
2679
11.
Tkachiev, Vladislav
g
FRA
2664
0
0
1
½
0
0
½
1
½
½
*
½
½
0
1
½
6.5
2654
12.
Rublevsky, Sergei
g
RUS
2702
½
½
0
½
0
0
0
½
1
½
½
*
0
½
1
1
6.5
2651
13.
Vaganian, Rafael A
g
ARM
2590
½
0
0
0
0
1
0
0
½
0
½
1
*
1
1
0
5.5
2614
14.
Amin, Bassem
g
EGY
2560
0
0
0
1
0
0
0
0
1
0
1
½
0
*
0
1
4.5
2562
15.
Sasikiran, Krishnan
g
IND
2694
½
0
0
0
1
0
½
0
0
0
0
0
0
1
*
½
3.5
2491
16.
Polgar, Judit
g
HUN
2711
0
0
½
0
0
0
0
0
0
0
½
0
1
0
½
*
2.5
2428
Final crosstable
- TWIC
Thanks to www.susanpolgar.blogspot.com who compiled the information for this report. More information is available at the official website at http://worldblitz2008.kz