| | |
| --- | --- |
| 1st quarter FIDE Presidential Board meeting in Al Ain, UAE | |
Tuesday, 07 February 2012 09:59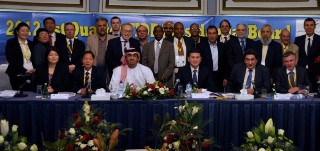 FIDE's 1st Quarter Presidential Board (PB) Meeting for 2012 was held in Al Ain under the auspices of the Asian and UAE Chess Federations.

The President, Kirsan Ilyumzhinov, thanked Sheikh Sultan Bin Khalifa al Nahyan for his generosity in holding the Presidential Board Meeting and thanked him for the hospitality that he always shows to FIDE. He advised the PB of his actions and visits since the last PB Meeting. He said that on his travels to developing countries, he had seen a need for cheap chess materials and had put in place a programme for the production of such materials. He advised that Mr Mikhail Gorbachev had agreed to become Honorary Patron of the FIDE Chess in Schools programme.

It was confirmed that the 2012 Chess Olympiad and FIDE Congress will be held in Istanbul, Turkey from 27th August to 10th September.

The bids for the Candidates Matches were discussed, with a final decision to be made before 29th February, 2012.

A committee was set up to present a final proposal on the chess project for the Sochi 2014 Winter Olympic Games.

It was agreed that all players on the FIDE ratings list should be registered by their email addresses.

A presentation was given by Mr Ali Yazici regarding the launching of the Chess in Schools online Student Membership.

The World Schools Individual Championships for 2013 was awarded to Halkidiki, Greece.

Ms Beatriz Marinello's proposal for a new Commission for Social Chess was approved.

It was agreed that the next PB meeting would be held in Elista on 5th and 6th April to coincide with the President's 50th Birthday.