| | |
| --- | --- |
| 1st Presidential Board 2013, Tsakhkadzor, Armenia | |
Monday, 21 January 2013 06:43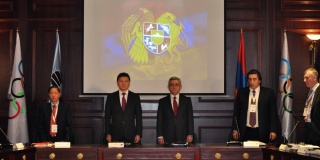 1st PRESIDENTIAL BOARD 2013
TSAKHKADZOR, ARMENIA
19-20 JANUARY 2013
The first FIDE Presidential Board (PB) for 2013 was hosted by the Armenian Chess Federation and the President of the Republic of Armenia, Mr Serzh Sargsian, who is also the President of the Armenian Chess Association. After welcoming speeches from FIDE President, Kirsan Ilyumzhinov and the Armenian President, Serzh Sargsian, GM Smbat Lputian gave a presentation regarding the Armenian Chess in Schools programme. Chess is placed on the curriculum in all schools in Armenia for grades 2-4, with impressive results. There followed a long question and answer session, in which both the Armenian President and the Armenian Minister of Education fully took part. Later that evening, the Armenian President gave a formal dinner for PB members with performances by famous Armenian dancers, singers and musicians.

The main decisions of the Presidential Board were as follows (the full list of decisions will be posted on the FIDE website):
• Saudi Arabia became a Provisional Member of FIDE, full membership will be decided by the General Assembly in Tromso;
• The UAE Chess Federation advised that they had made an agreement with the University which meant that they were only able to hold the World Youth at the end of December 2013. They also confirmed that all participants would get free food and lodging. The PB reluctantly agreed to this change of dates;
• The Kazakhstan Chess Federation confirmed that they will be holding the Women's World Team from 2-13 March 2013;
• Guidelines for the treatment of disabled chess players were approved;
• A Committee to look into the problem of players without a Federation was set up;
• The recommendations of the World Championship and Olympic Committee were approved; and
• FIDE agreed to recognize the recently elected Argentinian Chess Federation.

There were also discussions regarding various matters, particularly the Agon contract and the Chess in Schools programme. Presentations were made by the European Cultural Institute Foundation and by Chess TV.

President Ilyumzhinov ended the PB meeting by thanking the Armenian Chess Federation for organizing such an excellent PB meeting and the President of the Republic of Armenia for taking time off from his busy schedule to spend a whole day with the FIDE PB.