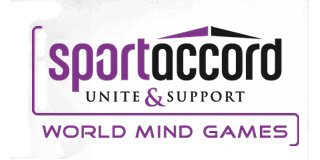 Sergey Karjakin from Russia has dominated the Basque system chess tournament with a great score of 8,5 out of 10. His advantage over second Shahkryiar Memadyarov from Azerbaijan was up two points. Bronze went to Ruslan Ponomariov from Ukraine.

In women's section China got the ultimate thriump, as illustrated by the following standings:

Gold: Zhao Xue China 7.5 points
Silver: Hou Yifan China 7. points
Bronze: Ju Wenjun China 7. points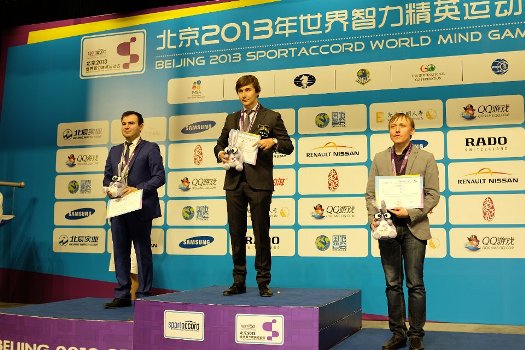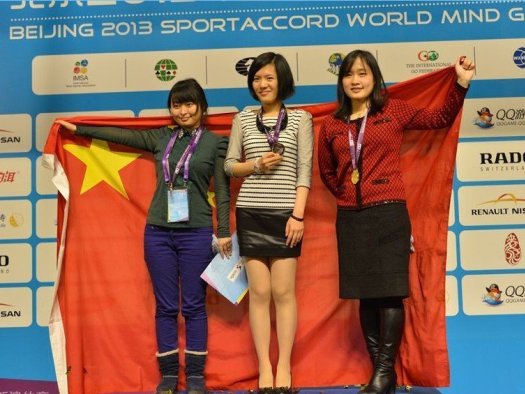 Official website

---
Day 1 of Basque
Blitz gold medalist Sergey Karjakin of Russia is sole leader after the first day of Basque system chess event. Basque system is an interesting idea, opponents are playing on two boards simultaneously, one with white pieces and one with black. It makes the matches really exciting. One of the most important parts is the time management.
In women's section Hou Yifan, the 19 years old Womens World Champion, and 2013 World Mindgames gold medalist in blitz, got of to an excellent start by beating former World Champion Antonetta Stefanova of Bulgaria by 2-0.
Full report is available at the
official website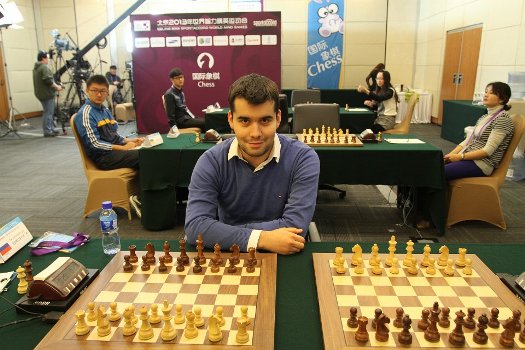 ---
Blitz Results
Sergey Karjakin from Russia won the blitz tournament with 19.5 out of 30 games.
Hou Yifan from China is the winner in women's section.
Full report is at the 
official website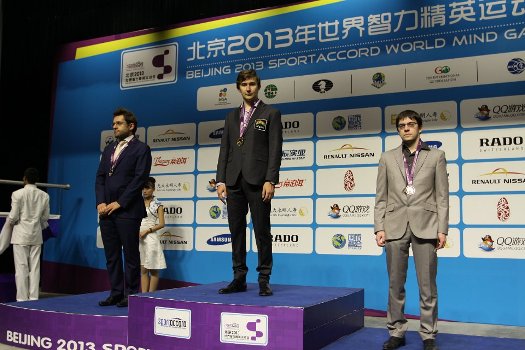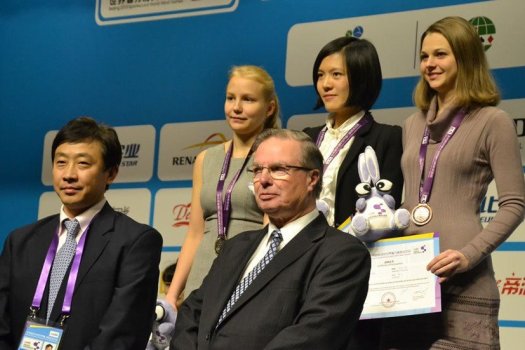 ---
Day 2 of Blitz
Day 2 of the womens blitz event, saw the reigning World Champion, Hou Yifan break away from the field of competitors.
Day 2 of the mens blitz tournament, was a very dramatic day, where the lead constantly kept changing.
Full report of the day is available at the
official website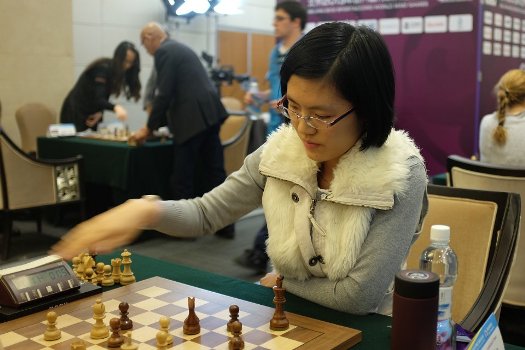 ---
Day 1 of Blitz
Valentina Gunina from Russia and Levon Aronian from Armenia are leading the Blitz tournament after Day 1.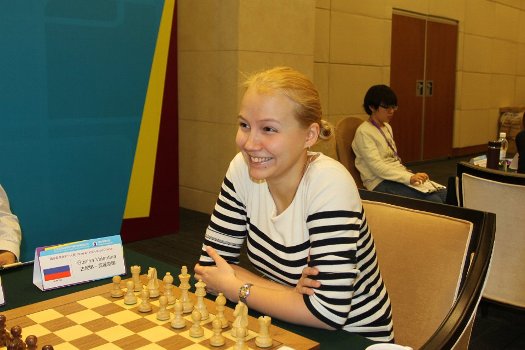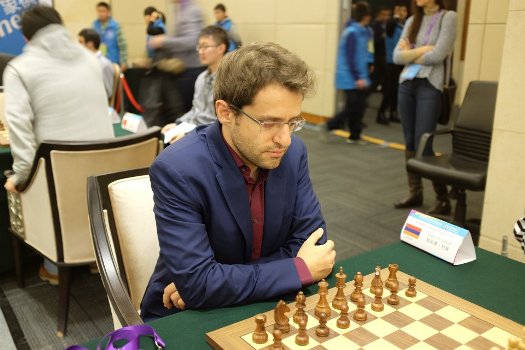 Cross-tables Men


Cross-tables Women
Official website
---
Rapid ResultsWang Yue
and
Valentina Gunina
became the winners of the rapid tournament SportAccord Mind Games in Beijing.
Rapid results - WOMEN
Rapid results - MEN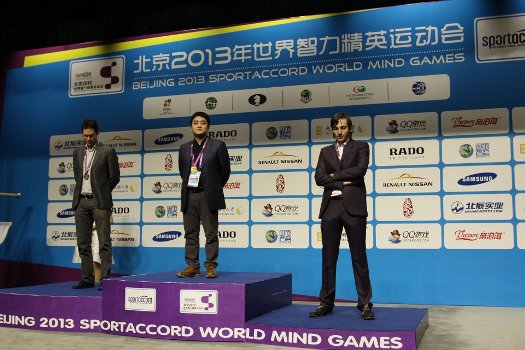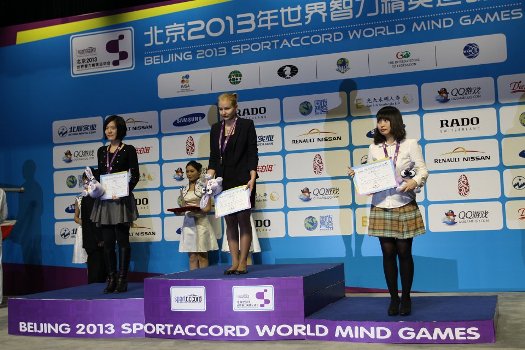 ---
SportAccord Mind Games
started today in Beijing, China.
Day 1 of Rapid
At the end of day 1 of the rapid chess competitions, we have two clear leaders in the Men and Women events.

In men section, Peter Leko from Hungary has got 3.5 out of 4 by winning Vachier-Lagrave from France, Le Quang Liem from Vitnam and Sergey Karjakin from Russia in round 4. This game is quite decisive for today's final standing, after making few blunders in the middle game Karjakin was defending very well, but after almost 100 moves he eventually had to resign. Thanks to wins in first three rounds Karjakin is now on the second place.

With 100% score we find GM Valentina Gunina (current Women World Blitz Champion) from Russia who has managed to dispose of two former World Champions, Alexandra Kosteniuk also from Russia and Antoaneta Stefanova from Bulgaria. The latter is also the current Women World Rapid Champion. The field is tremendously strong and tomorrow we will see a power house match between the current Women World Champion and prodigy Hou Yifan.

Results after Round 4 MEN

Results after Round 4 WOMEN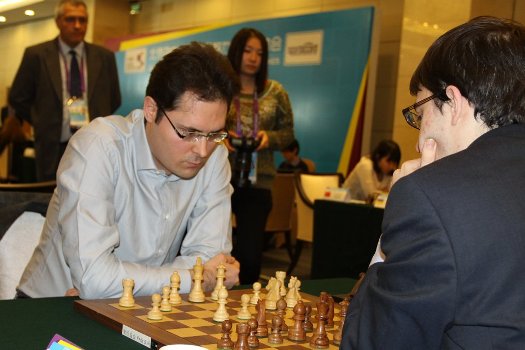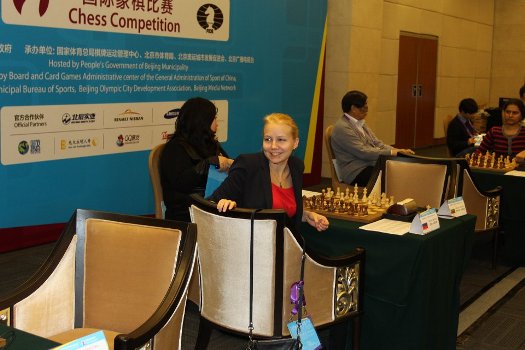 ---
Schedule
| | | | |
| --- | --- | --- | --- |
| December 12th |   | 14:00-19:00    | Rapid Event: 1-4 rounds (men), 1-4 rounds (women) |
| December 13th |   | 14:00-19:00    | Rapid Event: 5-7 rounds (men), 5-7 rounds (women) |
| December 14th |   | 14:00-19:00    | Blitz Event: 1-10 rounds (men), 1-10 rounds (women) |
| December 15th |   | 14:00-19:00    | Blitz Event: 11-20 rounds (men), 11-20 rounds (women) |
| December 16th |   | 14:00-19:00    | Blitz Event: 21-30 rounds (men), 21-30 rounds (women) |
| December 17th |   | 14:00-19:00    | Basque System: 1-3 rounds (men), 1-3 rounds (women) |
| December 18th |   | 11:00-16:00     | Basque System: 4-5 rounds (men), 4-5 rounds (women) & Closing Ceremony |
| December 19th |   | Departure | |
Players
 
MEN
       
WOMEN
Karjakin, Sergey
RUS
Koneru, Humpy
IND
Grischuk, Alexander
RUS
Hou, Yifan
CHN
Aronian, Levon
ARM
Muzychuk, Anna
SLO
Mamedyarov, Shakhriyar
AZE
Dzagnidze, Nana
GEO
Dominguez Perez, Leinier
CUB
Lagno, Kateryna
UKR
Ponomariov, Ruslan
UKR
Kosteniuk, Alexandra
RUS
Radjabov, Teimour
AZE
Gunina, Valentina
RUS
Le, Quang Liem
VIE
Stefanova, Antoaneta
BUL
Wang, Hao
CHN
Ju, Wenjun 
CHN
Wang, Yue
CHN
Sebag, Marie
FRA
Nepomniachtchi, Ian
RUS
Zhao, Xue
CHN
Vachier-Lagrave, Maxime
FRA
Kosintseva, Tatiana
RUS
Kamsky, Gata
USA
Cramling, Pia
SWE
Leko, Peter
HUN
Ushenina, Anna
UKR
Ivanchuk, Vassily
UKR
Paehtz, Elisabeth
GER
Giri, Anish
NED
Cmilyte, Viktorija
LTU