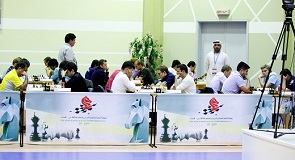 Magnus Carlsen added another title to his name, by winning the gold medal at the FIDE World Rapid Chess Championship in Dubai.

Carlsen concluded the event with 11,0/15 points, half a point ahead of Fabiano Caruana, Viswanathan Anand, Levon Aronian and Alexander Morozevich. Caruana is awarded with the silver, thanks to the better tie-break score (average rating of the opponents), while Anand took the bronze.

The key moment was the penultimate round to which Caruana, Carlsen and Anand arrived with equal points - 9,5 each.

Anand was the first to finish the game, by holding a draw with black against Teimour Radjabov. Soon-after Carlsen defeated Alexander Grischuk after miraculous escape from the poor position. Finally, Caruana lost to Aronian with white pieces and slipped down in the standings.

In the same round, Aronian and Sergey Karjakin caught up with Anand on the shared second place.

In the last round Carlsen easily held Radjabov to a draw, waiting to see if any of his nearest followers could catch him on the shared first place.

Aronian pressed hard against Anand, but could not make more than a draw. At the same time, Karjakin went down against Alexander Morozevich, and Caruana beat Le Quang Liem.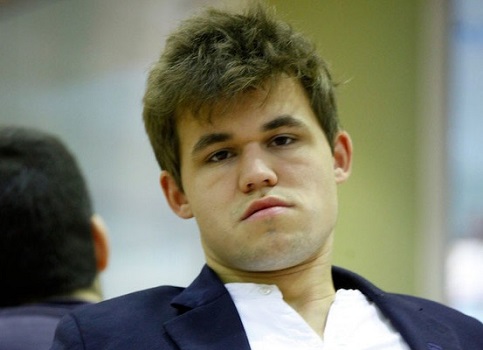 The FIDE World Rapid Chess Championship was held on 16-18th June at the Dubai Culture & Chess Club. The competition was completed over 15 rounds with the time control 15 min + 10 sec.

Final standings

Replay games from the FIDE World Rapid Chess Championship 2014

Videos by Vijay Kumar: Day 1 / Day 2

Official website
---

Magnus Carlsen leads after two days of FIDE World Rapid Championship

The second day of the FIDE World Rapid Chess Championship was marked with the confident and stable play of Magnus Carlsen. The World Champion scored 4 points in 5 games of the second day and showed the same result he made during first five rounds. He started the day with two draws against Sergey Karjakin and Laurent Fressinet but three victories in a row against Yury Kryvoruchko, Sergey Movsesian and Fabiano Caruana guaranteed him top place of the current standings with 8 points out of 10. 
His closest rival is Levon Aronian, who is only half a point behind. Armenian player finished the first day with 3 points, however, he strike back and scored 4, 5 out of 5 and climbed on the second place. In the last round Levon Aronian defeated Hikaru Nakamura, who also came back to the top boards by winning three games and increasing his result from +1 to +4.

The group of players including Fabiano Caruana, Ian Nepomniachtchi, Evgeny Tomashevsky, Alexander Grischuk, Yu Yangyi, Vishwanathan Anand and Peter Svidler share the third place with 7 points.

The third day of FIDE World Rapid Championship starts with the game between top players Magnus Carlsen and Levon Aronian. Two years ago Magnus Carlsen was leading 1, 5 point ahead of nearest rivals after 2 days of the World Rapid in Astana. Nevertheless he lost two games on the third day and missed a victory in the tournament. Will he manage to grab the title of World Rapid Champion this time?

11th-15th rounds of the Championship are scheduled on June 18, the 3rd tournament day.

Results

Photo Gallery
---
Report of the first Day of Rapid Tournament

113 participants from 46 countries started to play in the World Rapid Championship on 16th of June. At the end of the opening day Ian Nepomniachtchi, Sergey Karjakin (both from Russia) and Fabiano Caruana (Italy) scored 4. 5 points out of 5 and took early lead in the tournament. After three rounds four grandmasters Ian Nepomniachtchi, Sergey Karjakin, Jobava Baadur and Viktor Laznicka were leading on field with 3 out of 3. Same as the last year Nepomniachtchi was the only player with the perfect result 4 out 4. This time his victory over Viktor Laznicka made him a sole leader after the 4th round but it didn't last for long as in the 5th round Russian player shared a full point with Maxime Vachier-Lagrave and let Sergey Karjakin and Fabiano Caruano to catch him.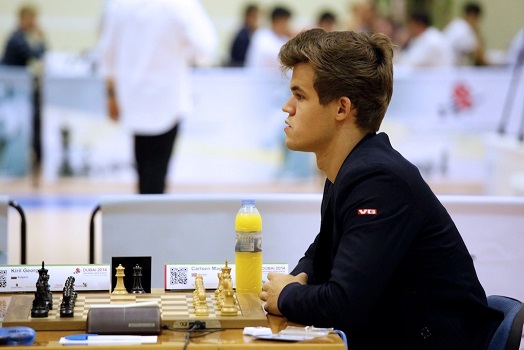 World Champion Magnus Carlsen made 2 draws against Gadir Guseinov and Evgeny Tomashevsky, won three games and after 5 rounds placed half a point behind the leaders. Maxime Vachier-Lagrave, Laurent Fressinet, le Quang Liem and Sergei Movsesian also have 4 out 5.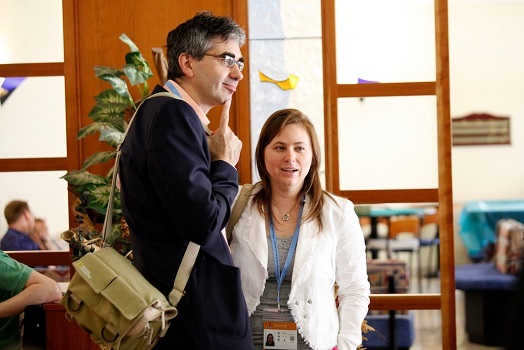 Judit Polgar had very impressive start with 3,5 out 4, defeating on her way GMs Rauf Mamedov and Pentala Harikrishna. She shared the second place after 4 rounds but unfortunate defeat from Sergey Karjakin brought her to 10th place. 
Results

Photo Gallery

Full report at http://dubai2014wrb.com/news/detail/30?lang=en