| | |
| --- | --- |
| Order of Excellence to Nona Gaprindashvili | |
Tuesday, 29 December 2015 08:10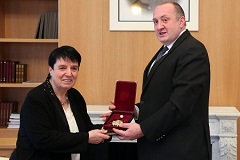 Georgia's President Giorgi Margvelashvili has awarded five-time world chess champion Nona Gaprindashvili with the Order of Excellence.

The President said Gaprindashvili was recognised for her "outstanding contribution to the country and nation" and "representing Georgia at an international level".

"The state and the nation are grateful to you for what you have done to promote Georgia and for what you have done for society from your moral position," Margvelashvili told the champion.

Gaprindashvili, 74, was the first female in the world who was granted the title of Grandmaster. She was the strongest female player of her generation.

She dominated the women's Olympiads of the 1980s. She won as many as 25 medals, including 11 team gold medals and nine individual gold medals.

Earlier this year President Margvelashvili announced 2015 as the Year of Women. Gaprindashvili was awarded as a brave and active woman within this initiative.