| | |
| --- | --- |
| The coin and stamp dedicated to Paul Keres are released | |
Friday, 08 January 2016 14:59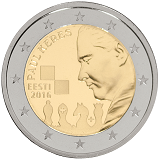 The coin and stamp dedicated to Paul Keres are released

Eesti Pank started releasing the Estonian two-euro circulation coin with the special design dedicated to the 100th anniversary of the birth of Paul Keres to the commercial banks today. The coin will be valid as legal tender throughout the euro area. A stamp dedicated to Paul Keres is being released on the same day.

The 100th anniversary of the birth of Paul Keres falls on 7 January. The competition to design the coin dedicated to the world-famous chess player was won by Riho Luuse and 500,000 of the two-euro coins will be minted with the special design, of which 5000 will have a high-quality finish and are intended for collectors and priced at 10 euros each. The coin is being minted in the Lithuanian Mint.

Riho Luuse also designed the Paul Keres stamp, which has a nominal value of 65 cents, the letter rate for letters within Estonia. In total 60,000 stamps will be printed by the Vaba Maa printing house and a first day cover will be issued with the stamp and a first day cancellation will be used. More information about the stamp is available from This e-mail address is being protected from spambots. You need JavaScript enabled to view it .

Eesti Pank is releasing the special two-euro coin to the banks today so that it can enter circulation for payments.

The coin will be available for sale or for use as currency from 8 January:
1. in the Omniva online shop (https://www.omniva.ee/private/post/philately_and_numismatics#numismatics), where each purchaser can buy up to five rolls of coins, totalling 125 coins with a value of 250 euros, and five presentation cards; 

2. from the shop of the Eesti Pank museum at Estonia pst 11 during opening hours, where coins can be exchanged individually or up to fifty at a time (two rolls), and five cards can be bought at one time.
Eesti Pank cannot guarantee that all requests for coins can be met in full. Eesti Pank retains the right to change the amounts on sale in response to demand.

The Eesti Pank Museum and museum shop are open from Tuesdays to Fridays 12-17 and on Saturdays at 11-16. The museum will open from 13.00 on Thursday 7 January.