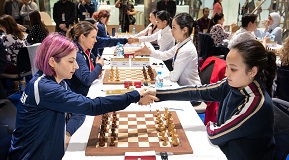 Round 4 Overview


Please visit the official website wteams.astana2019.fide.com for LIVE GAMES.


---
Round 3: Russia wins top match against China

 

 


The third round of the World Team Championships in Astana features the most anticipated encounter in the whole open section. Both teams with a rating average over 2700 face each other in a duel which may already turn out to be decisive.

How would China react after yesterday's defeat against the United States? Would they try and strike back immediately or rather play it safe? It is actually hard to guess the pre match strategy of each team, but Russia clearly seemed to pin their hope on their white boards. Indeed, Ian Nepomniachtchi is always dangerous in such crucial matches and young rising star Vladislav Artemiev has scored 2 wins so far. This proved very effective, as Nepomniachtchi managed to put Yu Yangyi under unpleasant pressure and eventually won within less than 3 hours. Artemiev also stood better at the start but then committed a mistake which put him in danger. But his class and composure allowed him to save the game despite being a knight down. For more details about his game, you may want to listen to his thorough after-game analysis on the YouTube channel of FIDE.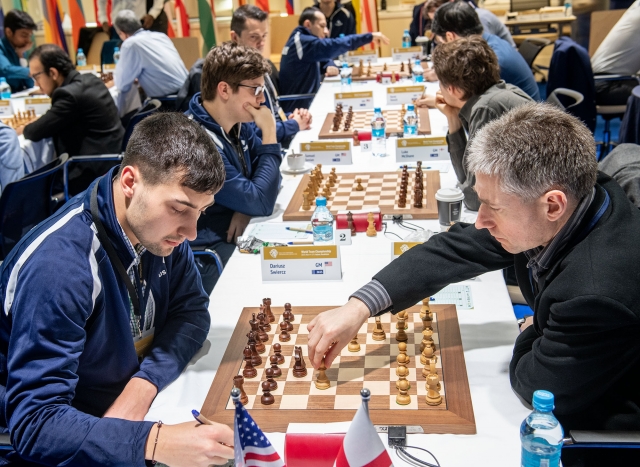 The Chinese did not manage to create serious problems on their own white boards, so that Sergey Karjakin and Alexander Grischuk comfortably held against Ding Liren and Wei Yi. With this second loss, it is clear that China will hardly be in contention for the gold medal anymore. As England and the United States of America tied 2-2, Russia is now the sole leader of the open section. India moves to joint second thanks to a large win against Egypt, whereas Kazakhstan is 6th after a good draw against Azerbaijan. All individual results and standings of the open section can be found at wteams.astana2019.fide.com.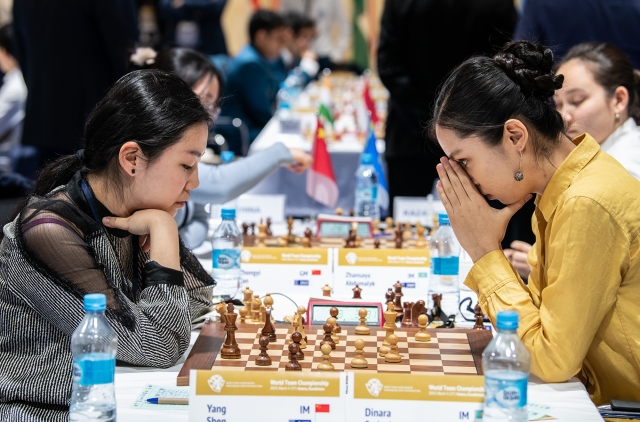 There were no big clash in the women's section and the favourites overcame this 3rd round with a victory. The young Kazakh team fought valiantly against China but eventually lost by a thread. Lei Tingjie explains her nice victory at FIDE Youtube channel. Russia and China are still in the lead with a perfect score, ahead of the Ukraine. All results and standings are available on the tournament website.

The fourth round will start on Wednesday March 8th at 3 pm in the Astana International Financial Centre. Live commentary in English and Russian can be followed at kazchess.kz/world_astana2019.


Preview of Round 4

FIDE World Team Championship 2019
Open section
Round 4, 2019/03/08 at 15.00

Sweden – Azerbaijan
United States of America - Kazakhstan
Russia – England
India – China
Iran – Egypt

FIDE World Team Championship 2019
Women section
Round 4, 2019/03/08 at 15.00

Egypt – Hungary
Georgia – Ukraine
Kazakhstan – United States of America
Armenia – China
Russia – India



---
Round 2: The United States of America beat China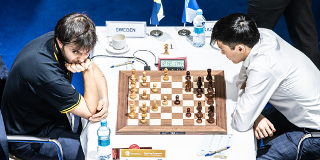 The second round of the World Team Championships produces a major upset, as the American men's team beats China. This result leads to a complete redistribution of roles before the big match China-Russia on Thursday.

A Team World Championship usually means that several teams have to travel around the globe to reach the host country. This event is no exception, some players may find it difficult to take their mark. The Egyptian teams for instance have to adjust to a radical climate difference, and so far both had basically no chance against stronger opponents. In the second round, the men's team lost 3-1 against Russia, while the women suffered their second 4-0, this time against the Ukraine. It is true that India is not favoured either by the cold weather in Astana. However, as Adhiban Baskaran noted in his after-game interview, most of his teammates came directly from the Aeroflot Open in Moscow and therefore got used to freezing temperatures beforehand. The Indian leader won a good game against the junior World Champion Parham Maghsoodloo, but his team had to settle for a draw with Iran.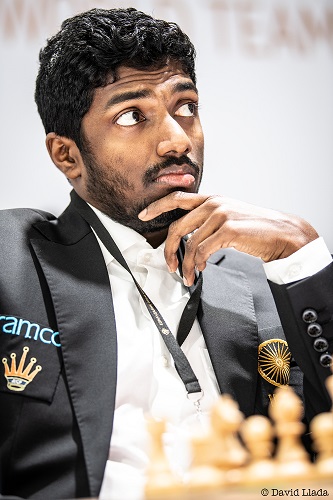 Adhiban Baskaran
Speaking about adjustment, jet lag is clearly an issue for players from the United States of America. Yet, they do not seem to feel any effect and created a huge surprise in the second round by defeating China 2,5-1,5. Aleksandr Lenderman won his game on board 4 against Ni Hua, whereas the other encounters ended in a draw. The last game to finish was particularly tragic, as Wei Yi missed several chances to decide the game in his favour against Alexander Onischuk. The match winner gives his impressions at https://www.youtube.com/watch?v=KlXIITgWA28. The United States of America has scored two victories so far, as Russia and England, who overcame Azerbaijan 2,5-1,5. In the fifth match of the day, Kazakhstan pleased their fans thanks to a comfortable 3-1 against Sweden.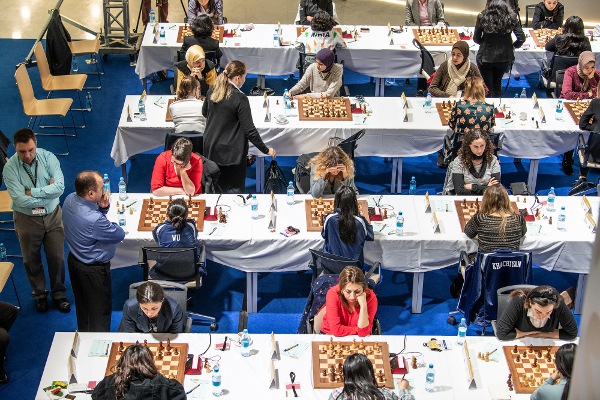 The star match of the day in the women's section featured China against Georgia. Even though both teams do not compete in their optimal line-up in Astana, they represent hot contenders for the medal. Former women world champion Tan Zhongyi scored the decisive win on board one against Bela Khotenashvili, when all other games had previously been drawn. They thus lead together with Russia, who scored a large 3,5-0,5 victory against Armenia. The young US team beat Hungary 3-1, while India got slightly lucky to escape with a draw against Kazakhstan, as Zhansaya Abdumalik explains in her interview.

All videos and livestreams can be viewed on the FIDE YouTube channel. The program of the third round promises two breathtaking matches in the open section, Russia-China and England-USA. In the encounter between both rating favourites of the event, the Chinese team might already consider this encounter as a last chance to fight for the gold medal.  Games start on Thursady March 7th at 3 pm. Live commentary can be followed in English and Russian on the official website.

Preview of Round 3

FIDE World Team Championship 2019
Open section
Round 3 on 2019/03/07 at 15.00

Iran – Sweden
Egypt – India
China – Russia
England – United States of America
Kazakhstan – Azerbaijan

FIDE World Team Championship 2019
Women section
Round 3 on 2019/03/07 at 15.00

Russia – Egypt
India – Armenia
China – Kazakhstan
United States of America – Georgia
Ukraine – Hungary

OFFICIAL WEBSITE


---
Round 1: World Team Championships started in Astana
The most prestigious team event in 2019 has been launched today in Astana. FIDE President Arkady Dvorkovich played the symbolic starting move in the match between Russia and the host nation Kazakhstan. All main favourites prevailed in both sections, and only minor upsets occurred in the first round.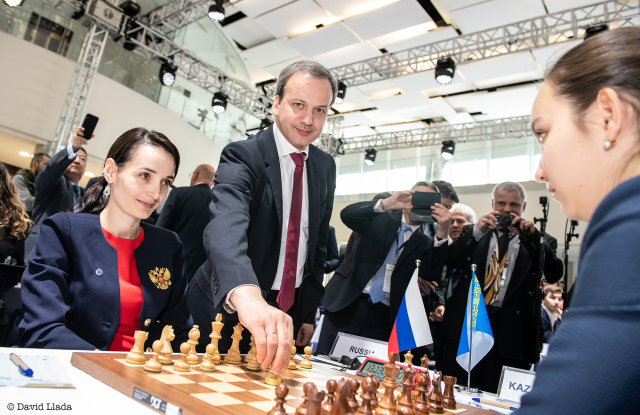 Arkady Dvorkovich, Kateryna Lagno, Zhansaya Abdumalik
The Astana International Financial Centre World Team has opened its doors to the World Team Championships 2019. This impressive modern complex has been inaugurated in July 2018 and is perfectly suited to host an event of such dimension. FIDE President Arkady Dvorkovich symbolically executed the first move on behalf on his fellow countrywoman Kateryna Lagno in her game against Zhansaya Abdumalik. This match had been announced as the highlight of the first round in the women section, and it definitely kept its promises.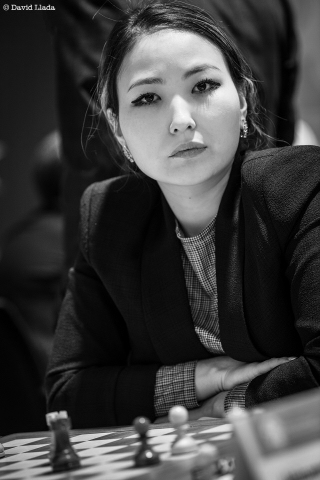 Guliskhan Nakhbayeva
The young and ambitious Kazakh team maintained the tension until the fourth hour of play. The key game was certainly the one launched by the FIDE President. 19-year old Abdumalik had the women blitz world champion from Russia on the ropes, but let her advantageous position go out of control and eventually lost. 3-1 is a harsh score, but this defeat will certainly serve as a valuable experience.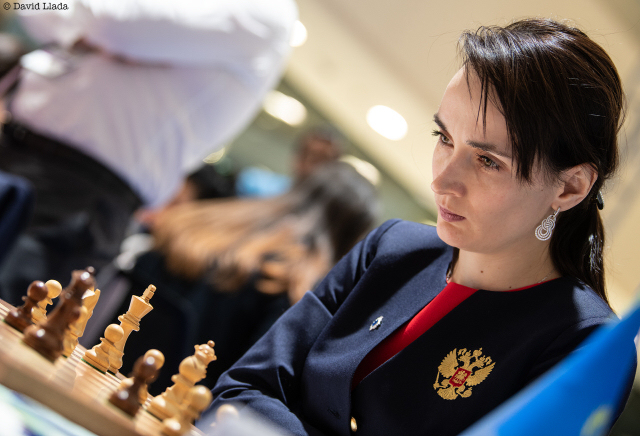 Kateryna Lagno
The other favourite, China, comfortably won 3,5-0,5 against Hungary, whereas India and Georgia tied their match. The only real shock of the day was the 2-2 garnered by the United States of America against the experienced Ukrainian team. And it could even have been better, had the young Rochelle Wu converted her winning position at the very end of the game.
The preview of the open section announced a duel for the first place between China and Russia. Both teams fulfilled their duty by winning their respective matches. In the absence of their two leaders Mamedyarov and Radjabov, Azerbaijan never really stood a chance and lost 3,5-0,5 to China.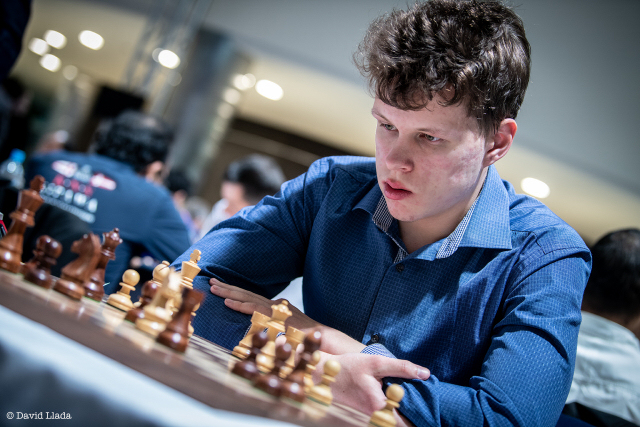 Vladislav Artemiev
The Russian had the tricky task to start against the talented Iranian team, but they scored a solid 2,5-1,5 victory. Vladislav Artemiev celebrated his first selection in his national team on his 21st birthday with a smooth win!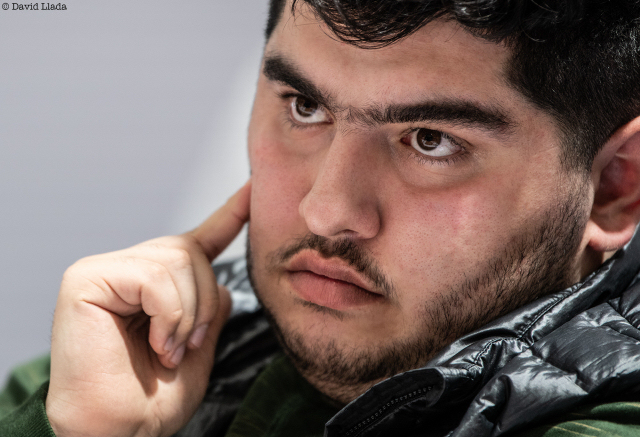 Parham Maghsoodloo
England won a close match against Kazakhstan despite the unexpected defeat of their leader Michael Adams against Rinat Jumabayev. In the other two matches of the day, the United States of America beat Egypt 3-1, and India defeated Sweden 3,5-0,5.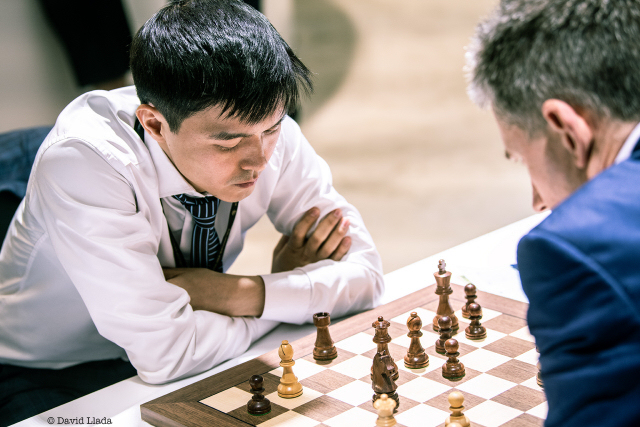 Rinat Jumabayev, Michael Adams
Preview of Round 2
Open section
Sweden 
-
 Kazakhstan
Azerbaijan 
-
 England
United States of America 
-
 China
Russia 
-
 Egypt
India 
-
 Iran 
 
Women section
Egypt 
-
 Ukraine
Hungary 
-
 United States of America
Georgia 
-
 China
Kazakhstan 
-
 India
Armenia 
-
 Russia

The second round will start on Wednesday March 6th at 3 pm. Live commentary can be followed in English and Russian on the official website - http://wteams.astana2019.fide.com/


---
Inauguration of the World Team Championships and drawing of lots
The opening ceremony took place on March 4th in the evening at the Hilton Astana hotel. FIDE President Arkady Dvorkovich and the President of the Kazakhstan Chess Federation officially launched the World Team Championships and praised the whole organizing team for successfully staging this event at such short notice.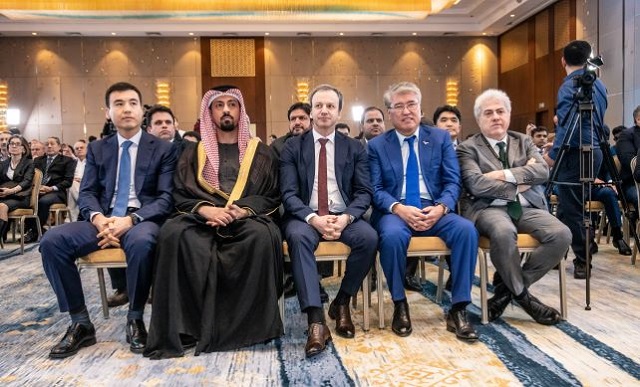 The program of the opening ceremony was livened up by a colourful performance of the Khazar musical group and by the gifted young singer Danelia Tuleshova. It culminated in the drawing of lots, which set the program of rounds for the whole tournament.

No big clash will occur in either section of the starting round. In the women's tournament, most of the attention will be drawn to the match Russia vs Kazakhstan. The title-holder will have to beware of the young local team! The other matches will feature India-Georgia, Armenia-Egypt, China-Hungary and United States-Ukraine.

Same kind of dangerous start for the Russian men's team against the talented squad of Iranian youngsters, led by the junior world champion. In the remaining matches, China and India should be favourite against Azerbaijan and Sweden respectively, while Egypt-United States and England-Kazakhstan seem more balanced.

The first round will start at 3 pm on March 5. FIDE President Arkady Dvorkovich will make the first move, after which he will join a press conference.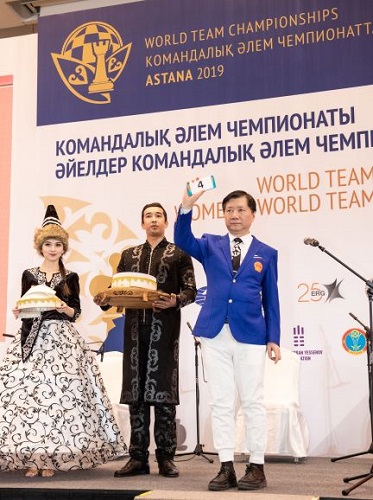 The general sponsor of the World Championship is the Eurasian Resources Group group

World Cup General Partner – Samruk Kazyna

Championship Partner – Astana International Financial Center



---
Pre-tournament press conference in Astana International Financial Centre
The organizers of the World Team Chess Championships 2019 held a press conference on the eve of the tournament. Several personalities like Head of Kazakhstan sports Serik Sapiyev or former vice-World champion GM Sergej Karjakin answered the questions of around 50 journalists.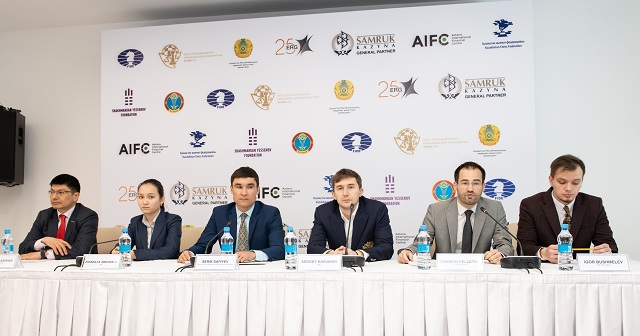 The World Team Championships for men and women are taking place from March 4 – 15 in Astana. The Kazakhstan capital is used to staging events of such magnitude, but Tournament Director and Vice-President of the Kazakhstan Chess Federation Zhandos Abishev admits that "organizing everything in only 5 weeks was a real challenge, but all is ready just in time. We would never have been able to make it without the support from our partners, namely our general sponsor ERG, our general partner Samruk-Kazyna, our social partner Samruk-Kazyna Trust and our partner AIFC". Serik Sapiyev adds that "the popularity of chess has been continuously increasing in the past years. Prestigious events like this World Championship contribute to the further promotion of chess in Kazakhstan".
Ten teams will face each other in both sections. The leader of the Kazakh women's team Zhansaya Abdumalik believes that "Kazakhstan can achieve something very special here. Russia, China and the Ukraine are certainly favourite, but the gap with other teams is quite small, so that anything can happen". Sergej Karjakin has fond memories of Astana. "It is a lucky place for me, as I became the World Champion in rapid chess here in 2012 and took bronze in the blitz. We have a very compact team and I hope that we will all be in good shape".

The opening ceremony with the drawing of lots is taking place on March 4 at 7 pm at the Hilton Astana Hotel. On March 5 at 3 pm, FIDE President Arkady Dvorkovich will launch the tournament and the pieces will start moving on the battlefields.