| | |
| --- | --- |
| FIDE-TRG-ChessBase Internet Seminar | |
Tuesday, 28 February 2017 09:28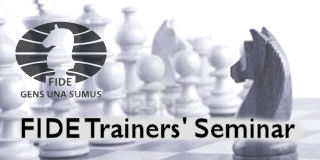 By today a number of trainers-to-be certified have been registered to the coming FIDE-TRG-ChessBase Internet Seminar (3-5.03.2017). They are coming from all over the world: Argentina, China, England, Germany, Hungary, India, Lebanon, Mexico, Morocco, Netherlands, Peru, Romania, Russia and United States of America. FIDE-TRG and ChessBase has gathered to offer top quality and connect the chess world! There are still a few empty spots available.

1. Objective: To educate and certify Trainers and Chess-Teachers on an international basis. This FIDE Trainers' Seminar for FIDE Trainer Titles Diploma is approved by FIDE and the FIDE Trainers' Commission (TRG). The seminar is co-organised by the FIDE, the European Chess Union (ECU), the FIDE Trainers' Commission (TRG), the German Chess Federation (BCF), the Berlin FIDE Trainer Academy (FTA) and the ChessBase GmbH.

2. Dates: March 3rd to 5th, 2017.

3. Location: Internet - Playchess.com.