| | |
| --- | --- |
| FIDE Trainers' Commission (TRG) Annual Meeting 2018 | |
Thursday, 03 May 2018 11:38
The FIDE Trainers' Commission (TRG) held its annual meeting in Amman, Jordan, April 21st to 24th, 2018. The meeting was under the authorisation of the International Chess Federation (FIDE), the Royal Jordan Chess Federation (RJCF) and the Asia Chess Academy (ACA).

TRG expresses its thanks for the high-level organization.

Among other, agenda topics were:

- applications for FIDE trainers,
- past and future seminars for FIDE Trainers' titles,
- federation requests to TRG,
- TRG online chess training programme 2018,
- TRG "Tree of Chess" awards 2017,
- FIDE TRG chess syllabus,
- TRG books, and
- TRG cooperation with the Asian Chess Federation (ACF).

All Council's decisions/proposals will come in force after the next FIDE PB/EB approval.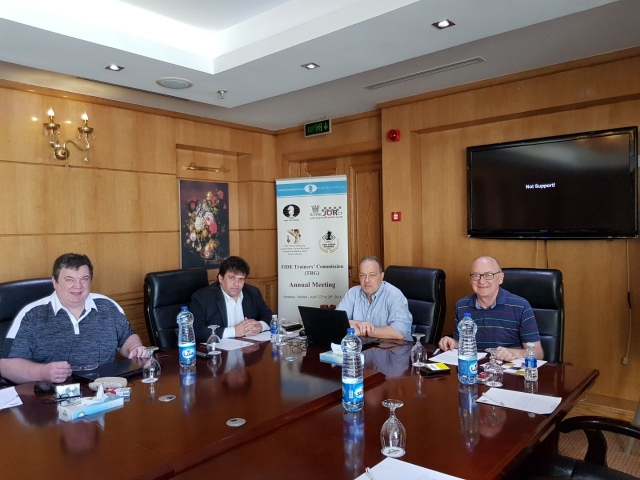 From right to left: TRG Chairman Adrian Mikhalchishin, TRG Secretary Efstratios Grivas, TRG Councillor Sami Khader, TRG Councillor Jovan Petronic