| | |
| --- | --- |
| Marjanovic and Soham Das share first place in Djenovici | |
Monday, 02 April 2018 01:22



The International tournament "Third Saturday - Djenovici Montenegro" took place from 17-25th March at Hotel Milena in Herceg Novi, Montenegro.

The playing format of the IM tournament was 11-player round robin and the event was valid for FIDE title norms.

FM Dejan Marjanovic (BIH) and Soham Das (India) shared the first place with 7,5 points each, to both claim IM norms. Marjanovic also earned 14 elo points while Soham added 59 points.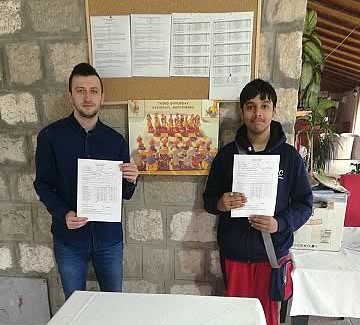 IM tournament final standings:

1-2. FM Marjanovic Dejan BIH 2377 and Soham Das IND 2275 - 7.5
3. FM Krstulovic Alex HUN 2376 - 6
4-6. IM Farkas Tibor SRB 2329, Rajkovic Mladen SRB 2361 and IM Sredojevic Ivan SRB 2318 - 5.5
7-8. GM Fominyh Alexander RUS 2406 and FM Kecskemeti Arpad SRB 2308 - 5
9. FM Ding Tze How Dilwen MAS 2273 - 4
10. IM Martorelli Antonio ITA 2192 - 3
11. Kovacevic Nikola FRA 2121 - 0.5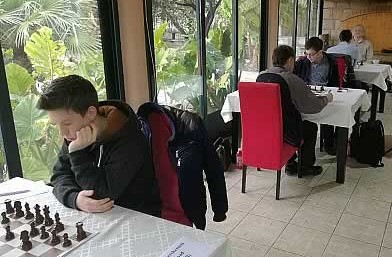 The tournaments "Third Saturday" (round robin closed tournaments) are suitable for players who want to achieve ELO points and/or GM and IM norms. Starting dates for events in 2018 are: 21 April, 19 May.

The series will include the following events:
- GM group (2381-2450 ELO), 9-11 games, 90 min for 40 moves, plus 30 min till the end, with 30 sec increment from the start
- IM group (2231-2300 ELO), 9-11 games, 90 min for 40 moves, plus 30 min till the end, with 30 sec increment from the start
- FM A group (1900-2100 ELO)
- FM B (Development) group (1600-1800 ELO)

The playing venue will be Hotel Milena (Fanfani) 3*** Djenovici, Herceg Novi, Montenegro.

Interested players can contact:
FM Goran Tomic
Third Saturday Chess Tournaments organizer
Viber, WhatsApp +382 67 301 030
This e-mail address is being protected from spambots. You need JavaScript enabled to view it
https://thirdsaturday.wordpress.com


Djenovici is a small touristic place, located 7 km from Herceg-Novi, with around 1300 residents. Situated at the mouth of the Tivat aquatorium of Boka Kotorska gulf, with 2km of long curved coast, Djenovici is one of the most beautiful villages in the Gulf.

Two major airports in Tivat and Dubrovnik are located very near Herceg Novi. Tivat: 22 km, Dubrovnik (Cilipi): 32 km