| | |
| --- | --- |
| Branko Vukmanovic Memorial in Tivat | |
Wednesday, 25 April 2018 23:41
The 8th Branko Vukmanovic memorial tournament was held on 20th April in Tivat, Montenegro.

50 players competed in the 9-round rapid tournament with the time control 15 minutes per game. Among them were 5 Grandmasters and 6 International Masters.

Grandmaster Nikola Djukic took the winner's trophy after edging IM Boroljub Zlatanovic on tie-break. The two players finished on 7 points each.

The event was organized by chess club Mimoza, Montenegro Chess Federation, HTP "Mimoza" and Vukmanovic family, with support from Tivat municipality.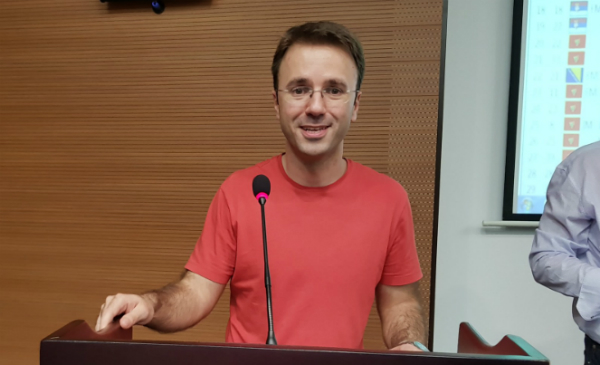 GM Nikola Djukic


Final standings:

1 GM Djukic Nikola MNE 2615 - 7
2 IM Zlatanovic Boroljub SRB 2429 - 7
3 GM Blagojevic Dragisa MNE 2549 - 6.5
4 GM Drasko Milan MNE 2428 - 6.5
5 GM Nestorovic Nikola SRB 2592 - 6.5
6 GM Vukic Milan BIH 2448 - 6.5
7 IM Radovanovic Nikola SRB 2378 - 6
8 Maric Bozo MNE 2362 - 6
9 Musovic Armin MNE 2324 - 6
10 IM Novoselski Zoran SRB 2345 - 6
11 IM Todorovic Goran N SRB 2296 - 5.5
12 IM Kalezic Blazo MNE 2502 - 5.5
13 FM Sukovic Andrej MNE 2238 - 5.5
14 FM Lundin Jan SWE 2252 - 5.5
15 Pejovic Jovan MNE 2128 - 5.5
16 FM Vlatkovic Milos MNE 2226 - 5
17 FM Popadic Dragan MNE 2203 - 5
18 FM Vujacic Borivoje SRB 2217 - 5
19 Djuretanovic Ivan SRB 2078 - 5
20 Nenezic Danilo MNE 2137 - 5
21 Lazarevic Zoran MNE 1966 - 5
22 FM Miljkovic Milan BIH 2151 - 5
23 FM Raicevic Momcilo MNE 2359 - 5
24 Ratkovic Milorad MNE 2134 - 4.5
25 IM Lekic Dusan MNE 2395 - 4.5
26 Vujacic Igor MNE 2104 - 4.5
27 Bubanja Milos MNE 1857 - 4.5
28 Putnik Perica MNE 2067 - 4.5
29 Stanicic Josip MNE 1948 - 4.5
30 Mustafic Ismet MNE 2095 - 4
31 Scekic Veljko MNE 2160 - 4
32 Djokovic Mirsad MNE 2052 - 4
33 Miletic Vuk MNE 1977 - 4
34 Stamatovic Vladimir MNE 1832 - 4
35 Bubanja Masan MNE 1969 - 4
36 Kijac Ljubomir BIH 1965 - 4
37 Trpkovic Miroljub SRB 1879 - 3.5
38 Kovacevic Sasa MNE 1808 - 3.5
39 Dedic Slavko MNE 1826 - 3.5
40 Popovic Zoran MNE 2023 - 3.5
41 Milosevic Andjelko BIH 1706 - 3.5
42 Vukojevic Miodrag BIH 1764 - 3.5
43 Mandic Stefan MNE 1886 - 3
44 Vujadinovic Zeljko MNE 1845 - 3
45 Marovic Mato MNE 1878 - 3
46 Popara Radenko BIH 1763 - 3
47 Paranos Dejan BIH 0 - 2.5
48 Mandic Teodora MNE 1498 - 1.5
49 Mandic Anastasija MNE 1547 - 1.5
50 Todorovic Stanko MNE 0 - 0