Sri Lanka National and Women's National Chess Championships 2018 were held on 4th to 13th May, 2018 at the Lions Activity Centre, Colomb 07. The 13 round, Round Robin National Chess Championships were conducted by the Chess Federation of Sri Lanka with a total Prize fund of Rs. 250,000/=. The best 14 payers of the year competed for each event. 13 Players each selected from the Sri Lanka National B Chess Championships 2018 and the reigning National Champions, Minul Sanjula Doluweera and Sayuni Gihansa Jayaweera were eligible as the direct entries.

Isuru Alahakoon (ELO 2102) became the Sri Lanka National Champion 2018 with 9.5/13 points for the fourth time. He had a great performance even having a default loss at the 7th round to Akila Kavinda. Isuru is one of the strongest Chess players in the country and will lead the National Chess Team to the Batumi, Chess Olympiad this year. Young, CM GMH Thilakarathne (ELO 2186) secured the first runner-up position with 9/13 points. He also had a great event, even leading at the penultimate rounds and lost in the last round to claim the Silver Medal. Akila Kavinda (ELO 2050) had to satisfy with the second runner-up position with 8.5/13 points being Bronze Medalist.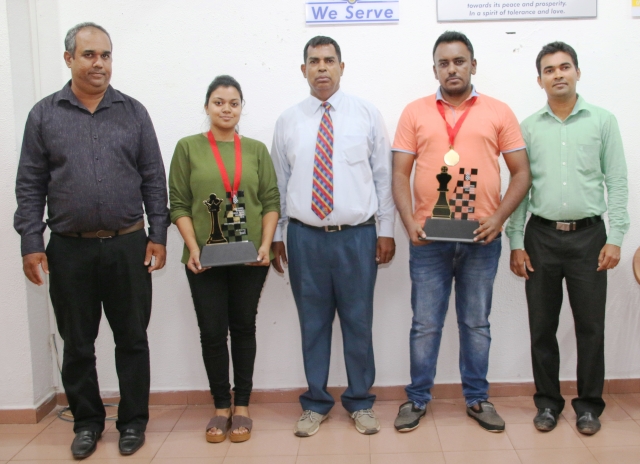 From Left-IA Thiwanka Tissera, WFM Dinushki Premanath, Mr. Luxman Wijesuriya, Isuru Alahakoon, IA Erosh Jayasinghe

In Women's National Chess Championship WFM Dinushki Premanath made a great come back after several years' absence to claim the title 10.5/13 points. She only lost to WCM Sayuni Gihansa Jayaweera in 10th round. She will lead the Dri Lanka Women's National Chess Team to the Chess Olympiad this year. WIM Sachini Dinushima Ranasinghe (ELO 1789) had to satisfy with the 1st Runner-Up position with the nail-biting final round. She scored 10/13. Young, Tenara De Silva (ELO 1972) secured 2nd runner-up position with 8/13 points.

The Closing Ceremony of the Championships took place yesterday evening, on 13th of May, 2018 and was attended by the Mr. Luxman Wijesuriya, General Secretary Commonwealth Chess Association and Honorary Tournament Secretary of Chess Federation of Sri Lanka and other distinguished Chess figures and Chess enthusiasts of the country.

The National Chess teams of Sri Lanka was named after the event who placed first five places. The Open team will be Isuru Alahakoon, Harshana Thilakarathne, KA Akhila Kavinda, Sasith Nipun Piyumantha and Minul Sanjula Doluweera. The women's National Chess Team of Sri Lanka will be Dinushki Premanath, Sachini Ranasinghe, Tenara De Silva, Sayuni Gihansa Jayaweera and Janadani Abeysinghe. 
Sri Lanka National Chess Championship 2018
 
 
 
 
 
 
 
 
 
Rank
Title 
Name
Rtg
Club
Pts
1
 
Isuru Alahakoon
2102
SL Navy Chess Club
9½
2
CM
G M H Thilakarathne
2186
Maliyadewa College, Kurunegala
9
3
 
AkilaKavinda
2050
University of Colombo
8½
 
 
 
 
 
 
4
FM
M Sasith Nipun Piyumantha
2219
Dharmasoka College, Ambalangoda
8
5
FM
Minul Sanjula Doluweera
2254
Royal College, Colombo 07
8
 
 
 
 
 
 
6
 
T G M Peiris
2091
Maroons Chess Club
8
7
 
Chamil Priyankara
2017
 
7½
8
CM
Chandana Wijekoon
1943
SL Navy Chess Club
7
9
CM
Ranindu Dilshan Liyanage
2003
Ananda College, Colombo 10
6½
10
 
W S Vidura K Koggala
2015
Sutra Technologies (Pvt) Ltd
5½
11
 
C L Jayaweera
1787
University of Peradeniya
4½
12
 
R K T Dissanayake
1859
Dharmaraja College, Kandy
4
13
 
M A N Danushka
1883
Nf3 Chess Club
3½
14
 
Lasal Jayawardana
1909
Lyceum International School, Nugegoda
1½
 
 
 
 
 
 
 
 
 
 
 
 
 
 
 
 
 
 

Sri Lanka Women's National Chess Championship 2018

 
 
 
 
 
 
 
 
Rank
 Title
Name
Rtg
Club
Pts
1
WFM
Dinushki Premanath
1771
University of Moratuwa
10½
2
WIM
S D Ranasinghe
1789
Nf3 Chess Club
10
3
 
Tenara De Silva
1672
The British School, Colombo 05
8
4
WCM
Sayuni Gihansa Jayaweera
1739
Dharmasoka College, Ambalangoda
7½
5
 
H M H JanandaniAbeysinghe
1650
Mahamaya Girl's College, Kandy
7
6
WCM
I U Basnayake
1726
University of Sri Jayawardhanapura
6½
7
 
Sandali Kanishka Udagedara
1591
Pushpadana Girls College, Kandy
6½
8
WFM
Dilhara Ishini Wickramasinghe
1592
Musaeus College, Colombo 07
6
9
WFM
K K M SachinthaKodikara
1560
Wycherley International School, Colombo 07
6
10
WFM
H Y Nevanjee Dimanya Hewawasam
1571
VisakhaVidyalaya, Colombo 05
6
11
 
Ashvini Pavalachandran
1632
Wycherley International School, Colombo 07
5
12
 
Shelani De Silva
1586
University of Colombo
5
13
WIM
Nelunika Methmani
1702
University of Sri Jayawardhanapura
4½
14
 
W S T D Koggala
1532
University of Colombo
2½

Isuru Alahakoon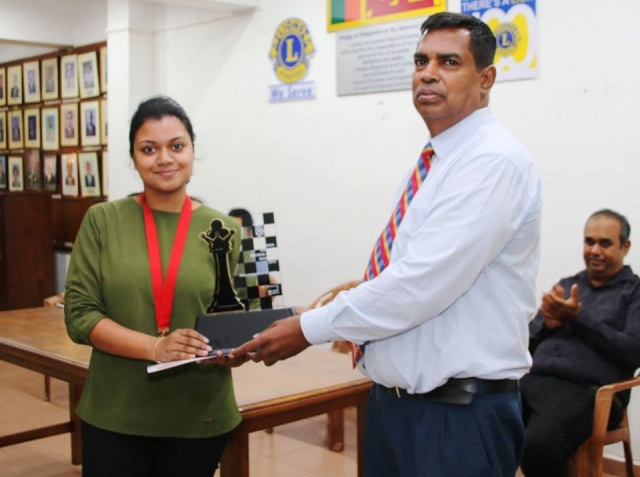 WFM Dinushki Premanath