Tuesday, 24 July 2018 00:40
The 51st Biel Chess Festival takes place from 22nd July to 1st Aug 2018. The main event is the double round robin ACCENTUS GM Tournament with World Champion Magnus Carlsen, Shakhriyar Mamedyarov, Maxime Vachier-Lagrave, Peter Svidler, David Navara and Nico Georgiadis.

Round 2:

The world champion is already in the sole lead after a long endgame win against Maxime Vachier-Lagrave. Both classical opens have started and boost record participation.

The Pirc Defence certainly came as a surprise to Maxime Vachier-Lagrave. The world champion is known to try strange openings at times, but he had barely ever used the Pirc. The Frenchman played a side line but didn't get anywhere. Carlsen outplayed him bit by bit and eventually got the win in a double-rook ending.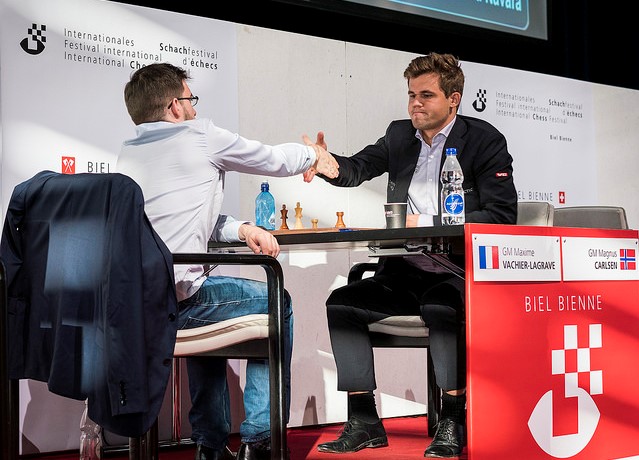 Photo: Lennart Ootes / Biel Chess Festival


Peter Svidler did not have an easy day against Nico Georgiadis. In his second black game in a row, the young Swiss kept the balance for a long time, but eventually made mistakes in time-trouble.

David Navara missed a golden opportunity against Shakhryiar Mamedyarov. He forced the enemy king to stay in the center, but failed to conclude his attack afterwards. After the exchange of queens, the Azeri leveled the game and gained a draw.

The organizing committee is very happy about the start of the Festival. The ACCENTUS GM Tournament is hard-fought, as every year, and the presence of Magnus Carlsen attracts worldwide attention. The Main open Tournament is gathering a record of over 200 players, whereas the number of participants in the Master Tournament also increased compared to previous editions.

Official website