| | |
| --- | --- |
| Shakhryiar Mamedyarov superb in Biel | |
Friday, 03 August 2018 02:56
The 51st Biel Chess Festival was held from 22nd July to 1st Aug 2018. The main event was the double round robin ACCENTUS GM Tournament with World Champion Magnus Carlsen, Shakhriyar Mamedyarov, Maxime Vachier-Lagrave, Peter Svidler, David Navara and Nico Georgiadis.

The race was decided in the ninth and penultimate round when Shakhryiar Mamedyarov convincingly beat world champion Magnus Carlsen to secure the overall tournament victory.

In the final standings Mamedyarov (AZE 2810) is first with 7,5/10 points. Carlsen (NOR 2842) emerged second with a last round win versus Georgiadis for a total of 6 points.

Vachier-Lagrave (FRA 2779) and Svidler (RUS 2753) share the third place with 5,5 points each. Navara (CZE 2741) collected 4 points, while the young local star Georgiadis (SUI 2526) had 1,5 points.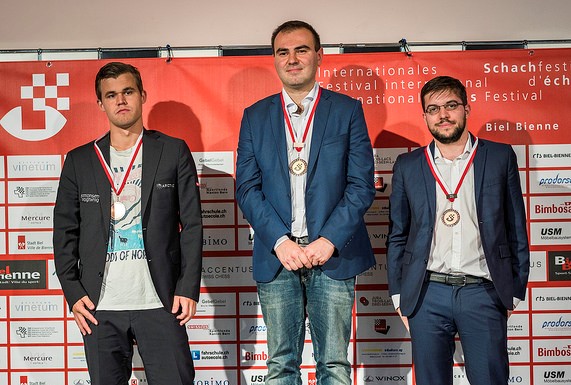 Photo: Lennart Ootes / Biel Chess Festival


Official website