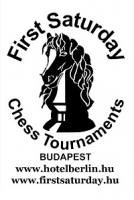 After a close tournament with many draws, IM Miklos Galyas (HUN) won the last First Saturday tournament of this summer. Still, he wasn't very content with his performance, because he tried to reach his final GM norm, but his 5,5 points were not even near to the required 7.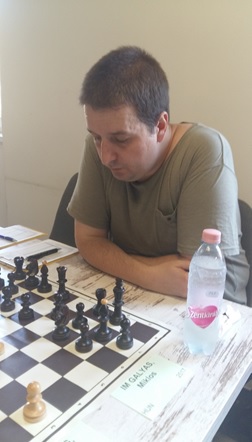 IM GALYAS, Miklós (HUN)

The only norm given in this tournament was given to FM Dmitriy Volkov (USA), who has also collected 5,5 points, and remained unbeaten throughout his games. His performance rewarded him his second IM norm.


FM VOLKOV (USA)

GM Milan Pacher (SVK) finished as third, and though usually grandmasters tend to make quick draws on RR tournaments, 6 out of his 9 games were decided. Only the Sonneborg-Berger points stood between him and the first two players, as he also collected 5,5 points.


CM Nguyen Van Thanh (VIE) is a returning player for the tournament. After his unusually bad performance in July he finished as 4th this month, and reached the necessary points to an IM norm. Because he already has 3 norms, he didn't ask for the norm to be published, but the results can still be satisfying for him.


First Saturday GM Budapest 4-14h August 2018 Final Standings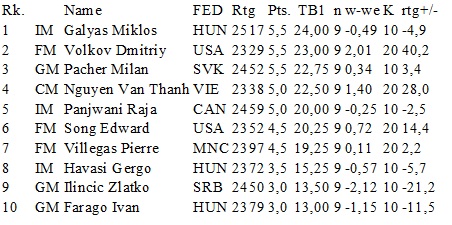 In the International Master section IM To Nhat Minh (HUN) raised first after a long, 11 rounds RR tournament.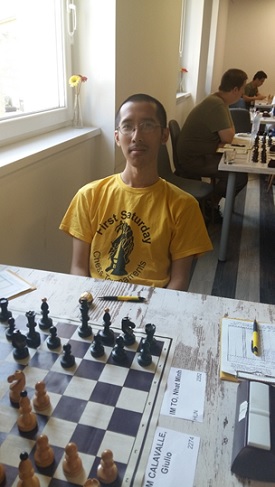 IM TO, Nhat Minh (HUN)

The 2nd place in this group goes to FM Vincent Tsay (USA). The promising young player, former U12 world champion's play develops rapidly, he fights bravely, only 2 of his games finished with a draw result. He will reach an IM norm soon.
FM KUMAR, Nikhil (USA) and CM TSAY, Vincent (USA).

Another former U12 world champion, FM Nikhil Kumar (USA) finished as third. He is also a warrior, only drawn 1 game out of 11. He collected 6,5 points, the compliments given to Vincent are also applies to him.
17 years old Harry Grieve (ENG)'s games were also fun to watch. He started the tournament 4 out of 4, everyone thought an IM norm is underway – unfortunately his focus was lost, but the 6,5 points collected with only 1 draw amongst it is commendable as well.


The highest rated player in this group, FM Srinath Rao (IND) suffered some illness during the tournament, he wasn't able to play all his games. Hopefully he'll have better luck next time.


First Saturday IM Budapest 4-14h August 2018 Final Standings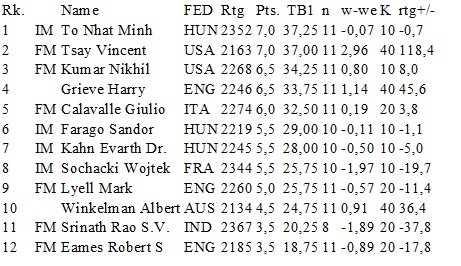 In the third group of the tournament 5 players with relatively higher rating fought with 5 lower rated opponents in a scheveningen system. In this month the system favoured the weaker players – all of them gained some or more FIDE Elo, while all players of the stronger row lost some.


In the stronger group the highest rated player, CM David Balogh (HUN) collected 8 points out of 10 games, while the most effective player of the lower row was Nathan Resika (USA) with 7.


12 years old Kumar Naman (USA) gained 107 Elo from his games, in this category he was the most successful.


First Saturday Nadassy system Budapest 4-14h August 2018 Final Standings

Stronger group



Lower rated group



The next FIRST SATURDAY Budapest tournament dates:


1-11 Sept, 6-16 Oct, 3-13 Nov, 1-11 Dec, 2-12 Febr, 2-12 March, etc.


Written by: FA Gyömbér Tamás,
Organizer: IO Nagy Laszlo
whatsapp, viber: +36-30-230-1914
This e-mail address is being protected from spambots. You need JavaScript enabled to view it