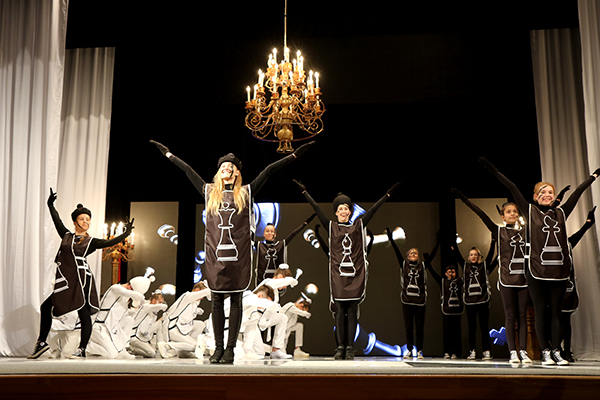 The Opening Ceremony of the Superfinals of 71st Russian men's championship and 68th Russian women's championship took place on August 24th in the Magnezit Palace of Culture in Satka, Chelyabinsk Region.

The ceremony started with a theatrical and musical performance which represented the history of Satka and its connection with chess. Young dancers accompanied by chorus "replayed" a game Larsen – Spassky, 1970, on a gigantic chess board.

A film about Chess in Museums program and representations of participants were shown on a big screen, as well as video congratulations from the legendary 10th World Champion Boris Spassky and the RCF President Andrey Filatov.

Boris Dubrovsky, Governor of the Chelyabinsk Region, Mark Glukhovsky, Executive Direcor of the Russian Chess Federation, and Maria Morozova, Director General of Elena and Gennady Timchenko Charitable Foundation, delivered speeches at the Opening Ceremony.

Boris Dubrovsky greeted the participants and guests of the Southern Ural:

"We are glad to host the event with the leading chess players of Russia. Thanks to the Russian Chess Federation and Timchenko Foundation for electing Satka as the Superfinal's host city. Satka is a wonderful place where people know how to work and cogitate.

Everyone perceives chess individually. Some persons think that it is an ancient art, for some people it is science. Struggle, risk and the thrill of battle are more important for others. But the key role belongs to the human intellect – the main engine for progress and the whole civilization.

I congratulate you on the Superfinals' opening! I wish good luck to all participants and unforgettably beautiful games for the spectators!"

Mark Glukhovsky thanked all the partners and the organizers of the Superfinals. The RCF Executive Director expressed his delight of seeing such a talented replay of a very famous game Larsen – Spassky.

"Russian Championships Superfinals are traditionally very strong tournaments. The World Chess Olympiad stars in Batumi in a month, and here we can see the whole Russian women's national chess team and more than a half of the men's team", noted Mark Glukhovsky.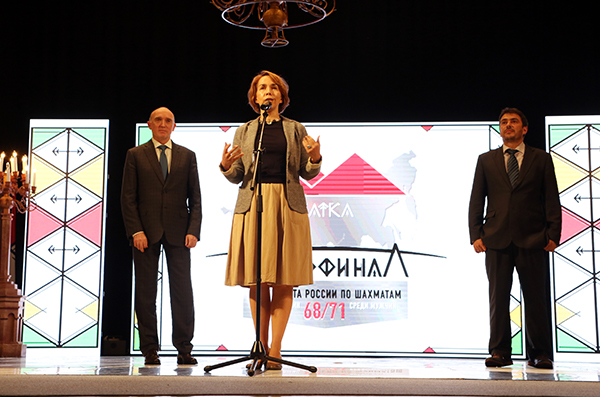 Maria Morozova congratulated the citizens of Satka on winning the contest to organize the Superfinal. "This victory is very pleasant for us because Timchenko Foundation's activity is aimed at supporting the citizens of small towns in particular".

She also reminded about the traditional social program on a free day: well-known grandmasters will give simultaneous exhibitions to young chess players on August 31st. «I have no doubt that the Russian Championship Superfinals will become a memorable event and an additional motivation for young players and that we will hear new names in the world of chess, and these names will come from Satka and the Chelyabinsk Region", says Maria Morozova.

Chief arbiter IA Vladimir Staratorzhskiy held the drawing of lots.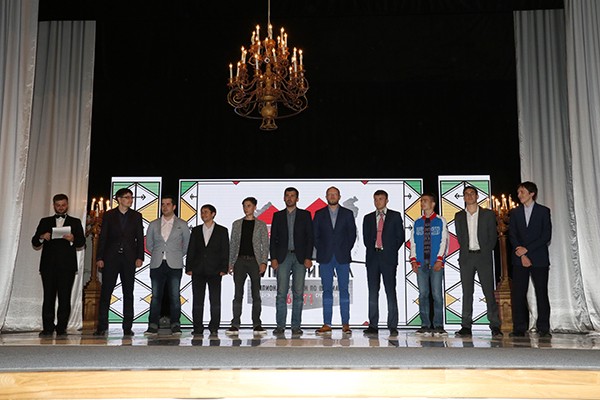 The players got the following starting numbers:

Men:

1. Dmitry Andreikin, 2. Mikhail Kobalia, 3. Dmitry Jakovenko, 4. Ian Nepomniachtchi, 5. Alexey Sarana, 6. Grigoriy Oparin, 7. Ernesto Inarkiev, 8. Daniil Dubov, 9. Nikita Vitiugov, 10. Evgeny Tomashevsky, 11. Vladimir Fedoseev, 12. Denis Khismatullin

Round 1 pairings:

Andreikin - Khismatullin, Kobalia - Fedoseev, Jakovenko - Tomashevsky, Nepomniachtchi – Vitiugov, Sarana - Dubov, Oparin - Inarkiev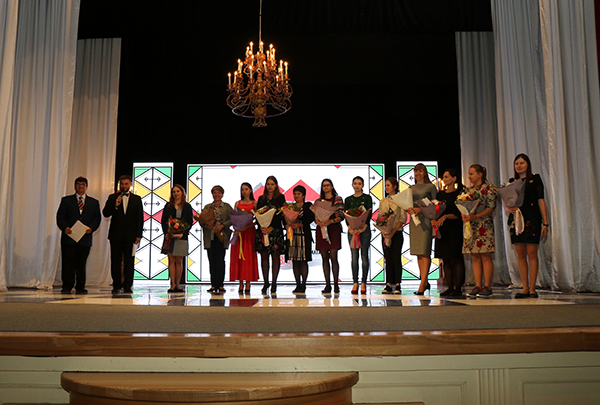 Women:

1. Anastasia Bodnaruk, 2. Oksana Gritsayeva, 3. Alisa Galliamova, 4. Valentina Gunina, 5. Alina Kashlinskaya, 6. Elena Tomilova, 7. Natalija Pogonina, 8. Aleksandra Goryachkina, 9. Anastasiya Protopopova, 10. Alexandra Kosteniuk, 11. Olga Girya, 12. Polina Shuvalova

Round 1 pairings:

Badnaruk - Shuvalova, Gritsayeva - Girya, Galliamova - Kosteniuk, Gunina - Protopopova, Kashlinskaya - Goryachkina, Tomilova – Pogonina

Konstantin Arabchikov, Director of Geliy Korzhev Foundation, told about the exhibition of the Soviet and Russian painter, a representative of the "Severe Style" Geliy Korzhev (1925-2012) which was opened in Magnezit Palace of Culture was part of the Chess in Museums program. The exposition called Painting's Way. Geliy Korzhev includes sketches and graphics from the archive of the artist's family. The sketches and graphics were made by Korzhev during the work on his key paintings on historical, biblical and other series from 1953 till 2012.

"Chess represents a mighty mental work, while a painter's profession is full of stereotypes, and not so many people understand that a labor of a serious master is also connected with titanic efforts. Everybody sees results, but only few people can cross the threshold of an artist's studio to witness a painful process of creating genuine masterpieces. That's why we are showing the way to world-known paintings of Geliy Korzhev in our exposition for people to see this hard psychological work of the artist and thinker. In this context, it becomes possible to combine tense chess competitions and a titanic, hidden from spectators' eyes, work of the painter, who made famous the Russian realistic school", says Konstantin Arabchikov.

The organizers are the Russian Chess Federation, Elena and Gennady Timchenko Charitable Foundation, Government of Chelyabinsk Oblast, and Magnezit Group. The competition is also supported by Renault Russia Company, Federal Grid Company of Unified Energy System (FGC UES), and PhosAgro. Logistics partner of the Russian Chess Federation is Russian Post.

Total prize fund is 9,000,000 roubles. Besides, the winners of both men's and women's tournaments will also receive a special prize – bright and stylish city crossover Renault Kaptur.

The tournaments are round-robin events with 11 rounds. The match days: August 25-30 and September 1-5. Free day - August 31. The rounds start at 1 p.m. (Moscow time), the final 11th round begins at 11 a.m. (Moscow time).

Tournament page