| | |
| --- | --- |
| Filipinos Rule Asian Seniors | |
Tuesday, 13 November 2018 14:06
Filipinos Rule Asian Seniors

Two-time Olympiad veteran IM Chito Garma of the Philippines won the 9th Asian Seniors Chess Championships held 2-12 November at the Tagaytay International Convention Center in Tagaytay City, Philippines.

Garma, 54, swept his last two matches against second seed FM Oleg Rinas of Kazakhstan and Angelito Camer of Australia to finish a clear winner with 8 points on seven wins and two draws in the tournament organized by the Asian Chess Federation and hosted by the Rep. Abraham "Bambol" Tolentino Jr. and Tagaytay City Mayor Agnes Tolentino.

Another veteran player on the comeback trail, IM Petronio Roca of the Philippines, finished second to Garma with 6.5 points.

Rinas and IM Angelo Young of the Philippines shared third to fourth places with six points, while NM Carlo Lorena of the Philippines wound up fifth with 5.5 points.

Last year's champion, GM Eugene Torre, also hurdled his last two assignments against former national junior champion Stewart Manaog of the Philppines and Aitkazy Baimurzin of Kazakhstan to finish with seven points. Torre settled for the over-65 category trophy. Caturla and fellow Olympian NM Rosendo Bandal finished second and third with 6.5 and 5.5 points, respectively, in the over-65 category.

WFM Helen Milligan of New Zealand emerged as the top female player for the fourth consecutive time with 4/9. Milligan edged Almagul Chakeyeva of Kazkahstan, who had 3.5/9. A far third overall was Olympian Mila Emperado of the Philippines.

A total of 34 players from nine countries — Australia, Indonesia, Iran, Kazakhstan, Malaysia, Myanmar, New Zealand, Palestine and host the Philippines — saw action in the week-long competition also supported by the National Chess Federation of the Philippines (NCFP) and Philippine Sports Commission (PSC).

Mike Lapitan served as the tournament director, while Patrick Lee was the chief arbiter.

Visit chess-results.com for results and standings.

Winners in Rapid chess were:

Over-50 group: Gold IM Angelo Youth (PHI), Silver FM Adrian Pacis (PHI) and Bronze IM Altkazy (KAZ)

Over-65 group: Gold Cesar Caturla (PHI), Silver Rosendo Bandal Jr. (PHI), Bronze Mahmood Doudin (PLE)

Women: Gold Almagul Chjakeyeva (KAZ), Silver Helen Milligan (NZL)

Winners in the Blitz were:

Over-50: Gold IM Angelo Young (PHI), Silver IM Chito Garma (PHI) and Bronze Roizon Roullo (PHI)

Women: Gold WFM Helen Milligan (NZL), Silver Almagul Chakeyeva (KAZ) and Bronze Mila Emperado (PHI)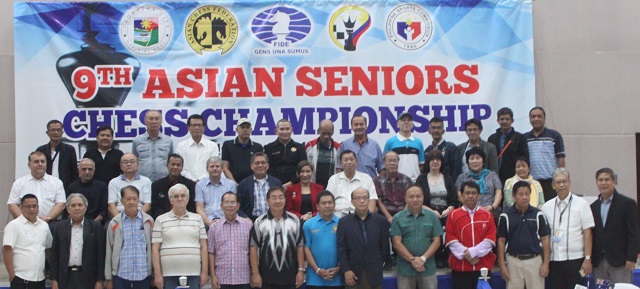 Tagaytay City Mayor Agnes Tolentino (seated center middle row) with all participants.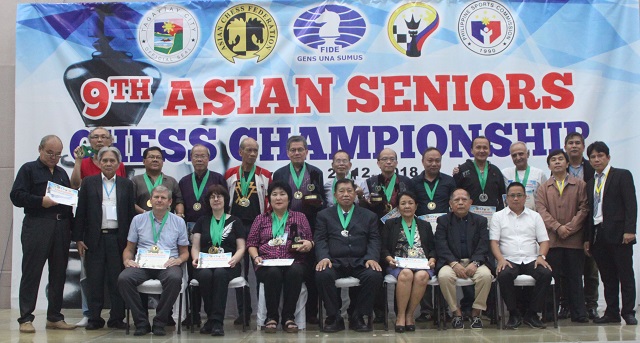 All medalists of the Standard, Rapid and Blitz competitions.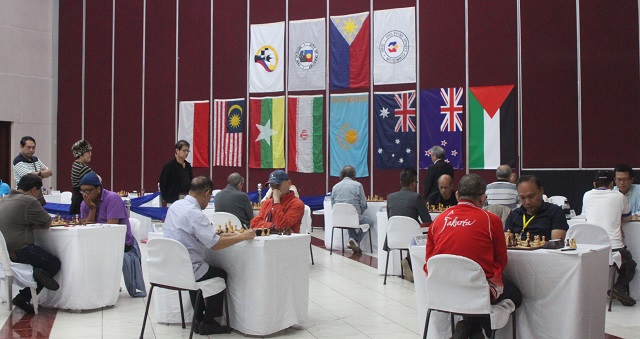 Flags of participants adorn the hall of the Tagaytay International Convention Center.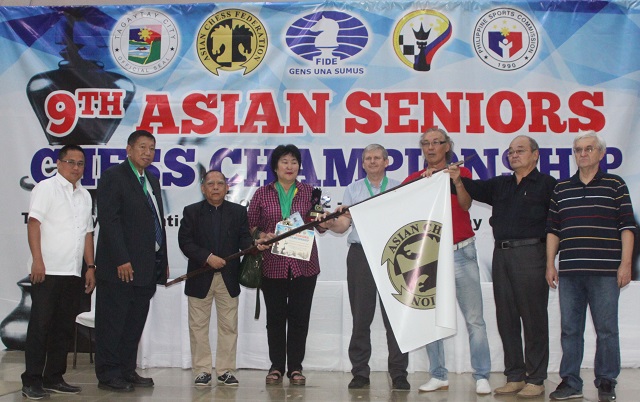 National Chess Federation of the Philippines Executive Director Red Dumuk turns over the Asian Chess Federation flag to the Kazakhstan delegation, host of next year's Asian Seniors in Almaty.