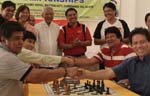 15-year-old GM Wesley So leads the P850,000 (nearly $20,000) Phoenix Petroleum & Dapitan City Battle of Grandmasters Championship going on March 24 to 31, 2009 in Dapitan City, Zamboanga del Norte, south of the Philippines. Wesley has a perfect 3-point score after 3 rounds of the 12-man round robin of 8 GMs and 4 IMs. WFM sisters Shercila and Sherily Cua share the lead in the 12-woman round robin. See chess-results.com for men and women crosstables.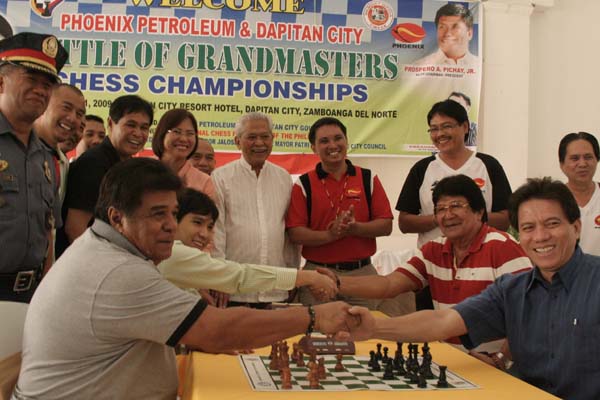 Former Congressman Romeo Jalosjos and GM Eugene Torre pair off for the ceremonial moves together with GM Wesley So and Dapitan City Mayor Dominador Jalosjos Jr. ushering in the Phoenix Petroleum and Dapitan City Battle of Grandmasters Chess Championships. Standing are, from left, PNP Provincial  Director Senior Superintendent Cristito Gonzalodo, Zamboanga del Norte Board Member Seth Frederick Jalosjos, Dapitan City Secretary to the Mayor Alemarlo Dagpin, NCFP Executive Director Wilfredo Abalos, Dapitan City Vice Mayor Patri B. Chan, NCFP Treasurer Red Dumuk, FIDE & NCFP Honorary President Florencio Campomanes, Aklan Province Sports Director Wilfredo Neri and Chief Arbiter IA Elias Lao.

(From Philippine Star) - Wesley So toppled fellow GM John Paul Gomez in 25 moves of a French defense to seize the early lead in the Phoenix Petroleum-Dapitan City "Battle of GMs" chess championships at the Dapitan City Resort and Hotel in Dapitan City, Zamboanga del Norte yesterday.

The win came on the heels of So's equally-impressive 25-move victory over GM Bong Villamayor in the first round as the top-seeded 15-year-old bet showed his readiness to defend the crown against the cream of the RP chess crop.
"I'm happy with my games right now. I hope I can sustain the momentum. But it's still a long way to go," said So, bracing for the Asian Individual Championship slated May 12-24 in Subic.

GM Rogelio Antono Jr. and IM Richard Bitoon share second place with three points on one win and a draw.

Antonio trounced IM Julio Catalino Sadorra in 60 moves of the Nimzo-Indian in the first round then halved the point with IM Rolando Nolte in 37 moves of the Alekhine in the next.

Bitoon upset GM Mark Paragua in 37 moves of the Sicilian in the opening round then drew with Sadorra in 30 moves of the Nimzo Indian.

Five players, led by GM Eugene Torre and Dresden Olympiad campaigner GM Darwin Laylo, also stayed within striking distance with two points in the event offering P200,000 to the champion.

Torre drew his first two matches against Nolte (36, Gruenfeld) and GM Jayson Gonzales (31, Bogo-Indian).

Laylo also halved the point with IM Ronald Dableo in 40 moves of the Slav in the first round and Paragua in 31 moves of the Slav.

Gomez outduelled Gonzales in 31 moves of the Albin Counter Gambit in the first round before losing to So.

Villamayor bounced back from his first round setback by whipping Dableo in 56 moves of the Slav.

Nolte, one of the four IMs, in the field, had two draws against Torre and Antonio.

Former Zamboanga del Norte Rep. Romeo Jalosjos and Mayor Dominador Jalosjos made the ceremonial moves with Torre and So, respectively.

FIDE Honorary President Florencio Campomanes delivered the inspirational remarks.
Jalosjos thanked National Chess Federation of the Philippines (NCFP) president Butch Pichay and secretary-general Abraham Tolentino for bringing the "Battle of GMs" to this historic city where national hero Dr. Jose Rizal was exiled.
Also present during the opening rites were Vice Mayor Patri Chan, board member Bullet Jalosjos, Phoenix Petroleum client relations officer Amadeo Mas, NCFP tresurer Red Dumuk and NCFP executive director Willie Abalos.