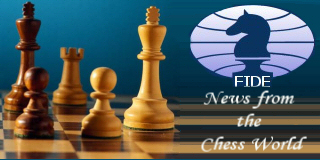 The 12th European Senior Team Chess Championship is taking place on 10th February – 18th February 2010 in Dresden, Germany. 78 teams (4-5 players each) are taking participation. The next event for the Seniors will be European Seniors' Individual Championship on 8-18th April 2010 in Thessaloniki.
Organizer:
European Chess-Union (ECU)
Aligner:
ZMD Schachfestival Dresden e.V.
Tournament hall:
RAMADA Hotel Dresden, Wilhelm-Franke-Str. 90, 01219 Dresden
Schedule:
Wednesday, 2010-02-10 — 10:00 a.m., captains meeting
Wednesday, 2010-02-10 — 2:00 p.m. — opening ceremony and round 1
Thursday, 2010-02-11 — 10:00 a.m. — round 2
Friday, 2010-02-12 — 10:00 a.m. — round 3
Saturday, 2010-02-13 — 10:00 a.m. — round 4
Sunday, 2010-02-14 — 10:00 a.m. — round 5
Monday, 2010-02-15 — 10:00 a.m. — round 6
Tuesday, 2010-02-16 — 10:00 a.m. — round 7
Wednesday, 2010-02-17 — 10:00 a.m. — round 8
Thursday, 2010-02-18 — 9:30 a.m. — round 9
Final ceremony short time after end of round 9
Regulations:
Swiss system in 9 rounds with teams of four players
Time: 90 min/40 moves + 30 minutes for the rest of the game + 30 sec for each move from first move
Participation:
Teams from each federation of ECU have the right to participate. The teams may represent a national federation or any regional structure of a national federation. All the players must come from the same federation, however this rule is waived if all the members of the team are rated under 2200 or unrated.
Each team consists of four players, in addition one reserve player may be nominated.
A provisional naming of the players and the substitute has to be given together with the registration of the team. Changes in the team can be made until the captains meeting takes place. Reserve players are only allowed to play board 4.
Entitled to participate are men who have reached the age of 60 years and women who have reached the age of 50 years, by 1st January 2010.
Title:
The winning team obtains the title "European Senior Team Champion 2010″.
Awards:
1. price — gold medals and 1200 Euro
2. price — silver medals and 900 Euro
3. price — bronze medals and 600 Euro
4. price — 500 Euro
5. price — 400 Euro
The team with the best difference of performance obtains a special award about 200 Euro
Additional awards for the best players at each boards (board 1 – 4 plus reserve player).
Each participant is awarded a memorial present.
Ranking:
The ranking depends on the number of team points (win = 2 team points, draw = 1 team point, lose = 0 team points). If the number of team points are equal as well the points scored at the individual boards are added up. If further differentiation is needed the 'Buchholz-Wertung' is decisive.
Awarding of the top scorers (at each board): The number of points is decisive for the ranking, should there be equality the better percent result comes first. At least five games must be played for an award.