Festival Paulista de Xadrez 2010
, consisting of two round-robin tournaments, is taking place from 9th to 22nd August in Santos, Brazil.
The
7th Torneio Internacional Regina Helena
is launching first. It is a 10-player round robin event which provides opportunity for IM norms.
Participants: IM Jorge Rosito Argentina 2422, IM Dragan Stamenkovic Serbia 2382, IM Martin Crosa Uruguay 2382, FM Evandro Amorim Barbosa Brasil 2382, FM Manuel Larrea Uruguay 2323, FM Vinicius Tine Brasil 2315, FM Alvaro Aranha Brasil 2299, FM Carlos Alberto Sega Brasil 2253, Leandro Campelo Brasil 2220 and Dirk Dagobert van Riemsdijk Brasil 2144.
IM Dragan Stamenkovic and FM Carlos Alberto Sega have taken an early lead with 2.5 points from three games.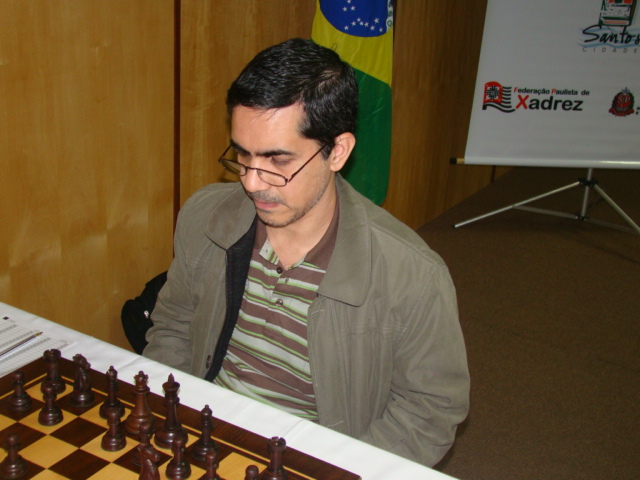 FM Carlos Alberto Sega
The Festival continues with the
9th Torneio Internacional Mario Covas Jr.
which is starting on 13th August. It is also a 10-player round robin with the field of average rating of 2523 elo.
Participants: GM Rafael Leitão Brasil 2629, GM Gilberto Milos Brasil 2606, GM Alexandr Fier Brasil 2570, GM Axel Bachmann Paraguay 2552, GM Sandro Mareco Argentina 2527, GM Andres Rodriguez Uruguay 2508, GM Felipe El Debs Brasil 2499, IM Diego Di Berardino Brasil 2492, IM Jose Cubas Paraguai 2463 and IM Luis Coelho Brasil 2381.
Official website