| | |
| --- | --- |
| Kings Tournament 5th edition | |
Tuesday, 07 June 2011 11:34



Following the tradition of investing in intelligence, started in 2007 with the first edition of the Kings Tournament, the Chess Club "Elisabeta Polihroniade" as organizer, and Romgaz Company as unique sponsor of the event, bring on the Romanian chess stage a new edition of the Kings Tournament.

2011 is an anniversary year for the organizers of the most important chess tournament in Romania, the Kings Tournament being at its 5th edition.

Kings Tournament keeps the promise of lifting the competitive level with each new edition, this year's participants lifting the Tournaments category at the maximum level of XXI with an 2758 ELO rating.

Internationally, the Kings Tournament benefited of the International Chess Federation's interest who have sent as a representative on managements behalf, Mr. Nigel Freeman, FIDE treasurer, at every organized edition starting in 2007 with the competition's first edition. Kings Tournament 3rd edition welcomed the presence of the International Chess in School Union president (ISCU), Mr Alexander Kostiev, and at the 5th Edition the European Chess Union (ECU) was the tournaments observer represented by President Boris Kutin.

Thanks to the fame gained along the years, Kings Tournament was introduced in the Grand Slam of Grand Slam Association Spain, that offers the winner the opportunity to participate to the great final in Bilbao. Kings Tournament was introduced in the Grand Slam starting in 2011 alongside the tournaments from Nanjing China, Wijkaan Zee Holland (started in 1938), Linares (started in 1978) and Bilbao Spain.

During the 2010 edition the organizers of the greatest worldwide tournament (GSCA) met in Medias where they decided to accept "Kings Tournament" in Grand Slam thanks to the special conditions ensured by the organizers.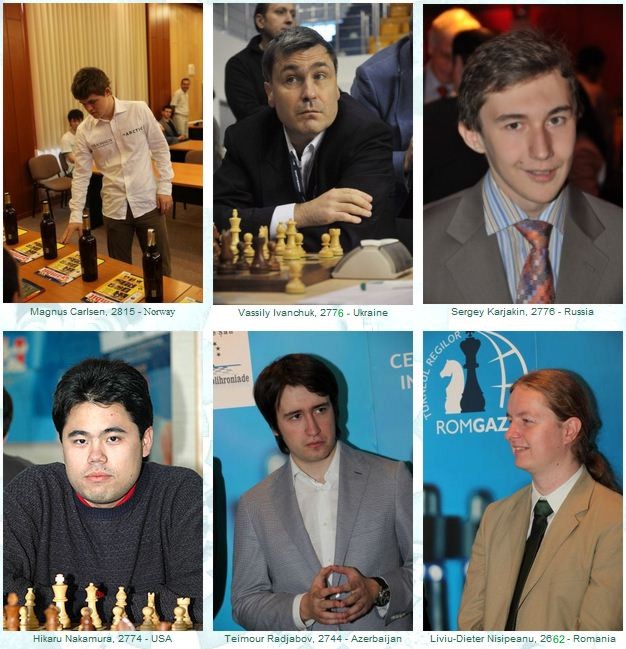 Kings Tournament 5th edition will take place during 11 -22 June 2011 within the Natural Gas Documentation and Information Centre in Medias.

The favorite of the 2011 Kings Tournament is the Norwegian GM Magnus Carlsen, the winner of the 5th 2010 Edition and the youngest winner of the tournament. Magnus is on the second place on the list published on the 1st of May by the International Chess Federation (FIDE) with a 2815 rating, after the world champion Viswanathan Anand.

The winner of the 3rd 2009 Edition of the Kings Tournament, Vassily Ivanchuk promises an exceptional tournament where he will try to surpass his younger rival to the title. The Ukrainian Ivanchyk is on the 5th place on the FIDE list with a 2776 rating.

Among this edition's participants is GM Sergey Karjakin, a "wonder" of chess, who holds the record for the youngest IM, at the age of 11 and 11 months, as well as the youngest Grand Master in history (at the age of 12 and 7 months). Karjakin represents Russia and takes the 6th place on the FIDE list with a 2776 rating.

Number 1 of the United States of America and participant to this Edition of the Kings Tournament is GM Hikaru Nakamura, number 8 worldwide with a 2774 rating on the FIDE list. In December 2010 Nakamura takes the 5th place at the London Chess Classic tournament, performance that ensured his official place among the first 10 players of the world, January 2011.

Number 13 on the FIDE list with a 2744 rating, Teimour Radjabov is a frequent participant of the Kings Tournament being one of the candidates to this year's title. He is the UNICEF ambassador in Azerbaidjan and the winner of the tournament from Holland in Wijk aan Zee 2007 (ex-aequo), the World Quickplay Finish Cup in 2008 at Odessa and of Elista Grand Prix (ex-aequo).

Invited by the organizers, GM LIVIU-DIETER NISIPEANU, participant to all former editions of the Kings Tournament and the European Champion in 2005 and number one in Romania, the Fide list puts him on the 89th place worldwide with a 2662 rating. At the 2010 edition of the Kings Tournament, Dieter was on the 5th place.

Taking into account the value of this year's contestants, the organizer and the sponsor of the most important chess tournament held in Romania wish all the contestants good luck to this anniversary edition and may the best win!

http://www.turneulregilor.com/