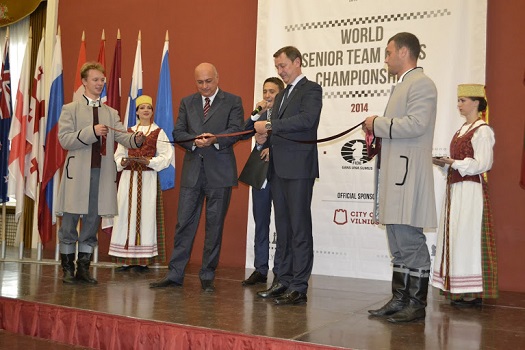 World Senior Team Chess Championship 2014

Following the 2013 FIDE Congress in Tallinn decision, the World Senior Chess Championship was relaunched in Vilnius, Lithuania. The Championship ran July 12-22, 2014 inside the splendid Town Hall, located in the very heart of Vilnius Old Town. 28 teams from 14 countries took part, having a total of 129 players in their line-ups. According to the Championship Regulations, the tournament was open for any number of teams from the same national federation.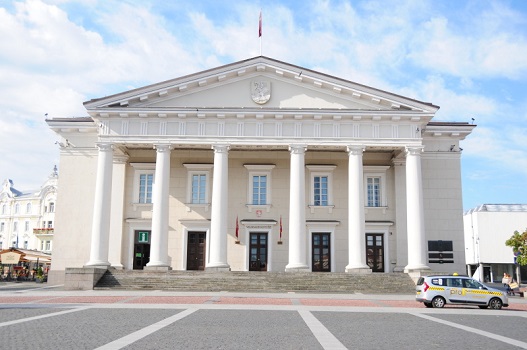 Following another clause of Regulations, the tournament was split to separate age groups: Senior 50+ and Senior 65+ Championships. Subsequently 18 teams of Senior 50+ section played 9 rounds Swiss while 10 teams of Senior 65+ battled out the medals in a round-robin. Moreover 4 women teams were merged into Senior 50+ Championship with their separate ranking, prizes and medals. Every match was played over 4 boards.

Two Russian teams 'Russia' and 'Saint-Petersburg-Russia' clearly dominated the field of Senior 65+ Championship. They began the Championship by quiet mutual tie 2:2, but then went on crushing their other opponents. However in Round 4 the team Austria put the bar on 'Russia's advance by holding them down in a 2:2 tie. This enabled 'San Petersburg-Russia" to get in front of their main rivals by 1 match point. The Petersburgers never let this advantage go and claimed gold with 17MP out of 18. The team 'Russia' stayed 1MP behind them and had to conform to silver. The Latvians deservedly took bronze with 12 MP, one MP ahead of Austrians.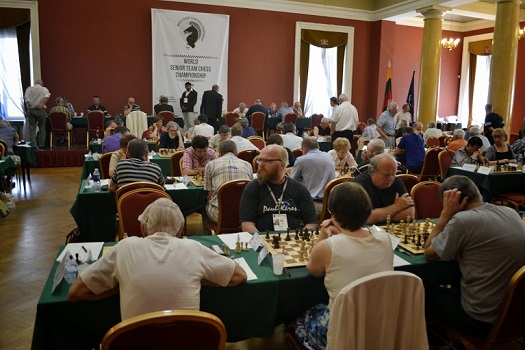 In Senior 50+ Championship the gold medals were mainly contested between local 'Lithuania 1' and 'England 1' teams. Before the 4th round the Englishmen were in the lead by 1MP, but lost to 'Lithuania1' 1,5:2,5 in round 4. Lithuanian's IM Virginijus Dambrauskas win over IM John Cox on board 3 proved to be decisive. 'Lithuania 1' successfully marched on afterwards and took gold with 17 MP in total. The silver went to 'England 1' on 15 MP. The 'Russia Women' team with 12MP surprisingly took place 3 at final standing.However the bronze medals were awarded to 'Rositsan ir Maccabi Lithuania' team who collected 12MP too.


Instead the Russian ladies were honoured with gold medals at Ladies 50+ Championship. 'Georgia Women' and 'Latvia Women' lady teams gathered 9MP each, but the Sonneborn-Berger tie-break favoured Georgians who received silver. The former Women's World Champion Nona Gaprindashvili, playing the 1st board, added 5,5 points to her team.

Official website

Results