The 9th and last round of this European Chess Championship for Blind and Visually impaired players took place on Sunday 2nd August at the Mercure Hotel, rue de Bonnel in Lyon. The closing ceremony was just after at 17:00.
This last round, like the first one, saw an extreme fighting spirit because there was only one draw in the top 12 boards!

The logic was respected because it's the Elo n°1, the Polish Grandmaster Marcin TAZBIR, who becomes the new European champion, thanks to an ultimate win over the Serbian DIMIC. He finished sole 1st, unbeaten with 7.5/9.

On board 2 the Russian Stanislav BABARYKIN and the German Oliver MUELLER engaged in a merciless fight of almost six hours, which ended in a draw. They complement the podium in that order.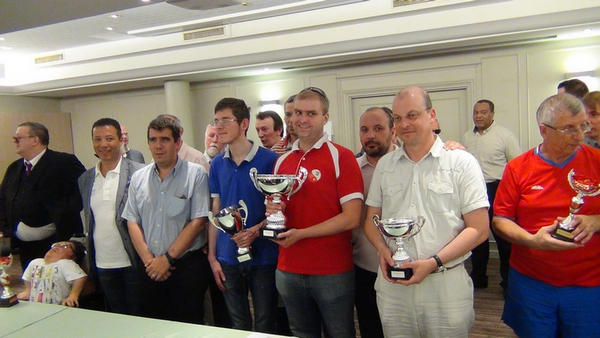 2.Stanislav BABARYKIN 1.Marcin TAZBIR 3.Oliver MUELLER

The English Chris ROSS ponctuated his excellent championship by a new victory, over PRIBEANU, and finishes 4th with 6.5/9 (performance at 2334). On board 3 the word champion Jacek STACHANCZYK played a theorical piece sacrifice against the WIM Lubov ZSILTZOVA-LISENKO but his attack led to nothing and he was defeated.

Let us mention as well the good game of the French Adrien HERVAIS against the FM WASSIN (2298), in which the opposite color bishops endgame was draw before Adrien broke down in the end. However he played a superb tournament and ended best French player. The former European champion Piotr DUKACZEWSKI closed his course on a good note by overcoming GRIGORCHUK. Let us finally insist on the magnificent tournament of the Romanian junior Razvan NEDU, Elo 1551, performance at 1915.

List of prizewinners (64 participants)


Winner





1.

GM

Marcin TAZBIR (2516 – POL) 7,5





Second





2.

MF Stanislav BABARYKIN (2357 – RUS) 6,5





Third





3.

MF Oliver MUELLER (2269 – GER) 6,5





Women





6.

MIF Lubov ZSILTZOVA-LISENKO (2224 - UKR) 6,5





Age >50





7.

Piotr DUKACZEWSKI (2237 - POL) 6





Age >65





5.

Yuri MESHKOV (2349 - RUS) 6,5





French





20.

Adrien HERVAIS (2029 - FRA) 5





Elo 2000-2199





4.

Chris ROSS (2184 – ENG) 6,5





Elo 1800-1999





26.

Mirko EICHSTAEDT (1997 - GER) 5





Elo 1600-1799





36.

André SCHMEISSER (1740 – FRA) 4,5





Elo 1400-1599





33.

Razvan NEDU (1551 – ROU) 4,5





Elo 1000-1399





58.

Yves LE BRUN (1396 – FRA) 3




Results R9 | Final ranking | See again the live of R9


Closing ceremony

The award ceremony took place in the presence of almost all actors, direct or indirect ones, of that championship, namely participants, arbiters, organizers, volunteers, elected, sponsors. Let us especially mention Yves CROMBECQUE (Rhône-Alpes Region), Ali KISMOUNE (representing Gérard COLLOMB, Senator-Mayor of Lyon), Abdel ACHACHE (Lyon 3rd), Marie GUYON (Lyon 4th), Xavier SIMOND (Lyon 6th), Ludwig BEUTELHOFF and Stephen HILTON (IBCA), Bernard DUTHOIT and Adrien HERVAIS (AEPA), Frédéric LOYARTÉ (DNH FFE), Adrien BROUSSET (Ibis Hotel), Jean-Michel PÉCHINÉ (Europe-Échecs), Xavier POPELER (Lyon Olympique Échecs), Henri CRESTON (Lyon 64 Échecs), Yves GUILLERME (Pompidou Lyon Échecs) and Christophe LEROY.

All the organization team was thanked many times. This includes particularly the collaboration between the three chess clubs of Lyon whose presidents were named above, the DUTERTRE family, Mensour (Ibis Hotel), all the persons who guided the players (including Alison, Armin, Armand, Alain, Patrick, etc.), who helped for entering the games (including Philomène, Simon, Thomas, Nicolas), during the chess animations in Lyon, all the photographers, the translators (Otari family, Patrick, Bernard, Magdalena), Arthur for the Internet, Julien and Sylvain for the live games, commentated games and entering the games.
http://tiny.cc/IBCAEuro

http://lyon-olympique-echecs.com/


---
The 7th round of this European Chess Championship for Blind and Visually impaired players took place on Friday 31 July at the Mercure Hotel, rue de Bonnel in Lyon.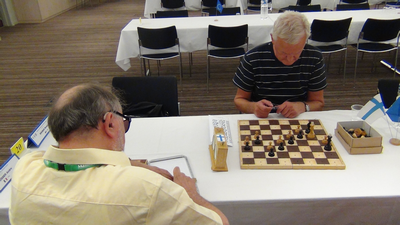 As things can turn around quickly in chess! S. BABARYKIN was a hero with 5/5 but he just lost two times in a row. P. DUKACZEWSKI came back strongly yesterday but he lost today.

The two new players ahead are their respectives winners. The Polish GM Marcin TAZBIR, n°1 of the tournament, is leading with 6/7, followed by the German FM Oliver MUELLER at 5.5.

We are still seeing a lot of beautiful games in this championship. Here are three diagrams:


| | | |
| --- | --- | --- |
| S.Babarykin – M. Tazbir |  O. Mueller – P. Dukaczewski | A. Hervais – R. Nizam |
|   |   |   |
|   |   |   |
On the left: Tazbir used the theme of the trapped piece, here the ¥h2. White took in g6 and then tried to untangle with g3 but the endgame was lost. In the center: Dukaczewski sacrificed the exchange, unfortunately here he played 24...¤d6? And had to trade Queens after 25.¦h3! with a losing game. He could have played 24...¥xf4 with a strong attack. Maybe the turning point of the championship! On the right: Adrien Hervais, facing IM Rasim Nizam, followed Tal-Timman Candidates 1985, sacrificing a pawn for a super active King ! Black played 23...¦d8? when 23...a6 24.a4 ¢e7 or the active 23...d4 were required. The French then won quite quickly! He is at 5/7, one point behind the leader.

Arbiters
In a tournament for blind and visually impaired players, the referees have more work than usually! The material is more difficult to manage, especially clocks of several different models. During the round they sometime have to check that the two players have the same position, and of course that they reach the 40th move in the given 2h. The taking of the results is less obvious too. Congratulations to the arbiters Stephen BOYD, Georges BELLET et Thierry PARIS!

Round 8
There are only two rounds left, the 9th and last on Sunday at 9:30. Marcin TAZBIR, who will face up to Oliver MUELLER, has now his fate in his hands. Here are top pairings of round 8 on Saturday 14:30:



Results R7|Ranking|Pairings R8|Live games|Photos|Official page
---
The 6th round of this European Chess Championship for Blind and Visually impaired players took place on Thursday 30 July at the Mercure Hotel, rue de Bonnel in Lyon.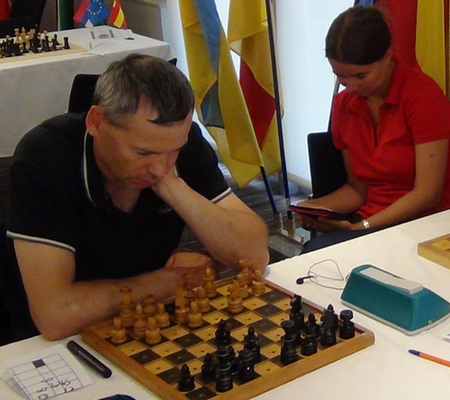 The defending European champion, Pior DUKACZEWSKI (photo), is back! Defeated by the n°1 during round 4, he just won two games in a row. Today he above all tumbled down the Russian leader Stanislav BABARYKIN who was at 100%, after a creative English opening. The Polish IM thus joins his opponent in the head of the championship, as does GM Marcin TAZBIR, all three with 5/6.

So there is a strong revival in the championship and four other players are in ambush only half a point behind.

Among these players at 4.5/6, the IM Yuri MESHKOV showed his technic to beat NIZAM. Pavle DIMIC overcame the Spaniard DRAGHICI after a spectacular game (see commented game). Finally the German Oliver MUELLER strongly countered the attack of the Ukrainian WIM ZSILTZOVA-LISENKO.

Let us mention the draws got by CLEMENTE and MLACNIK, as nice wins for Lithuanian veteran Boris ROSITSAN (2051) over SPINU (2210), and for Adrien HERVAIS (2029) over T. MUELLER (2133). The Belgian DALSCHAERT is continuing his good run. The local player Olivier DEVILLE (1868) played a good game against the Croatian CAJZLER (2135) but finally had to bow.

The championship live on the Internet
Eight games are broadcasted live thanks to two persons of the organization who enter the moves manually on smartphones and tablets. We remind that DGT technology can't be used because the rules impose the participants to play on adapted boards. Two webcams enable to see the playing room live. The arbiters type results in real time on chess-results.

Among the 3 leaders, BABARYKIN will challenge TAZBIR. Here are top pairings of round 7 on Friday 14:30:



Results R6 | Ranking | Pairings R7 | Live games | Photos | Official page


---
The 5th round of this European Chess Championship for Blind and Visually impaired players took place on Wednesday 29 July at the Mercure Hotel, rue de Bonnel in Lyon.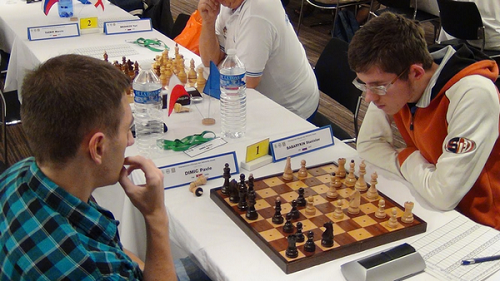 The player in the light is the Russian Stanislav BABARYKIN (on the right on the photo). Already sole leader after four rounds, he played again a nice game to win in only 27 moves against the King's Indian defense of Serbian DIMIC! He is now a full point ahead of four players. His today's game will be commentated on the official website.
The favorite of the tournament, the Grandmaster TAZBIR, conceded his 2nd draw, to MESHKOV. On board 3, the English Chris ROSS made the most of an incredible blunder by Russian International Master PAKHOMOV who gave a Knight. The two other players with 4/4 are Polish IM STACHANCZYK and DUKACZEWSKI who won convincingly.

There were several unexpected results in this round and it would be impossible to list all of them. French players, sometime in trouble in the beginning of the tournament, are recovering well since yesterday. André SCHMEISSER (1740) overcame the Slovenian Emil MURI (1951), while Olivier DEVILLE (1868), not rewarded for his resistance yesterday, this time held a draw against the German Franck SCHELLMANN (2093). Finally Adrien HERVAIS (2029) played another very long game, even closing the day by defeating the Greek player KLIMIS after 5h56 of play.

See the end of the game in this video

Broadcasting and input of the games

This Wednesday there were 8 broadcasted games live in Internet. The whole 32 games played every day are entered by the organizers and are available in PGN on the website every evening. It's far from always being easy when we know that several players are writing in Braille, using dictaphones or writing in their own language!

Animations in the Shopping Center Part-Dieu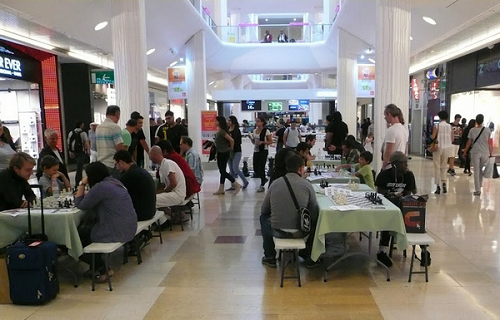 On the occasion of the championship, the animations in the Shopping Center Part-Dieu began this Wednesday and will continue till Saturday.

Address: 7 rue du Dr. Bouchut 69003 Lyon.
From Tuesday to Saturday: Initiations, giant chessboard and free play 15h-19h
Saturday: Rapid tournament 15h-19h

Photos of today | See the full list of summer animations

The situation in the head of the tournament was summarized in the introduction with BABARYKIN at 5/5 followed by four players at 4. Here are top pairings of round 6 on Thursday 14:30:



Results R5 | Ranking | Pairings R6 | Live games | Photos | Official page



---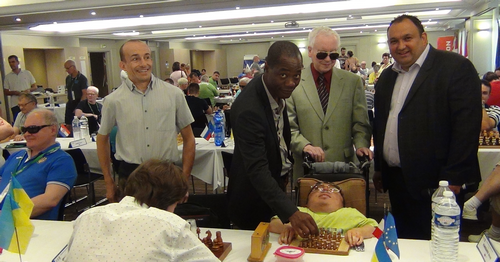 The round 3 of this European Chess Championship for Blind and Visually impaired players took place on Monday 27 July at the Mercure Hotel, rue de Bonnel in Lyon. Made us honored by their presence Ludwig BEUTELHOFF, president of IBCA, Diego SALAZAR, president of FFE, Bernard DUTHOIT, president of AEPA, Jean-Pierre CURIE, in charge of partnerships in Matmut, Yann CROMBECQUE, Conseiller Régional Rhône-Alpes, and Toussaint AKPWEH, National Director of UNADEV Sports, who played the first move of Adrien HERVAIS (photo).

On the board, games were hard fought, several of them lasting more than five hours. Duels were especially contested among the top twelve players and three drawn games marred the first six tables.
In the 2nd half of the tournament, Italian Claudio GASPERONI (1867) performed by winning Russian KASIMOV (2196) (see game of the day), as well as Romanian Vasile CARAPIT who defeated Slovenian Emil MURI. Another Romanian, the junior Razvan NADU (1551), made a 2nd consecutive performance with a draw against WIKMAN.

The last game of the day lasted 5h58, which is only 2 minutes less than the theorical maximum! The Greek KLIMIS was very close to share the point with PRIBEANU. See the end in video

After 3 rounds, there are only 3 players left at 100%: BABARYKIN, DUKACZEWSKI et GRIGORCHUK. Here are the pairings of round 4 of Tuesday:



Results R3 | Ranking | Pairings R4 | Live games | Photos | Official page





---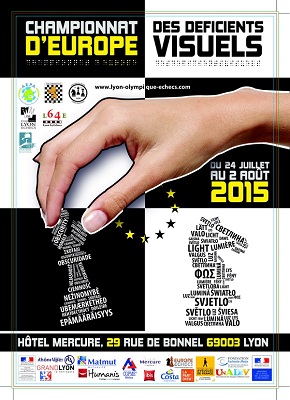 The 6th IBCA European Chess Championship for blind and visually impaired players will take place in France for the first time. Indeed, no International individual tournament has never been held in France for blind and visually impaired players. The AEPA (the French Chess Organisation for Blind and Visually Impaired Chess Players), driven by Bernard DUTHOIT, Adrien HERVAIS, Olivier DEVILLE and Bertrand CATHERINE, gave the impetus to succeed in finding passionnate and dynamic support.

62 players from 20 nations (Germany, England, Belgium, Bulgaria, Croatia, Denmark, Scotland, Spain, Finland, France, Greece, Italy, Lithuania, Monaco, Poland, Romania, Russia, Serbia, Slovenia and Ukraine) will thus compete in Lyon to win the European Championship title. Among them, 1 International Grandmaster, 4 International Masters and 7 FIDE Masters. 10 French competitors will participate, 3 of them coming from the Rhône-Alpes Region.

Quite unexpectedly, in this sport blind and visually impaired people can make the most of a game, playing along with full sighted people.

We invite everyone, chess players and non chess players, to join us at the Mercure hotel, located 29 rue de Bonnel in the 3rd Arrondissement of Lyon. Come and see those breathtaking matches featuring genuine intellectual prowesses. Free entrance.

List of players on Chess-Results