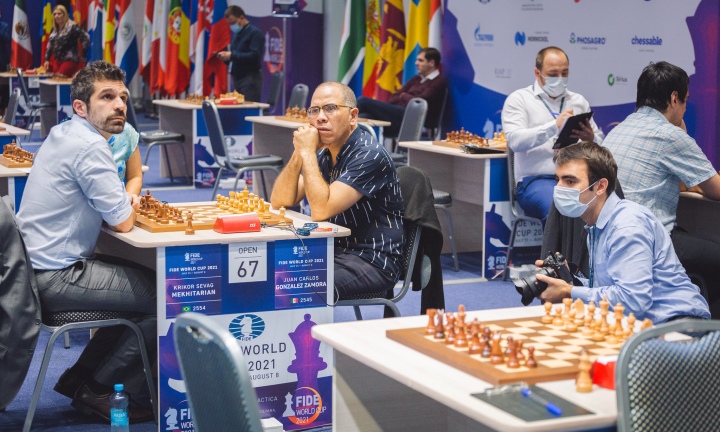 World Champion Magnus Carlsen debuts tomorrow in Round 2
Wednesday, July 13th, 2021 – Rapid and blitz game tiebreaks are the real test for today's modern chess player. Calculation skills become slightly less important and are at a certain level substituted by much more intuition, as the time on the clock starts running low.
Good nerves, decent physical condition, stamina, and a well-thought-out opening repertoire are some of the key skills that have to be honed at home before the competition to be a good tie-breaker.
The Galaxy Leisure Complex enjoyed a huge amount of entertainment this afternoon. Twenty-eight matches were not decided in the two classical games, and had to be fought out in a series of two rapid games - 25 minutes base time + 10 seconds increment -, followed by two more rapid games (10/10 this time), and finally two blitz 5/3 games. A nerve-racking "Armageddon" decisive game is left for the end: 5 minutes vs 4 on the clock and Black advances with the draw.
They say that better players excel even more with less time, thanks to their superior intuition and pattern knowledge plus match experience, and today's tie-break round was no exception. Most of the favourites only needed the two rapid games to defeat their lower-rated opponents and move on to Round 2, where fresh top-50 opponents will be waiting for them.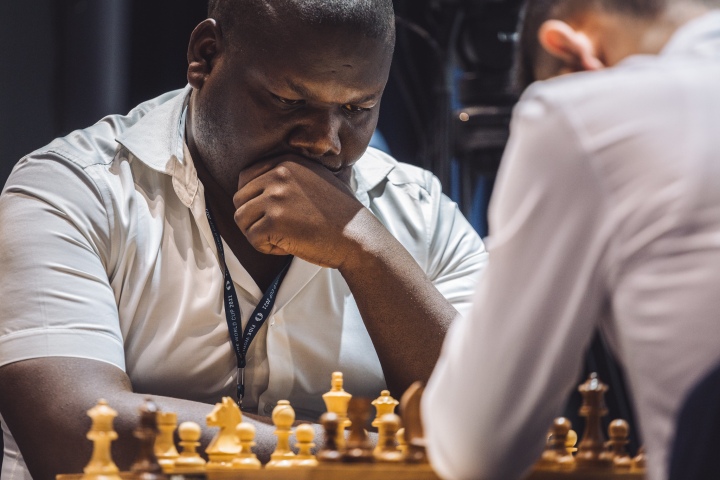 One of the matches that deserved special attention in the Open World Cup was the face-off between top Armenian GM Haik Martirosyan (2632) and Zambia's IM Chitumbo Mwali (2281). Albeit the nearly 350 rating points difference, Mwali won his classical game, forcing the tie-break. But as the Zambian International Master confessed to FIDE's Press Officer in the post-game interview "today was not his day".
Another really interesting match-up in the Open section was the all-Egyptian encounter between GM Abdelrahman Hesham (2397) and his Olympic team colleague and top-Egypt player Ahmed Adly (2625). Although on paper, Adly should have been cruising to the second round, these play-offs between team colleagues sometimes don't go the logical way, and in this case, the Egyptian representative will be Hesham, who sealed the match win in the second game of the rapids.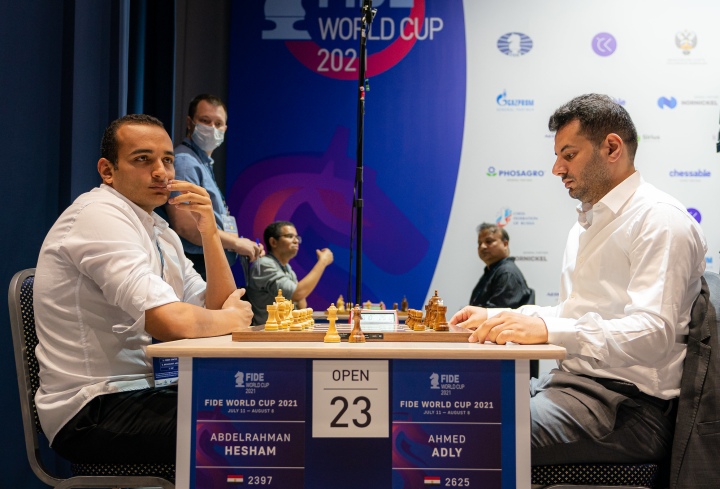 The protagonists of the other two huge surprises of the day were a couple of young IM guns: Ravi Haria and Volodar Murzin. The Englishman IM Ravi Haria (2440) put Russian's experienced GM Vadim Zvjaginsev (2608) to the test in the rapid games.
After winning the first one quite clearly, he had to defend a very tricky 4 pawn vs 3 pawn rook ending to seal the draw, not after suffering many moves with very little time on the clock.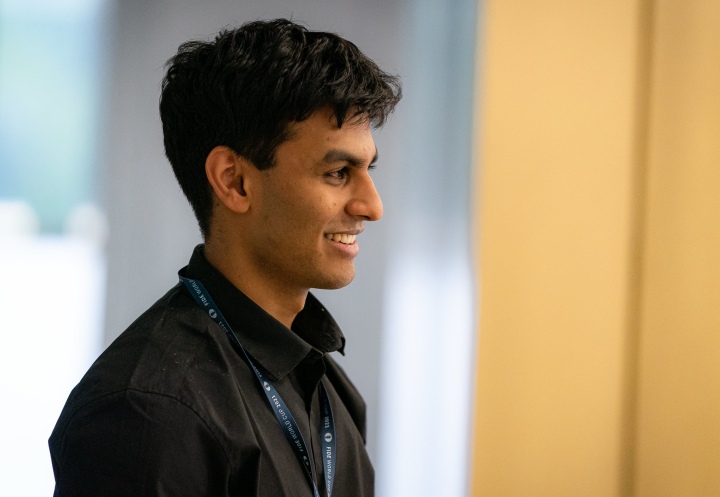 A huge achievement by the underdog in this match who declared in the post-game interview that he would now "have to reserve a few more days at the hotel". Well done Ravi!
Last but not least, Russian 15-year-old IM Volodar Murzin (2502) played one of the most memorable matches of round one, defeating none other than experienced Moldova GM Viorel Iordachescu (2589) by 3.5-2.5.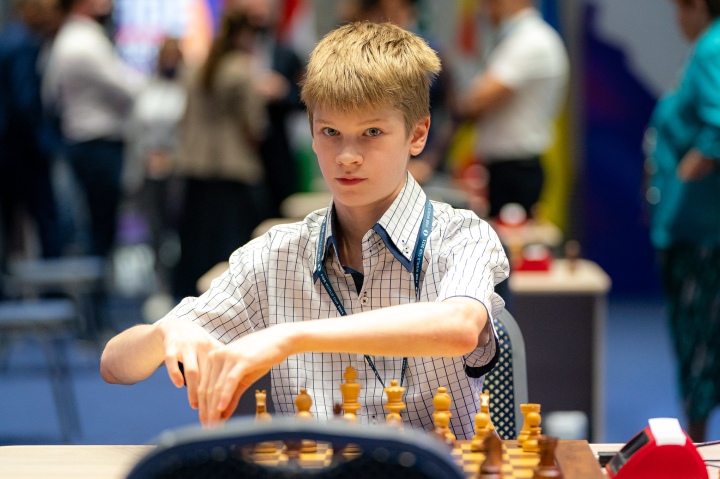 After making one draw after another (solid play by both contenders), "the kid" prevailed in the second 10/10 rapid game. He will face another young player in Round 2, top Russian GM Vladislav Artemiev (2704), who is now 23 years old.
In the Women's Cup, similar scenarios occurred, with most of the clear favourites advancing to the second round in good fashion, where again they will be joined by the 25 top seeds including several world-class female players.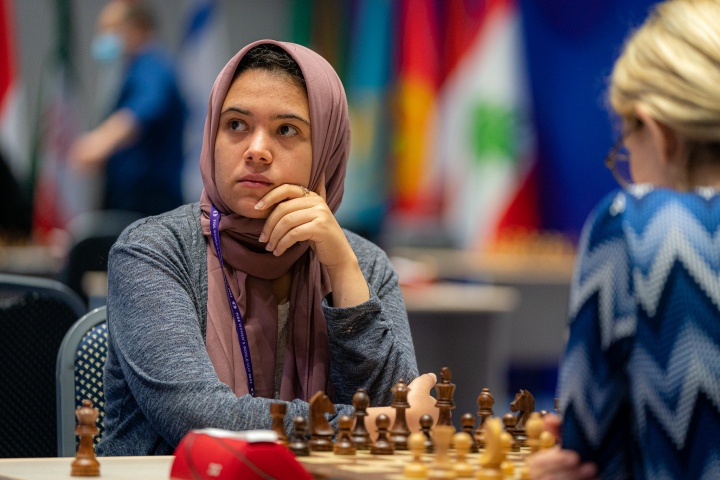 One of the most memorable matches, and a very close win for the favourite, was the tie-break between WGM Shahenda Wafa (2106) (pictured above) from Egypt against French WGM and top-player Almira Skripchenko (2411).
The match went back and forth for both players and actually, Wafa had some great opportunities to advance to the second round but finally it will be Skripchenko who will face her Olympic colleague Marie Sebag tomorrow.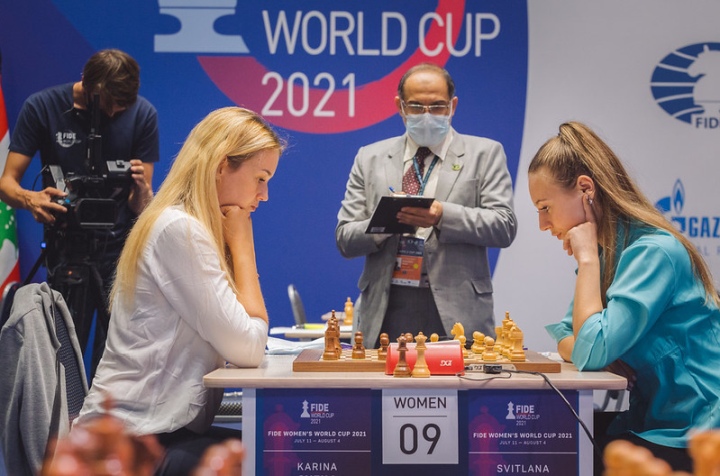 Watch out for the world's top-five players tomorrow afternoon in the 1/64 round at 3pm sharp:
World Number 1 Magnus Carlsen vs Sasa Martinovic
World Number 2 Fabiano Caruana vs Susanto Megaranto
World Number 5 Levon Aronian vs Bobby Cheng
Pairings of the second round, live games, and PGN files can be found on the World Cup website alongside a great amount of other interesting information such as daily videos, a complete photo collection, and other useful data.
Reigning World Champion Magnus Carlsen will be making his debut here tomorrow and will receive the Gligoric award for fair play before the start of the round.

Text: Michael Rahal, FIDE Press Officer press@fide.com
Photo: Eric Rosen and Anastasiia Korolkova
About the tournament:
Scheduled to take place from July 12th (Round 1) to August 6th (finals), the 2021 FIDE World Cup will gather together in Sochi (Russia) 309 of the world's best chess players, with 206 of them playing in the Open World Cup (and 103 participants in the first-ever Women's World Cup.
The top two finishers in the tournament, aside from World Champion Magnus Carlsen who is also participating, will qualify for the 2022 Candidates Tournament, in addition to winning the 110.000 USD first prize (80.000 USD for the runner-up).
Organisers: International Chess Federation (FIDE), Chess Federation of Russia, Russian Ministry of Sports, and Government of Krasnodar Krai.
Partners:
Gazprom – general partner
Nornickel – general partner
PhosAgro – general partner
Chessable – event's partner
Aeroflot – CFR's partner