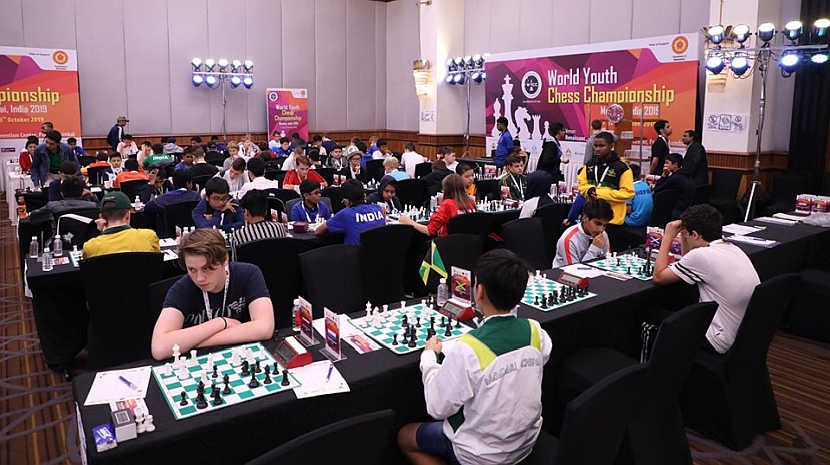 Six world crowns are at stake in the World Youth Chess Championship that is in full swing at the Renaissance Mumbai Convention Centre Hotel in Mumbai, India. Youngsters from 66 countries are competing in the Girls U14, Open U14, Girls U16, Open U16, Girls U18, and Open U18 categories.
"This is a great honor for India," Pravin Jain, chairman of the organizing committee, said in presence of other top officials. "We hope to take the love for chess in India to the next level through the WYCC. I am positive that our young boys and girls will take it up in a big way after this," he added.
The defending U18 Open champion Victor Gazik from Slovakia took a slow start and after 7 rounds he is a full point behind the leader, the Iranian Aryan Gholami . Fourteen-year-old prodigy Praggnanandhaa, who opted to play in this category, is sharing the second position with his compatriot Mitrabha Guha.
In contrast, the reigning U18 Girls champion Polina Shuvalova from Russia has been doing an excellent job defending her title so far. After seven rounds the Russian is a half-point ahead of her closest competitors Vantika Agrawal and Lara Schulze. Polina finished the 7th round game with her compatriot Anna Afonasieva in a spectacular fashion: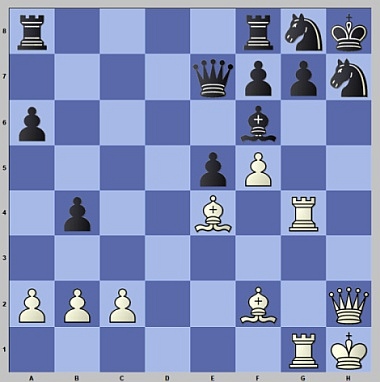 31. Rxg7! Bxg7 32. Qxh7+! Kxh7 33. f6+ Kh6
34. Be3+ Kh5 35. Bf3+ Kh4 36. Bf2+ 1-0
In a closely contested U16 Open category four players tying for the second position are in the chase for the leader Hans Moke Niemann from the USA.
In the U14 Open category, a low-rated (1830) home player Abinandhan R is causing a real stir – after 7 rounds the 55-seeded found himself in the top position together with his compatriot Srihari L R and the rating favorite Aydin Suleymanli from Azerbaidjan.
With four rounds to go, it is still wide open in all six categories. The champions will be crowned on Saturday, October 12.
Standings after 7 rounds:
Open U18
1. Aryan Gholami (IRI) – 6
2. Praggnanandhaa R (IND) – 5½
3. Mitrabha Guha (IND) – 5½
4. Iniyan P (IND) – 5
5. Shant Sargsyan (ARM) – 5
Girls U18
1. Polina Shuvalova (RUS) – 6
2. Vantika Agrawal (IND) – 5½
3. Lara Schulze (GER) – 5½
4. Assel Serikbay (KAZ) – 5
5. Alicja Sliwicka (POL) – 5
Open U16
1. Hans Moke Niemann (USA) – 6
2. Rudik Makarian (RUS) – 5½
3. Ghosh Aronyak (IND) – 5½
4. Olexiy Bilych (UKR) – 5½
5. Miguel Angel Soto – (COL) – 5½
Girls Under 16
1. Nazerke Nurgali (KAZ) – 6
2. Leya Garifullina (RUS) – 6
3. Anousha Mahdian (IRI) – 5½
4. Alessia-Mihaela Ciolacu (ROU) – 5½
5. Mounika Akshaya Bommini (IND) – 5
Open U14
1. Suleymanli Aydin (AZE) – 6
2. Srihari L R (IND) – 6
3. Abinandhan R (IND) – 6
4. Sreeshwan Maralakshikari (IND) – 5½
5. Marc Morgunov (AUT) – 5½
Girls U14
1. Ekaterina Nasyrova (RUS) – 6
2. Eline Roebers (NED) – 6
3. Rakshitta Ravi (IND) – 6
4. Astghik Hakobyan (ARM) – 5½
5. Divya Deshmukh (IND) – 5½