Wesley So and Carissa Yip are the new U.S. Champions. The 2021 U.S. Championship & U.S. Women's Championship took place from October 6-19 in St-Louis, featuring 24 of the country's top players contesting for two national titles.
After a dramatic final round, the three leaders of the 2021 U.S. Championship (GM Fabiano Caruana, GM Wesley So, and GM Sam Sevian) battled for the title in a rapid playoff tiebreak on October 19. While Caruana was the only one with chances to secure the title outright (he failed to convert a decisive advantage in the game with Shankland), all three players drew their final round games to finish with 6½/11.
So managed to defeat both Caruana and Sevian in the rapid round-robin, earning him the $50,000 first-place prize and his third national title.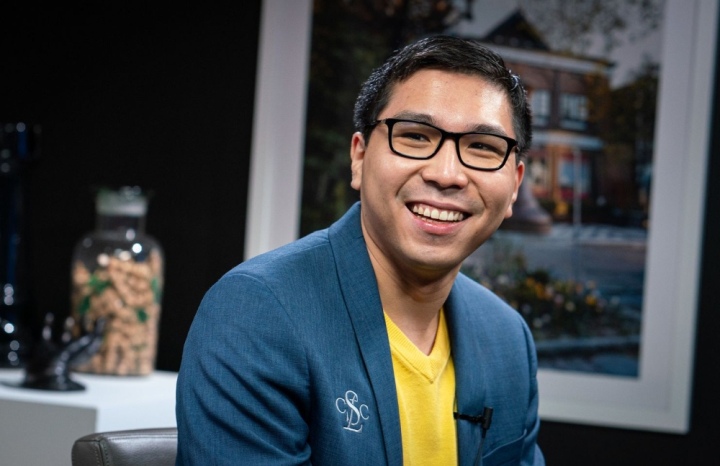 The first playoff game saw Caruana and So trade queens early on to reach a balanced endgame, where a mistake by Wesley gave Fabiano a chance to sacrifice a piece for a powerful initiative. Although So was forced to immediately give back the extra piece, he managed to keep the position playable, and as Caruana got down into time-trouble, the game quickly turned in Black's favour. In an already winning endgame for So, Caruana ran out of time and lost the game.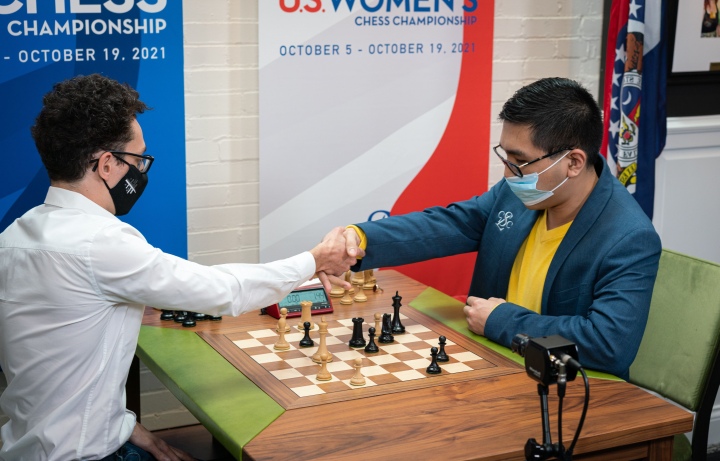 Having lost the first game, Caruana was in a must-win situation heading into the second round of the playoff. Playing Black against Sevian, Caruana gained a small edge on the board as he forced a queen trade to head into a pleasant endgame. After slowly building up the pressure, Caruana eventually found a winning tactical shot to decide the game.
The third game saw Wesley just needing a draw to clinch the title, while Sevian was in a must-win situation. Essaying the King's Indian, Sevian played in an offbeat style to create some imbalance in the position, but at the cost of weakening his own kingside. This allowed So to exploit Black's weaknesses to seize the initiative and win an exchange, giving him a decisive edge. Sevian tried to put up resistance and keep the game complicated, but Wesley remained calm and slowly converted his advantage, winning the playoff.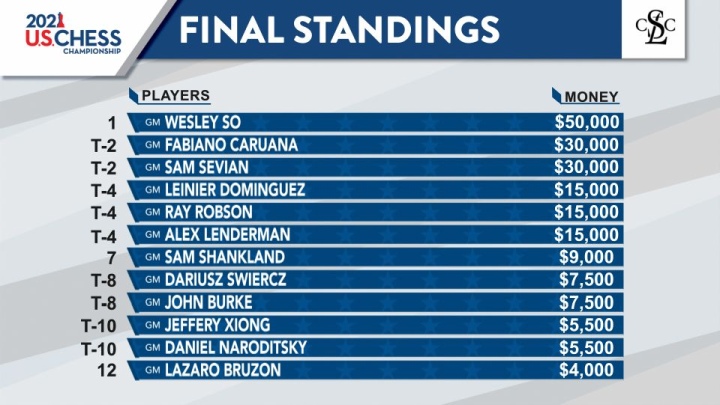 IM Carissa Yip clinched victory in the 2021 U.S. Women's Championship with a round to spare after defeating IM Nazi Paikidze in the penultimate round. Yip scored 8½/11 and made history by becoming the first woman ever to defeat four former champions in a U.S. Women's Championship.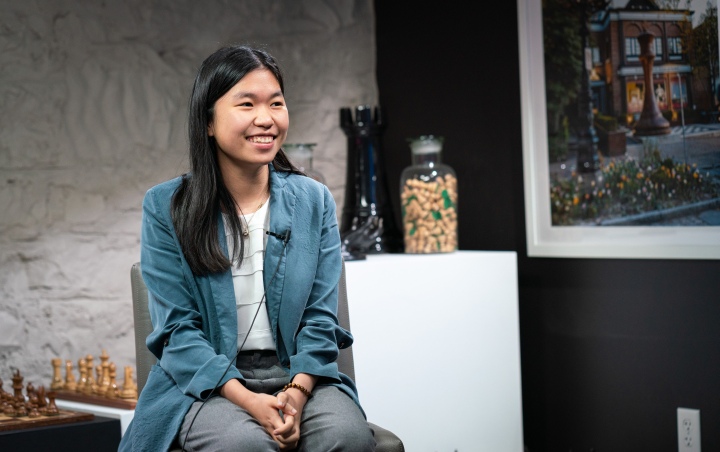 WGM Begim Tokhirjonova secured a clear second place with 7.0/11 after scoring three straight victories in the second part of the event and drawing her last-round game to jump ahead of GM Irina Krush, who finished in clear third.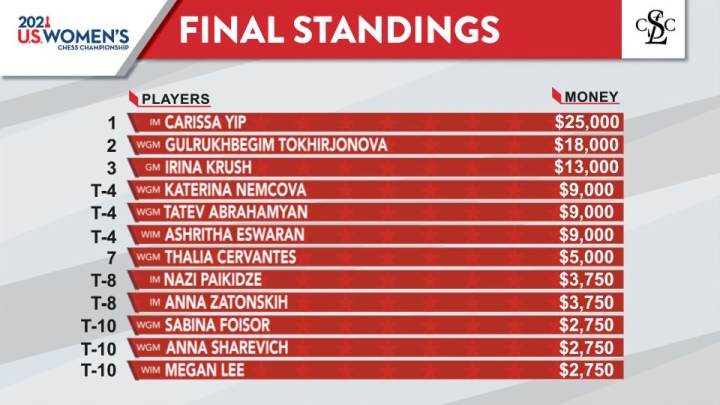 Text: IM Kostya Kavutskiy
Photo: Courtesy of Saint Louis Chess Club, Lennart Ootes
---
Livestream:
USChessChamps.Com
Web: uschesschamps.com | Twitter: @STLChessClub
Instagram: @STLChessClub | Facebook: @STLChessClub
YouTube: @STLChessClub | Twitch.tv: @STLChessClub
#USChessChamps #STLChessClu
Press Contact:
Rebecca Buffington
rbuffington@saintlouischessclub.org
Photo Credits:
Photos and appropriate credits available on Flickr
Saint Louis Chess Club | Building Champions
4657 Maryland Avenue, Saint Louis, MO 63108 | (314) 361.CHESS (2437)