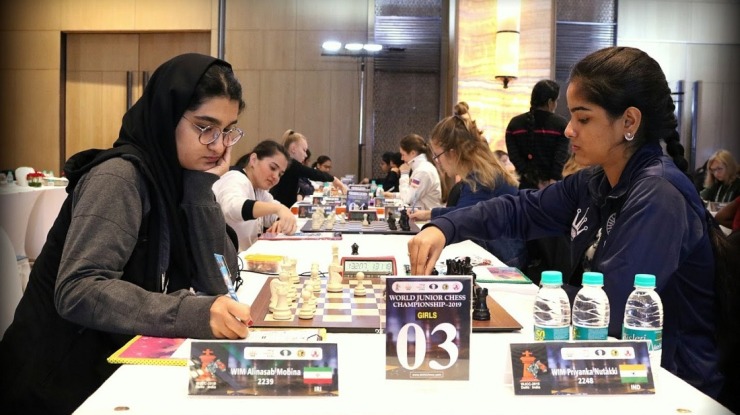 FIDE World Junior Championship in New Delhi crossed its halfway mark. The strongest teenagers from all over the world are enjoying the rest day before entering the second part of the tournament with 5 more rounds to go.
After six rounds Evgeny Shtembuliak (Ukraine, 2577) and Aram Hakobyan (Armenia, 2561) are tied for the lead in the open section with 5 points each. They are paired to meet in round 7, with Shtembuliak having White. Both leaders have been undefeated so far. There is a big group of players a half-point behind, including the 14-year-old Indian prodigy, the winner of World Youth Chess Championship U18, Praggnanandhaa.
Mobina Alinasab (Iran, 2239) is the sole leader in the girls' section with 5.5 points. She conceded only half-a-point in the encounter with the World Youth Chess Championship U18 winner Polina Shuvalova (Russia, 2412) who is breathing down the leader's neck with 5 points.
Top-10 after 6 rounds:
Open
1. Evgeny Shtembuliak (UKR) – 5.0
2. Aram Hakobyan (ARM) – 5.0
3. Praggnanandhaa R (IND) – 4.5
4. Miguel Santos Ruiz (ESP) – 4.5
5. Murali Karthikeyan (IND) – 4.5
6. Ravi Haria (ENG) – 4.5
7. Semen Khanin (RUS) – 4.5
8. Mihnea Costachi (ROU) – 4.5
9. Volodar Murzin (RUS) – 4.5
10. Shant Sargsyan (ARM) – 4.0
Girls
1. Mobina Alinasab (IRI) – 5.5
2. Polina Shuvalova (RUS) – 5.0
3. Rakshitta Ravi (IND) – 4.5
4. Vaishali R (IND) – 4.5
5. Bibisara Assaubayeva (KAZ) – 4.5
6. Arpita Mukherjee (IND) – 4.5
7. Altantuya Boldbaatar (MNG) – 4.5
8. Divya Deshmukh (IND) – 4.5
9. Berdnyk Mariia (UKR) – 4.5
10. Antova Gabriela (BGR) – 4.5
Photo: ChessBase India