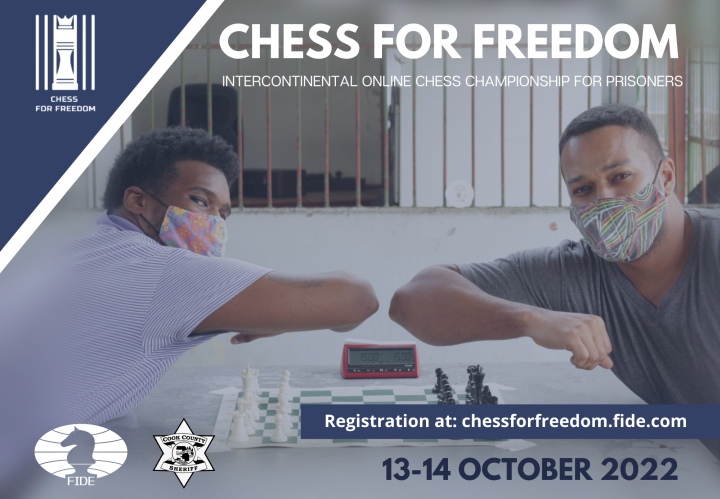 The International Chess Federation is excited to announce the second Intercontinental Online Chess Championship for Prisoners, to be held from 13-14 October 2022, on the International Day of Education in Prison. Being a part of the Chess for Freedom program and continuing the international championship first held in 2019 and the Intercontinental Online Chess Championship for Prisoners 2021, the event aims to introduce chess as a tool for education social inclusion in prisons of different countries.
The championship, organized by FIDE and the Cook County (Chicago, IL, USA) Sheriff's Office and hosted by Chess.com, is open for teams made of 4 players representing any correctional facility (jail or prison) without any specification by age and gender of prisoners. The tournament will be played online and live-streamed on FIDE's Youtube channel.
"In Autumn 2021, the first Intercontinental Online Chess Championship for Prisoners became the largest event of its kind ever. It attracted teams from 31 countries representing all continents. Our plans are even bigger this year: we aim to expand the event to at least 64 teams," said FIDE President Arkady Dvorkovich.
FIDE Managing Director Dana Reizniece-Ozola added that FIDE's role was not limited to hosting chess events among prisoners: "We are inviting new countries, even those that have not yet started their chess in prisons activities, to join us. We are ready to assist with any advice, sharing methodologies and best practices. Chess is an excellent educational tool for everyone. Together we can give inmates around the world a chance to get back to normal lives."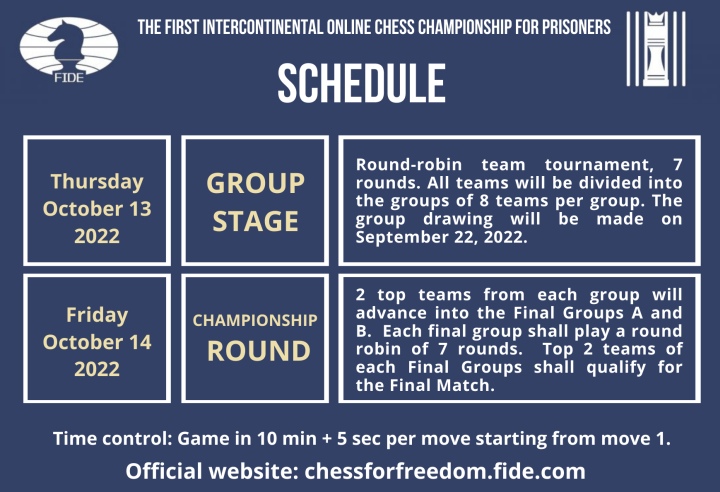 In addition to covering the games, the broadcast will include interviews with special guests of the event – FIDE officials, government officers, members of the penitentiary administration and policymakers sharing the best practices of introducing chess to inmates, as well as former convicts proving from their own experience the positive impact of the game on prisoners.
The second edition of the Intercontinental Online Chess Championship for Prisoners is expected to bring together over 200 players from 50+ countries, encouraging communication and positive use of leisure time, and motivating them to change for the better.
Each country can have up to three teams for the event:
– main team
– team representing a female correctional facility with all four female team players
– team representing juvenoid correctional facility (under the age of 20).
Each correctional facility shall apply by filling out an online registration form.
The registration deadline is September 21, 2022. There is no entry fee.
For more information about the tournament, schedule and regulations, visit chessforfreedom.fide.com/tournament
Contact person:
Mikhail Korenman, Chess Program Coordinator at Cook County Department of Corrections, FIDE International Chess Organizer and Member of FIDE Social Commission
Email Mikhail.Korenman@ccsheriff.org
Tel.: 1-785-906-0402
About the 1st Intercontinental Online Championship for Prisoners
Forty-two teams representing 31 countries played in the group stage of the inaugural event held in the autumn of 2021. Prisoners from Italy, England, Armenia, Spain, Palestine, Germany, Russia, United Arab Emirates, Colombia, Portugal, Philippines, Australia, Norway, Czech Republic, Ecuador, Mongolia, Uruguay, Ukraine, Serbia, Trinidad and Tobago, Jamaica, Georgia, Zimbabwe, Turks & Caicos Islands, Croatia, Kyrgyzstan, Argentina, Cyprus, The Netherlands, USA and Macedonia were divided into six groups. Two top teams from each group proceeded to the Championship round.
Mongolia became the winner of the 1st Intercontinental Online Championship for Prisoners, while Georgia dominated the women's tournament.