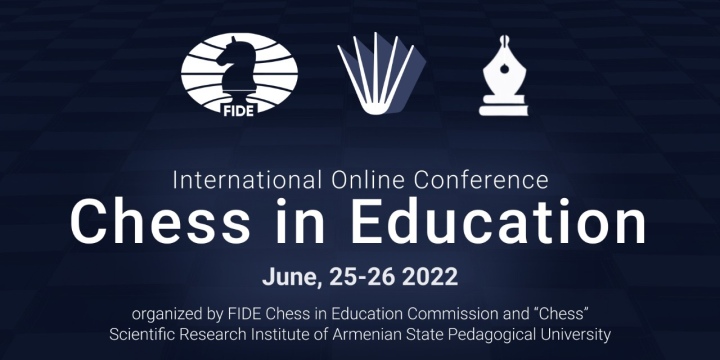 Dear Colleagues,
FIDE Chess in Education Commission (EDU) in collaboration with the "Chess" Scientific Research Institute of ASPU, organizes another great event to spread the insights about educational chess. The second edition of the "Chess in Education" online conference will take place on June 25-26 at 10 AM CET via Zoom.
Main topics of the conference:
Social and psychological aspects of chess
Methodology of chess teaching and learning
Chess and pedagogical training issues
Chess and inclusive education
Chess and the issues of gender-sensitive education
The working languages of the conference are English and Russian.
All attendees are required to register for the conference online via the following link:
https://forms.gle/eSFmCdEtZ76sdXpQ7
The theses of the presentations and reports must be sent by May 15, 2022. The authors will be informed about the decision of the Organizational commission by May 23, 2022.
You can find all the information here:
https://edu.fide.com/chess-in-education-international-online-conference-2/
The information on the conference in Russian is available here:
https://cloud.fide.com/s/8MGedLq2roFtXaY
We would be glad to see you at our upcoming conference.

Best regards,
Smbat Lputian
Chairman of FIDE EDU commission