FIDE Trainer's Commission is pleased to announce an Online Seminar for North and Central America that will run from May 20-22. The seminar is a joint effort of FIDE Trainer's Commission, FTS & GM Melikset Khachian.
Seminar program and schedule (all times PST)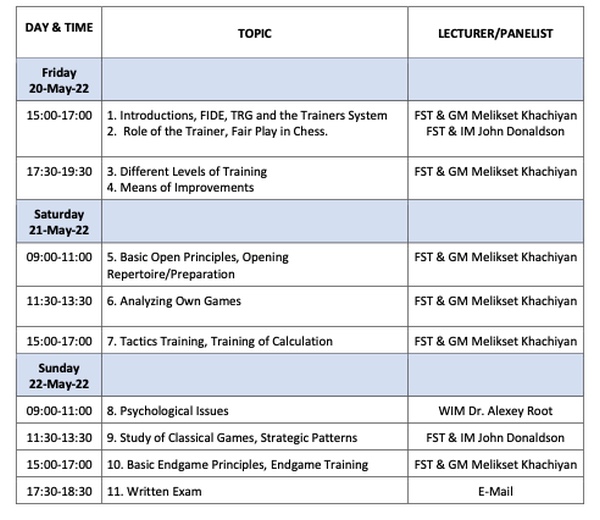 Organizers and contacts
FTS & GM Melikset Khachian: melikset@hotmail.com
Dr. Judit Sztaray: Judit.sztaray@gmail.com
Venue
Virtual via Zoom – zoom meeting ID and password will be distributed among the registered
Seminar participation fee & payment information
Registration deadline is May 18, 2022
The fee is $285 (course and exam fees) with payment collected at the time of registration . All major credit and debit cards are accepted.
Registration platform: kingregistration.com
Please, note, that a fee for the title awarded will be separate and paid directly to FIDE. For more details, please visit trg.fide.com/trg-billing-collection-procedures/
Lecturers
FST & GM Melikset Khachian
WIM Dr Alexey Root
FST & GM John Donaldson
Seminar language
English closed captioning is available upon prior request
Regulations
trg.fide.com/trg-online-seminars/
Please download a copy of the prospectus here
Please download the registration form complete it and email to the organisers together with proof of payment.