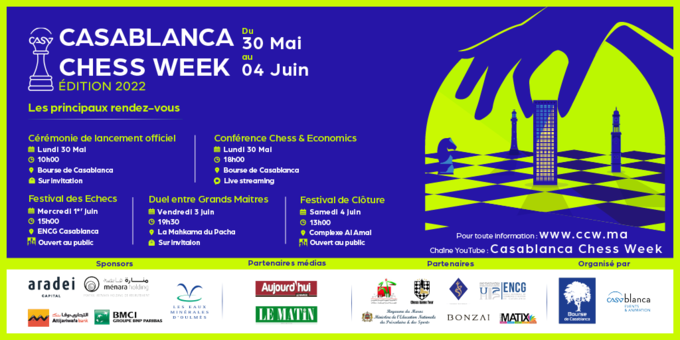 Casablanca, a port city and the largest commercial hub in Morocco, will become home to a new chess initiative. The inaugural Casablanca Chess Week will take place from May 30 to June 4, 2022, and will showcase chess through several events. The organizers, Casablanca Events & Animation and the Casablanca Stock Exchange, with the help of sponsors and partners, plan to make the festival an annual event.
This initiative aims to promote chess among all Casablanca residents, young and old, from any background or level of play. The wide range of activities will help them to discover and rediscover this game with multiple facets and benefits.
The opening day on Monday, May 30, will offer a chance to play online against the top Morrocan GM, Hicham Hamdouchi, and attend the "Chess & Economics" Conference. This chess forum features such well-known chess personalities as famous chess journalist Leontxo Garcia (moderator), FIDE Managing Director Dana​ Reizniece-Ozola, FIDE Deputy President Bachar Kouatly, and Tarik Senhaji, Chief Executive Officer of the Casablanca Stock Exchange.
Tuesday will cover the topic of women in chess with a visit to a non-profit organization for young girls and the "Women in Chess" Conference in the second part of the day.
In the following days, the focus will be on chess as an educational and social tool. These days will be filled with masterclasses, workshops, and various playing activities, including an exhibition match between grandmasters Loek Van Wely and Hicham Hamdouchi​.
You can find the whole schedule of the Casablanca Chess Week on the event's official website: ccw.ma/programme. All the activities of the festival are free.