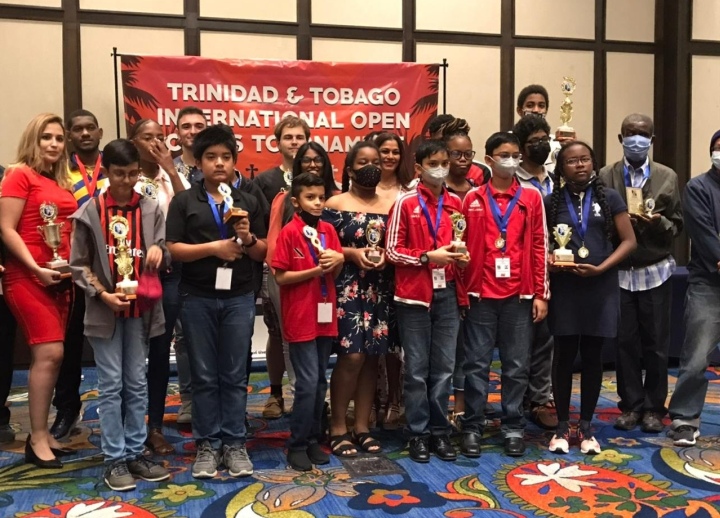 The Trinidad and Tobago International Open 2022 took place at the Hilton Trinidad and Conference Centre from July 2-7, 2022.
The atmosphere in these six amazing days of chess was filled with positive vibes and all-around good camaraderie. The event attracted ten players in the Masters Category and 58 players in the Open Section. There was also a Blitz tournament on the final day with 54 participants battling it out.
Dutch GM Robby Kevlishvili won the Masters Section with 8 points. FM Ryan Harper and FM Joshua Johnson made Trinidad and Tobago proud as they took 2nd and 3rd places respectively in the Masters section, both scoring 6 points each. It was quite inspiring to see the performance of local players against their higher-ranked opponents. FM Ryan Harper made a real splash winning over GMs Robby Kevlishvili Alonso Zapata from Colombia. FM Joshua Johnson also secured a victory against GM Alonso Zapata and managed a draw against GM Juan Borges Matos from Cuba. FM Isaiah Mc Intosh, who scored 5.5 points, earning him 4th place in the section, defeated GM Juan Borges from Cuba in the 5th round. FM Kevin Cupid became the top under 2200 player after finishing in 7th place.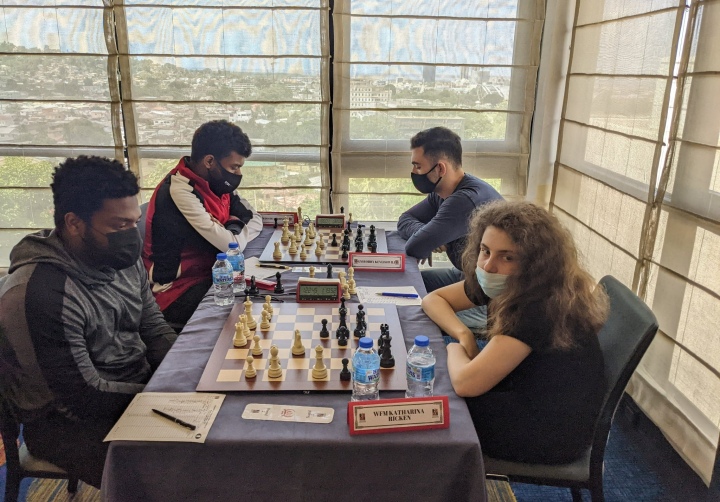 The Open Category also saw many competitive games. In the end, the top seed Patrick Terhuven of Germany raised to the occasion and netted 8 points, finishing a half-point ahead of a former National Champion, CM Ravishen Singh. There was a tie for 3rd place between Emar Edwards from Barbados and T&T's Kishore Ramadhar, both on 7 points.
The best female player prize went to Ysvett Hermoso Joel ( Rodriguez) from Venezuela, who chalked up 6 points. She was closely followed by WCM Shemilah James on 5.5 points. The 3rd place female was awarded to Amy Ali, who scored 4 points. Other females on 4 points were Denique Absolam, Kayla Martin, Kiara Brathwaite, and Celine Mohammed.
The best Under 20 player was awarded to Keagan Ragobar on 5 points, followed by Amir Mahadeo and Kayla Martin, both on 4 points.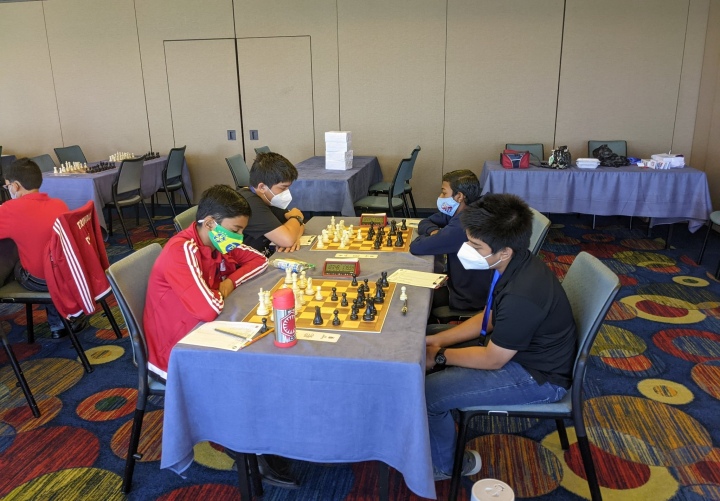 The Under 16 section was a close race with three players tying for first place. Kael Samuel Bisnath came out on top thanks to better tiebreaks, followed by Brad Munroe Brown and Chandresh Prabhakar. Kiara Brathwaite is the top U-16 female player.
In the Under 12 category, there was also a tie for 1st place, with Tristan Balliram and Kyan Muradali both scoring 5 points. Tristan with tiebreaks favouring the former. They were followed by Luke Gillette on 4.5 points, who was placed 3rd, and Taydan Balliram, also on 4.5 points, but 4th on tie break. The top Under 12 female was Adaya Johnson.
GM Robby Kevlishvili emerged as the winner of the blitz event with a perfect score of 9/9, followed by FM Joshua Johnson (7.5/9) in second and FM Kevin Cupid (7/9) in 3rd. The top female was Jennika Lynch, who ended with 5 points, and the top junior was eleven-year-old Kyan Muradali, who scored 5.5 points.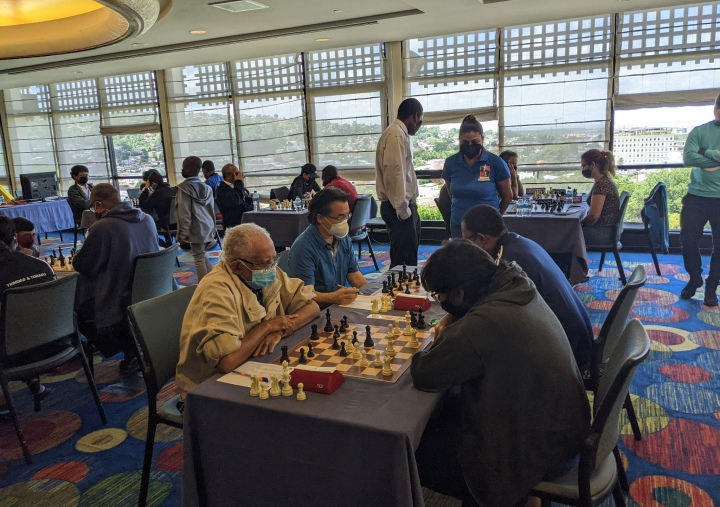 The TTCA President was grateful and elated by the success of the event and the tremendous support by all stakeholders. "All I can say is that this was just an amazing event. It exceeded all expectations, given some of our constraints leading up to the start. The level of performance by local players in both sections keeps me optimistic about the future of chess in Trinidad and Tobago! I am also so happy to be part of this venture with my executive team, who continues to provide all the support and effort needed to pull off an event at such a high standard!" she said during the closing ceremony.
Special thanks go out to the Chief Arbiter IA Rohan Waithe from Barbados, Deputy Chief Arbiter NA Roderick Noel, David Martin, TTCA Secretary Sandy Razark, as well as TTCA Executive members Sadiqah Razark and Keelan Hunte.
Kudos to the Ministry of Sport and Community Development, FIDE via the Open Aid package, Chess24 for the live streaming of games, all the staff at Hilton Trinidad and Conference Centre, all the players, parents, guardians, coaches and anyone else who helped to make the event a great success.