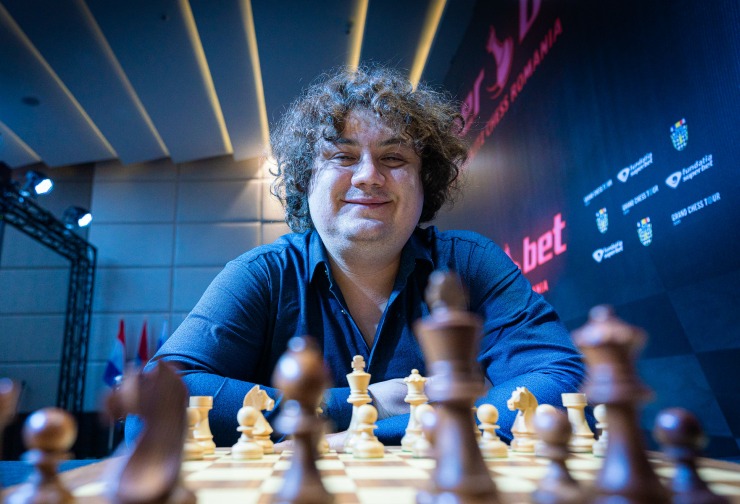 After another day of rapid, a surprising new leader has emerged. Wildcard Anton Korobov is not well known in the chess elite but he is the highest-rated rapid player in the tournament and now he is leading the tournament. The Ukrainian had a phenomenal day defeating Viswanathan Anand and Wesley So, while Anish Giri stumbled in the fifth round and lost to another wildcard, Vladislav Artemiev. Tomorrow is the final day of the rapid as the tournament will move on to the blitz portion.
Round 4
Anish Giri maintained his lead with a win over Le Quang Liem in a complicated Rossolimo Variation of the Sicilian. The Dutch player's extra bishop against his opponent's three pawns was too powerful in the middlegame, allowing him to unleash an attack against his opponent's weak dark squares. Coming to the round, there was a tie for second place between Anton Korobov, Levon Aronian and Viswanathan Anand. Korobov separated himself from the pack by defeating Anand in 27 moves by pushing his "g" pawn down the board and creating a mating net around his opponent's king. Aronian saved his game against Vladislav Artemiev, who wasn't able to find a win with only seconds left on the clock. The Armenian star was joined by Fabiano Caruana in a tie for third place after the latter defeated Sergey Karjakin in a marathon 99 move encounter. Wesley So bounced back from a tough first day with a win over Shakhriyar Mamedyarov in a topsy turvy game.
Round 5
Giri suffered his first loss of the tournament against Artemiev after he went pawn grabbing with his queen, leaving his king vulnerable. Artemiev's attack played itself out, forcing his opponent to resign ten moves later. This round 5 result blew the tournament wide open, allowing Korobov to catch up with the Dutch GM after a comfortable draw against Mamedyarov. Caruana joined the top duo after finding a beautiful checkmating pattern with his knight pair while leaving his queen en prise. Anand put himself only a point behind the leaders after converting his extra pawn against Aronian. The game between Karjakin and So ended in a 25 move draw.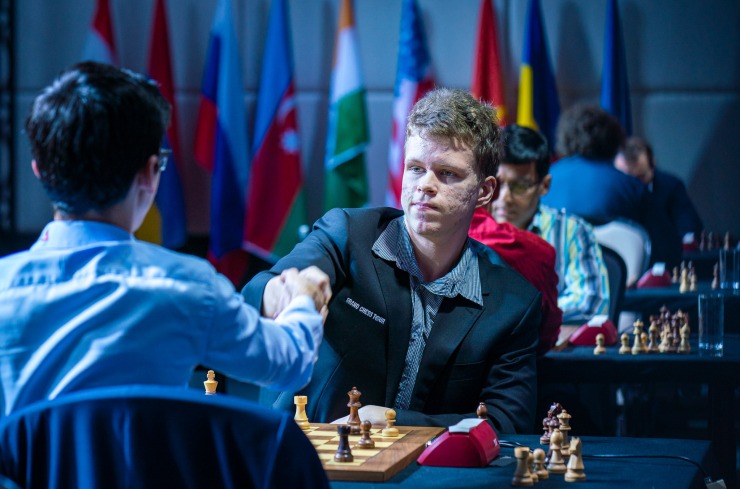 Round 6
Korobov described his middle game position against So as strategically lost in the postgame interview, thus forcing him to seek complications. So let his advantage slip away then allowed a big turnaround in the game by leaving his back rank weak. So resigned after realizing that his only options were either parting with his queen or allowing a checkmate. Giri - Anand game was quite balanced, but the draw put the long-time leader a full point behind Korobov. Caruana wasn't able to keep pace and lost to Artemiev, by making the same mistake Giri did in the previous round - putting his queen out of play and leaving his king alone surrounded by the enemy pieces. Aronian and Karjakin drew Mamedyarov and Le Quang Liem respectively in quite uneventful games.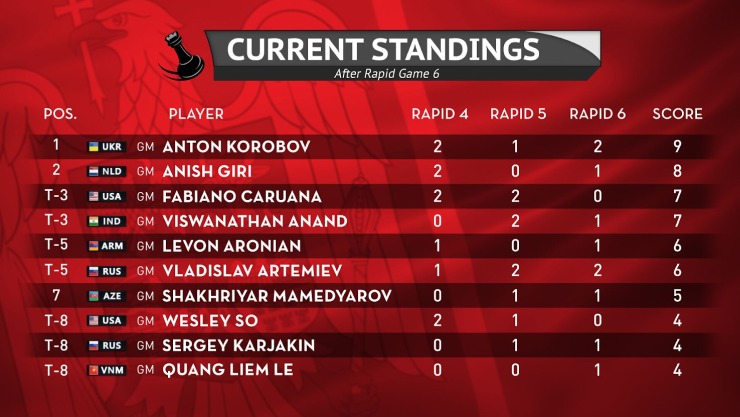 Livestream:
GrandChessTour.org

Photos:
Courtesy of Grand Chess Tour and Spectrum Studios
Credits available on Flickr.