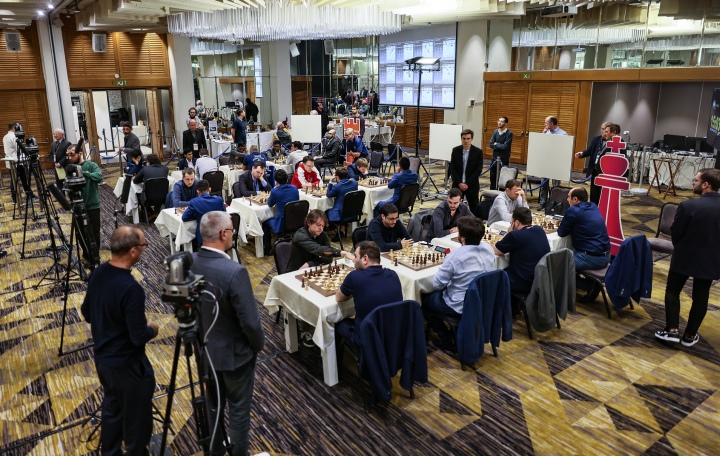 The Netherlands, Israel, South Africa, and the USA are eliminated
On Tuesday morning, the Knesset (Israel's parliament) hosted FIDE Deputy President and former World Chess Champion Grandmaster Viswanathan Anand and FIDE CEO Grandmaster Emil Sutovsky. The grandmasters played blindfolded, defeating three opponents each.
Their opponents were Ze'ev Elkin, Minister of Jerusalem Affairs and Minister of Housing and Construction, Aviad Friedman, Director General of the Ministry of Construction and Housing, Raz Frohlich, General Manager, Ministry of Sports and Culture, Jerusalem Affairs and Heritage Ministry Director-General Netanel Izak, Yoav Kisch, Knesset member, and Eli Nacht, founder of Israel Empowerment Lobby.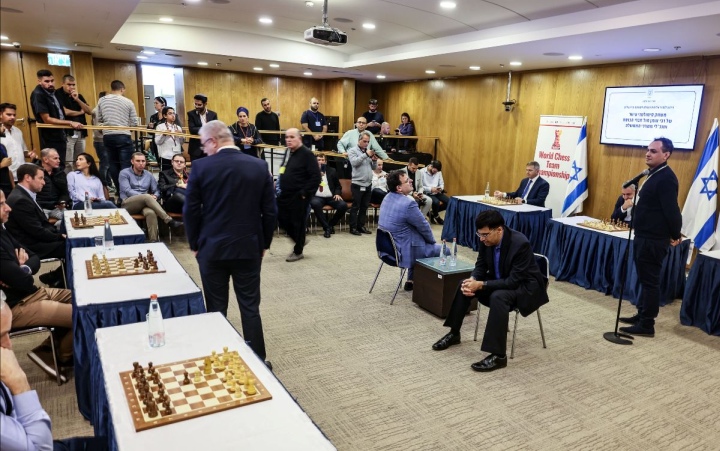 Besides being the name of Israel's parliament, the word Knesset translates to "gathering." At the start of the FIDE World Team Championship 2022, 12 teams from Africa, the Americas, Asia, and Europe gathered in Jerusalem. After each game, the opponents did a postmortem. Sometimes, the analysis took almost as long as the rapid game itself.
Today, Tuesday, November 22, the fifth and final round of the pool stage took place. From Pool A, South Africa and the Netherlands exited the tournament. From Pool B, Israel and the United States of America were eliminated.
Round 5, Pool A

Before round 5, Husan Turdialiev, Chief of the Delegation of the Uzbekistan team, presented two gifts to Dr Zvika Barkai, Chairman of the Israel Chess Federation. One gift was a gold medal, as Uzbekistan won gold medals at the open section of the 2022 Olympiad. The other gift was a decorative plate. After presenting the gifts, Turdialiev struck the gong to start Round 5.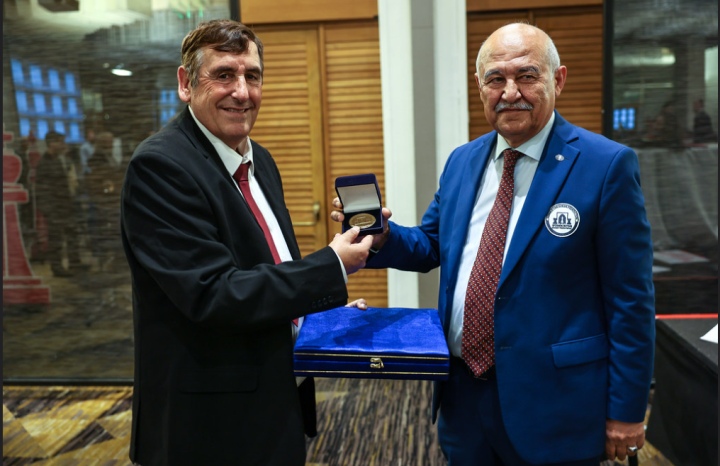 France tied its match with China. Prior to this round, China had won every other match it played in Pool A. Both France and China progressed to the quarterfinals.
As many expected, Spain defeated South Africa 4-0, and Spain advanced to the quarterfinals. The Captain of the South Africa team, Hendrik Petrus Du Toit, said that coming to Jerusalem was a once-in-a-lifetime experience for his players. To get this level of competition, Du Toit said, South African players must travel 9,000 miles.
The Netherlands desperately needed to beat Ukraine to have a chance to make it to the quarterfinals, but it was not meant to be. The match ended 2-2, and the Netherlands was eliminated, whereas Ukraine tied for second place with France and Spain and progressed into the next stage.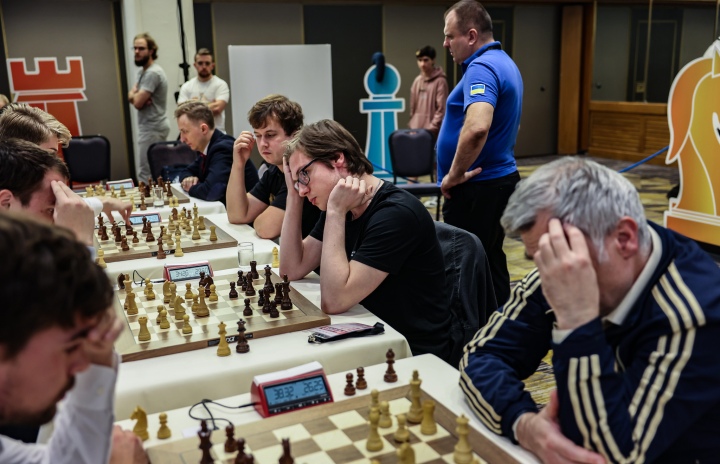 According to Grandmaster Max Warmerdam, Grandmaster Anish Giri would have come to Jerusalem if the Netherlands team had made it out of Pool A. Warmerdam said that the Netherlands team plans to tour Jerusalem before leaving for home.
Round 5, Pool B

In a very important match for the host team, Azerbaijan defeated Israel by a score of 2.5-1.5. Azerbaijan continues to the quarterfinals, and Israel got edged out of the tournament by Poland. Both teams scored equal match points and game points, but Poland, which drew its last match with Uzbekistan, had a better second tiebreaker (Sonneborn-Berger). Uzbekistan and Azerbaijan tied for first place in Group B and comfortably advanced.
Meanwhile, India crushed the USA 3-1 after winning two games on boards 1 and 3 with black pieces. As a result, India progressed to the quarterfinals and the USA was eliminated.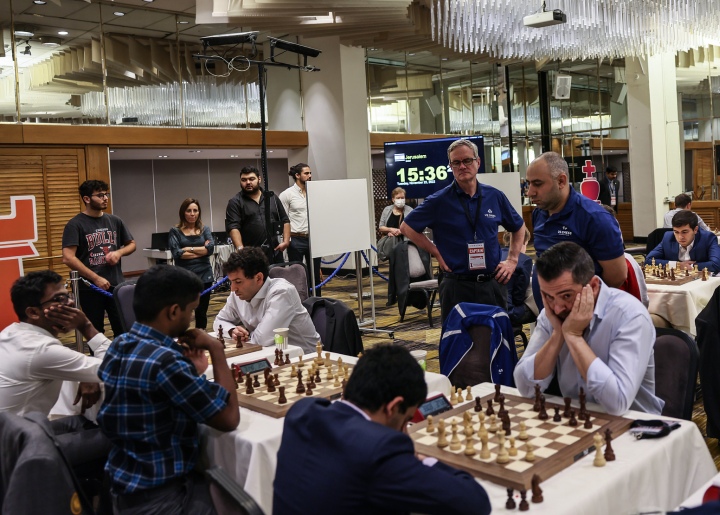 Final standings:
Pool A
| | | | |
| --- | --- | --- | --- |
| | Team | MP | GP |
| 1 | China | 9 | 15 |
| 2 | France | 6 | 11½ |
| 3 | Spain | 6 | 11½ |
| 4 | Ukraine | 6 | 11 |
| 5 | Netherlands | 3 | 9½ |
| 6 | South Africa | 0 | 1½ |

Pool B
| | | | |
| --- | --- | --- | --- |
| | Team | MP | GP |
| 1 | Uzbekistan | 7 | 12 |
| 2 | Azerbaijan | 7 | 11½ |
| 3 | India | 6 | 10 |
| 4 | Poland | 4 | 9½ |
| 5 | Israel | 4 | 9½ |
| 6 | United States | 2 | 7½ |

Gens una sumus
In the dining hall on Tuesday evening, players sat with their teammates, heads of delegations, and captains. They also talked with players from other countries. Several players moved their chairs closer together, creating, within their improvised table clusters, gatherings of many nations. Players from the eliminated teams and those remaining in Jerusalem exchanged cell phone numbers. Opponents over the board, friends over dinner – the FIDE motto Gens una sumus in action.
Text: WIM Alexey Root, FIDE Press Officer, Jerusalem
Photos: Dr. Mark Livshitz
Official website: worldteams.fide.com/