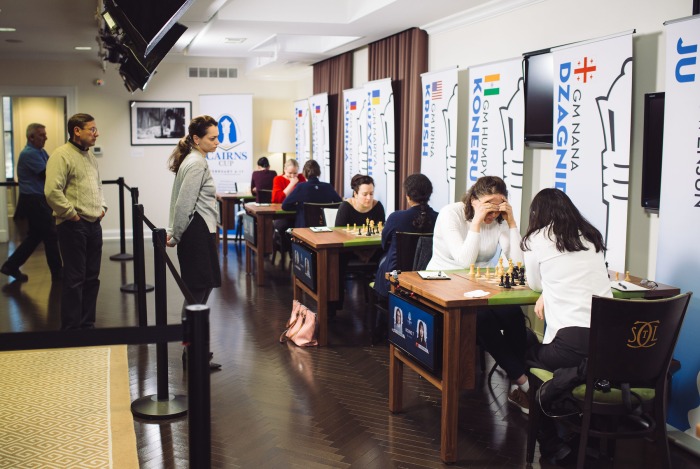 A couple of hearts were broken this Valentine's Day as two marathon endgames ended unexpectedly. Wenjun Ju brilliantly outplayed Nana Dzagnidze but gave away her entire advantage with a single blunder in time pressure. What should have been an easy win for Ju, ended in a draw. Meanwhile, Valentina Gunina overpushed in what should have been a dead drawn endgame against Mariya Muzychuk and lost the only game of the round. After today's results, Wenjun and Humpy still lead the field with 4.5/7, but three players are close behind with 4/7.
Wenjun Ju - Nana Dzagnidze: ½ - ½
In a highly complex opening battle emerging from the Trompowsky Attack, play unfolded incredibly slowly. On move 9, Ju spent nearly 30 minutes before playing a mysterious queen retreat. Nana Dzagnidze could have obtained a very pleasant edge by patiently improving her pieces, but instead decided to respond forcibly and aggressively. This decision was soon to be regretted as the Georgian grandmaster found herself two pawns down without much compensation. To Ju Wenjun's credit, she found some incredibly strong moves to consolidate her material advantage and obtain excellent winning chances. Most of the resulting endgame appeared to be smooth sailing for Ju, as she created two lethal passed pawns on opposite flanks. Just as commentators were about to dismiss the game as an easy win for the World Women's Champion, Dzagnidze unleashed the study-like Nf5+! As this move was played, commentator GM Ramirez repeated himself in disbelief: "Where does the king go? Where does the king go, Yasser? Yasser, where does the king go?" In fact, Ju had nowhere to go with her king and had to sacrifice back material. The resulting position was nothing but a draw and a huge disappointment for Ju.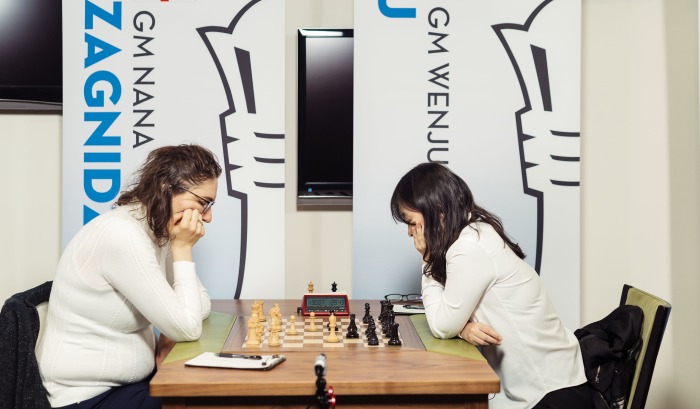 Irina Krush - Humpy Koneru: ½ - ½
In this positional clash, Irina Krush achieved a small but nagging advantage on the white side of a Classical Nimzo Indian. As play quickly transitioned into an endgame, Koneru's position became incredibly passive. "She's being tied up," GM Yasser Seirawan explained as Koneru's predicament was not to be admired. However, the Indian grandmaster displayed great precision and resourcefulness in a technical rook endgame to save the half-point. All it took was one misjudgment from Krush for the advantage to evaporate. With this draw, Humpy Koneru still shares the lead with Ju.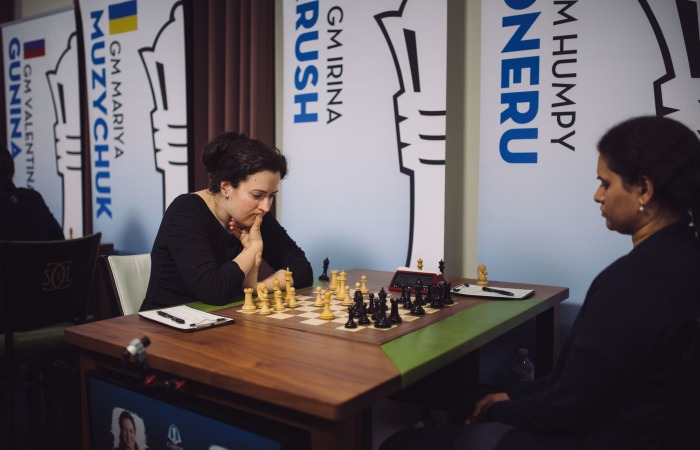 Alexandra Kosteniuk - Kateryna Lagno: ½ - ½
In the shortest game of the round, an explosive Symmetrical English Opening quickly simplified into a dynamically balanced position. Towards the end of the game, Alexandra Kosteniuk was up a pawn but had to settle for repetition. With opposite-colored bishops accompanying queen and rook for both players, it was not likely that either side could stir up any winning chances. After this draw, Kosteniuk is still in contention for first place with 4/7.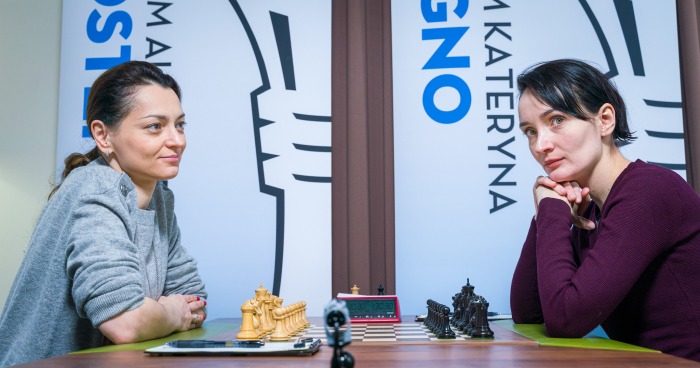 Valentina Gunina - Mariya Muzychuk: 0 - 1
Mariya Muzychuk achieved a dream position on the black side of the Rossolimo Sicilian in what was simply an opening disaster for Valentina Gunina. From early on, it seemed that this battle was going to be a one-sided demolition. However, Gunina managed to survive the storm despite her extreme passivity and glaring weaknesses. She displayed a great fighting spirit while she managed to complicate the position enough for her opponent to eventually stumble. The position soon liquidated into a roughly equal endgame that everyone was expecting to be drawn. Then in a surprise decision, Gunina chose to turn down repetition and push for more. In the post-game interview, Muzychuk explained: "Vanletina doesn't like draws." This proved to be costly as both players fell short on time. In the end, Muzychuk's bishop and two pawns overpowered Gunina's knight and two pawns. Gunina did manage to avoid a draw, but not in the fashion she desired. With this victory, Muzychuk sits a half-point behind Ju and Dzagnidze with 4/7.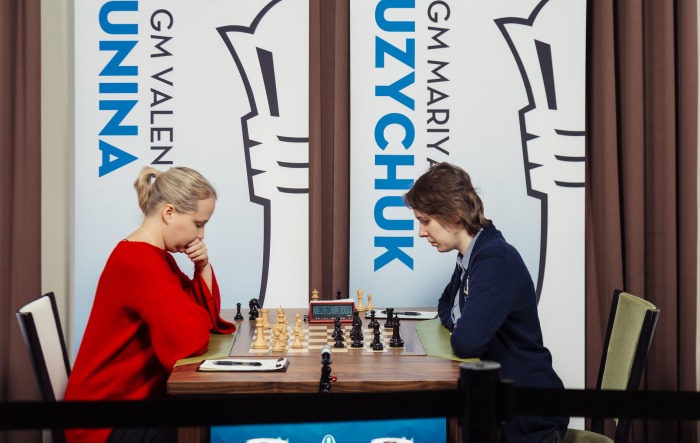 Harika Dronavalli - Carissa Yip: 1/2 - 1/2
With very solid play from both players, this game featured practically no mistakes. Carissa Yip equalized quite comfortably with a King's Indian Defense and showed great class against her experienced opponent. Unlike many of the other games, these players managed their time effectively and neither side experienced time pressure. GM Ramirez dubbed this battle as a "pretty impressive game." This marks Yip's first draw of the tournament and she has recovered well from the disappointing start. Tomorrow, Yip will be truly tested as she has the black pieces against the tournament co-leader and reigning World Women's Champion Ju Wenjun.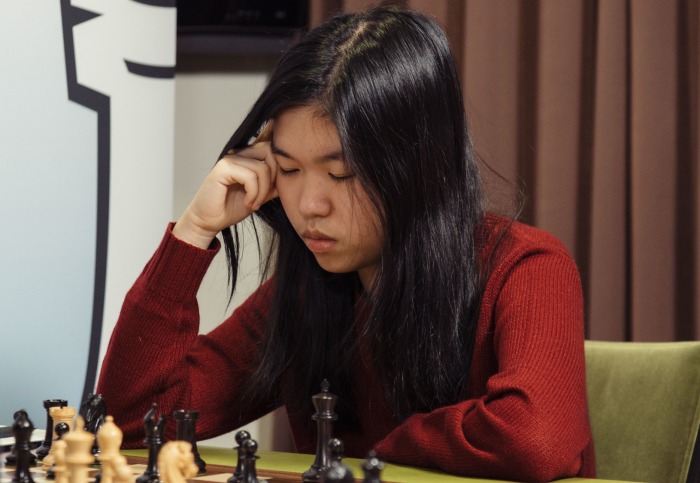 With two more rounds to go, the fight for first place is up for grabs with so many players still in contention. Tune in tomorrow for what is bound to be an exciting penultimate round!
Text: IM Eric Rosen
Photo: Austin Fuller, Crystal Fuller, Lennart Ootes, Spectrum Studios
Official site: https://www.uschesschamps.com/2020-cairns-cup/