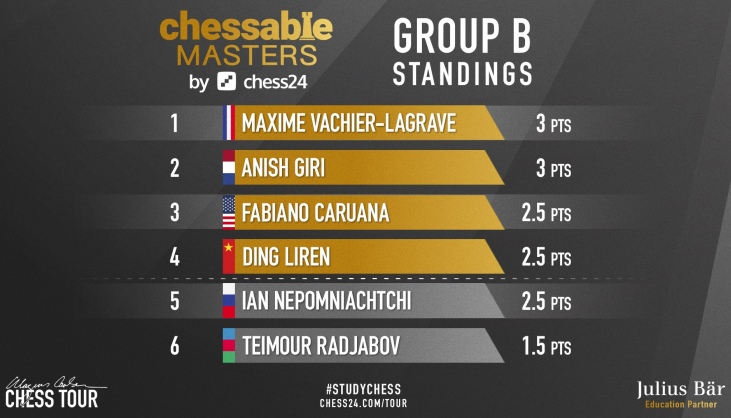 Dutch star Anish Giri won a dramatic final round game to level with Maxime Vachier-Lagrave on top of Group B in the Chessable Masters today.
Giri, who had drawn his first four games, took full advantage of a slip by world number 2 Fabiano Caruana to leapfrog him in the table and finish unbeaten on 3/5. Vachier-Lagrave, meanwhile, closed out a final round draw to end what was an excellent first day for the Frenchman. The 29-year-old, who is ranked fifth in the world, also beat group favorite Caruana as the preliminary stage of the $150,000 super-tournament reached the half-way point.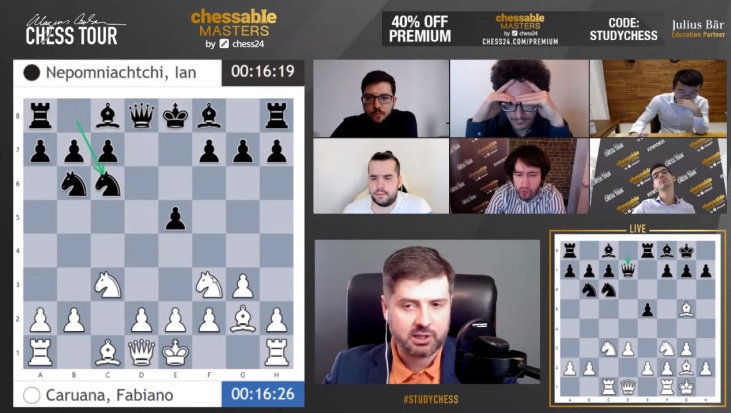 Ian Nepomniachtchi scored the first point of the day in Round 1 to take an early lead of Group B by crashing through against Teimour Radjabov. The other two games, Caruana vs Ding Liren and Vachier-Lagrave vs Giri, ended in draws.
In the second, Nepomniachtchi went from hero to zero when Caruana meted out a killer blow against him. Again the other two encounters ended peacefully.
Then in Round 3, it was the new sole leader again who lost as Caruana was the victim of a beautiful mate found by Vachier-Lagrave. For the third round in a row, the other two games were drawn.
The pattern was broken in Round 4, however, as the leader Vachier-Lagrave kept in front with a draw against Ding Liren. Giri scored his fourth half-point in a row against Nepomniachtchi.
But the day's penultimate round was all about Caruana who showed all his skill to pull off an endgame win from a theoretically drawn position against Radjabov.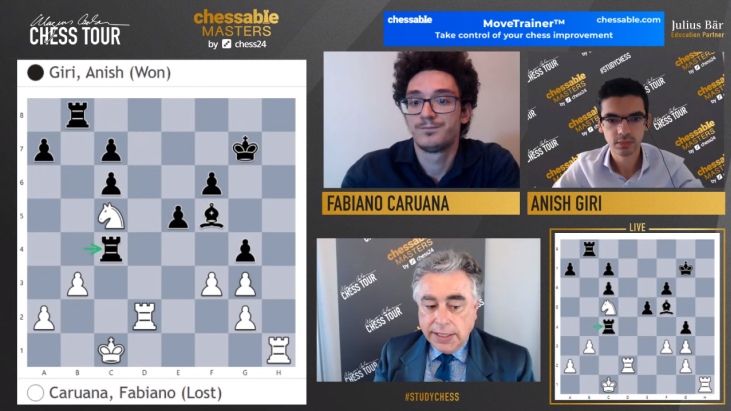 Yet Caruana came crashing back down in a stunning end to a sharp final game of the day against Giri in which the American fell apart in a difficult position.
Giri had taken 15 attempts to score a win when he appeared in the Magnus Carlsen Invitational, the event that kicked off the tour. In this tournament, however, it was five.
Speaking of what's needed to progress, Giri said afterward: "Fifty percent is pretty much a guarantee to qualify, which definitely isn't ideal..."
Tomorrow Group A is back in action with two players facing elimination before the knockout stage begins.
About the tournament
The event, which runs until July 5, is being put on in association with Chessable and the tour's Education Partner, leading Swiss private banking group, Julius Baer. Players are split into two groups (A and B) of six which play on alternate days for the preliminary stage before eight progress to the knockouts.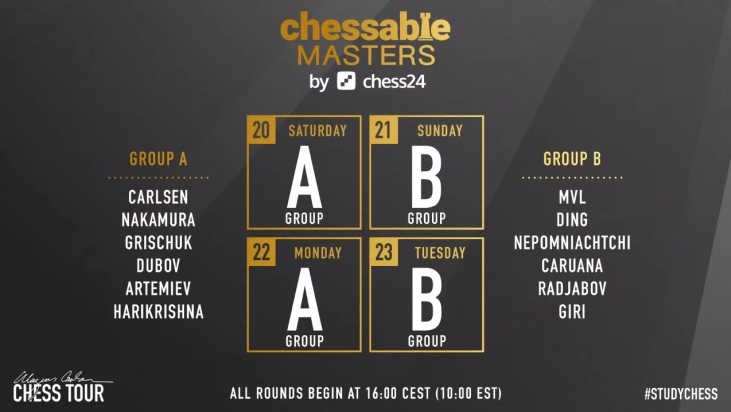 The final winner will take home top prize of $45,000 and a ticket to the $300,000 tour Grand Final.
Coverage begins with commentary in 10 languages at 16.00 CEST.
You can watch it live here: https://chess24.com/en/watch/live-tournaments/chessable-masters-2020-group-a#live
Highlights English:
https://drive.google.com/drive/folders/1dpG2c-dmqs58tSDSZvxzGNqzgquJyO0g?usp=sharing
New files at around 23.00 CEST

FOR MORE INFORMATION:
Leon Watson
leon@chessable.com