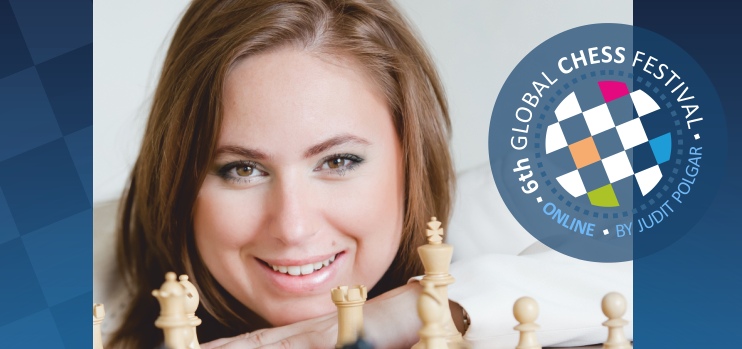 The sixth edition of the Global Chess Festival founded by Judit Polgar takes place on October 10th, 2020. The event highlights art, education, science, and sport in connection with chess. As tradition has it, the Festival is held on the second Saturday of October and this time this resulted in a special date: 10/10/2020! This year's festival is special in many ways. Due to the Covid-19 pandemic the entire festival has been moved online. Nevertheless, the forum offers you a full and varied program for young and old alike.
There are 40+ programs waiting for the guests on a virtual platform that was specially designed for this event. All through the day, there are Champions Talks with celebrities such as Garry Kasparov, Vladimir Kramnik, the Polgar Sisters, Jan Timman, John Nunn, and Simen Agdestein (who discovered and trained the current World Champion Magnus Carlsen).
The guests of the festival can listen to lectures on Chess and Decision-Making in Sports, Chess in Prisons and Business Lessons that can be drawn from chess. There is a Master Class by Judit in which she looks at highlights of her rich career, and Judit and Sofia Polgar give simuls. If you want to play yourself you can also sign up for Chess Tournaments open to amateurs in the age groups 4 to 120 with beautiful prizes. Relax while watching a film on Chess Brains or the Polgar family. Check out the full list of programs here.
Selected programs:
Judit Polgar Method (10:40 CEST)
Business Lessons from Chess by Norbert Fogarasi, Managing Director, Morgan Stanley, Hungary (14:30 CEST)
Chess and Soccer Champions Talk with Simen Agdestein (ALL DAY)
Chess Behind Bars by Carl Portman
Dessert with the Polgar sisters by Yasser Seirawan (18:30 CEST)
Champions Talk with Chess Scientist John Nunn by Judit Polgar (ALL DAY)
14th World Champion Vladimir Kramnik, AI and the new chess variants (15:30 CEST)
A friendly talk by Judit Polgar with Garry Kasparov (19:30 CEST)
Champions talk with Chess Artist Jan Timman by Judit Polgar (ALL DAY)
If you want to take part in the Global Chess Festival, you can register here.
Official website: http://www.globalchessfestival.com/