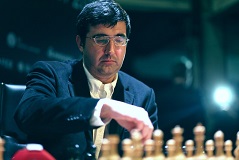 Round 3: An Historic Day at the Berlin Candidates Chess Tournament

Vladimir Kramnik is not ever likely to forget Day 3 of the Candidates tournament in Berlin. Levon Aronian may well try to do so, and as quickly as possible. Kramnik, a Russian ex-world champion, smashed Aronian, who is from Armenia, in Round 3 of the tournament in a game that became an instant classic.

Playing Black, Kramnik used a defense named after the city where the tournament is taking place and which he, more than anyone, has helped to popularize. Aronian, who is not as familiar with the opening as Kramnik, walked into a brilliant piece of pre-game preparation of the former world champion. After only 10 moves, Aronian, despite playing White, was in trouble. After 18 moves, his position was almost beyond hope. From there, Kramnik used a brilliant series of moves to break down the defenses around Aronian's king and weave a mating net. Aronian resigned after 27 moves.

It was the only decisive result of the game and propelled Kramnik into the sole lead, with 2.5 points. Kramnik's closest pursuers are Fabiano Caruana of the United States and Shakhriyar Mamedyarov of Azerbaijan, who played to a tense draw after nearly six hours. They each have two points.

The Candidates is being organized by World Chess, the commercial partner of the World Chess Federation (FIDE), the game's governing body. The prize fund is 420,000 euros. The winner will receive 95,000 euros, but, more importantly, he will earn the right to play Magnus Carlsen, the world champion, for the title in the Championship Match in London this November.

In addition to Kramnik, Aronian, Caruana, and Mamedyarov, the other competitors are Alexander Grischuk and Sergey Karjakin, both of Russia, Ding Liren of China, and Wesley So of the United States. The tournament is a double round-robin, with each player facing all the other competitors twice, once with each color.

The venue for the tournament is Kühlhaus (or "cool house" in English), an industrial building in central Berlin that was built in the early 20th century as a cold-storage facility for fresh produce. Among the principal sponsors of the tournament are PhosAgro, a giant Russian fertilizer company; Kaspersky Lab, a global cybersecurity firm; E.G. Capital Advisors, an investment management company; S.T. Dupont, a global luxury goods maker; Prytek, a venture capital firm; and Isklar, a Norwegian mineral water company.




Francesco Tristano, a classical and experimental pianist from Luxembourg, made the ceremonial first move for the round. By chance, it was in the game between Aronian and Kramnik, and he started with 1 e4, a move that Aronian almost never plays.

The game started as a classical Berlin Defense, with Aronian choosing a popular anti-Berlin system beginning with 4 d3. The players followed a known path until Kramnik chose 7 … Rg8, presaging an attack on the kingside. Such aggressive moves are exceedingly rare at the top level; they are more commonly played by hustlers in off-hand games. Though the move looked amateurish, Kramnik explained afterward that it was actually an idea that he had studied and prepared beforehand. He soon unleased a potent attack.

Perhaps shocked by the turn of events and Kramnik's seemingly clumsy attack, Aronian did not find the best moves. He fell behind in development while Kramnik systematically hammered away at the inadequate defenses around Aronian's king. Kramnik finished off the game with some beautiful moves (24 … Bd5 and 26 … Qe2) that Aronian was powerless to resist.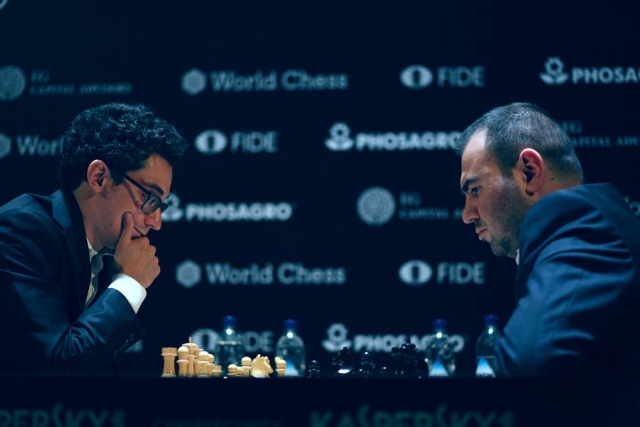 Though none of the other games were decisive, they were hard-fought. The most consequential was between Caruana and Mamedyarov, as they were tied with Kramnik for the lead before the round began.

Caruana opened with 1 e4 and Mamedyarov replied with the Sicilian Defense, the most double-edged of Black's choices. The game soon became complicated and sharp, with chances for both sides to go wrong. Caruana, who is not naturally a tactical player, began to use more and more time on his clock, while Mamedyarov moved quickly, indicating that he was still following his pre-game preparation and that he was also feeling very comfortable. Despite this, just when it seemed that Caruana might be in trouble, he found the best moves and forced Mamedyarov to give up an exchange to stave off mate. But Mamedyarov also won a pawn, which he was able to advance to Caruana's third rank. The position remained tense and dynamically balanced, with both players finding enough good moves to pose problems for the other. In the end, they agreed to a draw in a position where neither could win.




The other two games were not as long, though they also had their interesting moments. Karjakin, playing White, faced Grischuk. He chose the Giuoco Piano, or quiet system, and got very little advantage out of the opening. Indeed, after 25 moves, Grischuk had a slight edge because of his better-placed pieces and Karjakin's passive bishop. But with little material left on the board, Grischuk was unable to make any real headway. Grischuk now has 1.5 points, while Karjakin has one.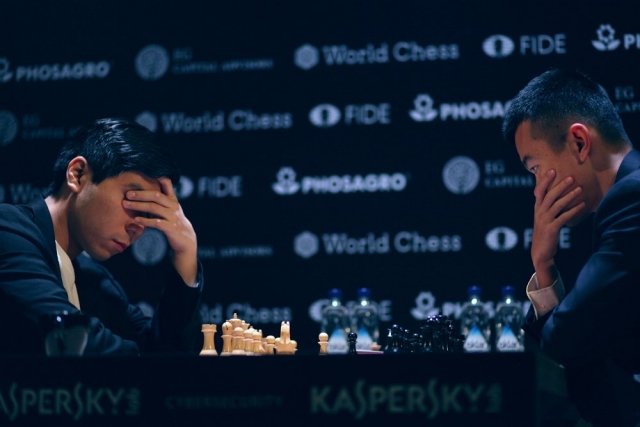 In the other game, Ding, who had Black, used the Marshall Gambit (named after the American champion of the early 20th century) against So. It is an opening that has been extensively analyzed and, when neither player makes a mistake, it often leads to a draw. After 37 moves, So had an extra pawn, but with only bishops of opposite-color left on the board, there was no possibility for him to make progress. For So, it was an important result as it stopped the bleeding after two consecutive losses to start the tournament. For Ding, it was his third draw, giving him 1.5 points – an impressive beginning for his first Candidates tournament.

Tuesday is a rest day. The tournament will resume Wednesday at 3 PM, local Berlin time, with Round 4. The tournament can be watched live at www.worldchess.com, the official site of the World Championship.

Round 3 Photo Gallery