| | |
| --- | --- |
| World Youth U-16 Chess Olympiad 2018 | |
Monday, 26 November 2018 18:02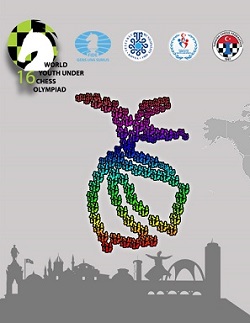 At the first round of the World Youth U-16 Chess Olympiad 2018 on November 25th, people witnessed many surprising results such that from the first 5 top teams, only Uzbekistan (top seed) and India (3rd top seed) managed to survive without wounds.

On the second board, the second top team, Russia (ELO average of 2440) drew 2-2 against number 25, China. One of the 4 GMs of the tournament, Esipenko (2609) drew with Huang, Renjie with black.

Surprisingly, Portugal won against the fourth top seed, Azerbaijan 2.5-1.5. FM Veiga and Santos won against IM Gadimbayli and IM Garayev.

The most interesting match game of the day was between Iran and Sri Lanka in which Sri Lanka shocked their opponent by winning the battle with 2.5-1.5 after getting the full points from their 3rd and 4th boards.
Official website