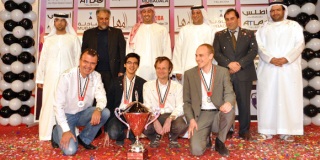 Hoogeveen Wins World Cities Sheikh Zayed Cup

The City of Hoogeveen, Netherlands became World Cities Chess Champion after beating Baku, Azerbaijan 2.5-1.5 in the finals of the knockout tournament 21-28 December 2012 in Al Ain, United Arab Emirates.

Sergei Tiviakov of Hoogeveen again proved the hero for the Dutch team as he squeezed out a victory in an opposite colored Bishop endgame in a marathon 89 moves.

The match was difficult from the start as Anish Giri, playing white on top board for Hoogeveen, and Eltaj Safarli had a complicated duel. Giri essayed the English Opening as white and accepted the early exchange of Queens on the 14th move. Both sides penetrated with their Rooks on the opponent's second rank. Safarli was first to unleash an attack. Giri was poised to counter with three pieces weaving threatening nets on the Black King when Safarli decided to repeat position and force a draw on the 31st move.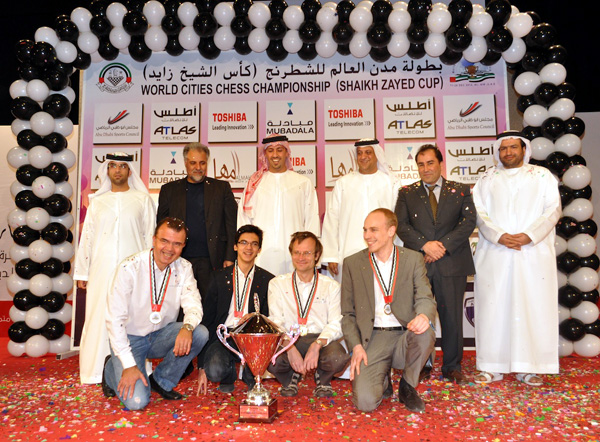 The Hoogeveen team, kneeling from left, GMs Ivan Sokkolov, Anish Giri, Sergey Tiviakov and Jan Smeets.

Standing are, from left, Abu Dhabi Sports Council representative Salah Al Marzougi, FIDE Vice President Mohammed Kambouzia of Iran, Sheikh Sultan bin Khalifah Al Nahyan, UAE Chess Federaiton Vice President Abdulaziz Al Khouri, FIDE Vice President Nizar El Haj and Organizing Committee Managing Director Hisham Al Taher

The Ruy Lopez game between Rauf Mamedov of Baku with white and Ivan Sokolov of Hoogeveen on board two was next to draw. After an exchange of Queens on the 19th move, Mamedov won a pawn. Sokolov controlled the open file with his Rook and forced perpetual check to draw in 35 moves.

The lower boards were left. Vasif Durarbayli had white for Baku on board 4 against Jan Smeets who used the Petroff Defense. Smeets was a pawn up in their Rook and Pawn endgame. Both sides had a passed pawn in a clearly drawn position when they agreed to halve the point in 57 moves.

It looked as if the game on board three between Sergei Tiviakov of Hoogeveen and Nidjat Mamedov of Baku would also end in a draw. Tiviakov used the Alapin variation of the Sicilian defense and exchanged Queens on the 25th move. This led to an endgame with Rook and Bishops of opposite colors.

Tiviakov said "After the opening I was sure that it is going to be a long game. We had this position with opposite colored bishops. Moreover I had one pawn up and gained an advantage in the endgame. My position gave me a chance to make about 100 moves. That's what I planned to do and generally what I did. Moreover my opponent was in time trouble. You can imagine: being in a time trouble, one pawn down, we can only think how to defend. My opponent was losing a lot of energy for that. The conditions of play were not equal by all means. As a consequence my opponent made a blunder and lost."

The Hoogeveen team won $21,000 out of the $150,000 prize fund. "We purposely had only four players to have fewer people to share the prize," Hoogeveen captain Ivan Sokolov said.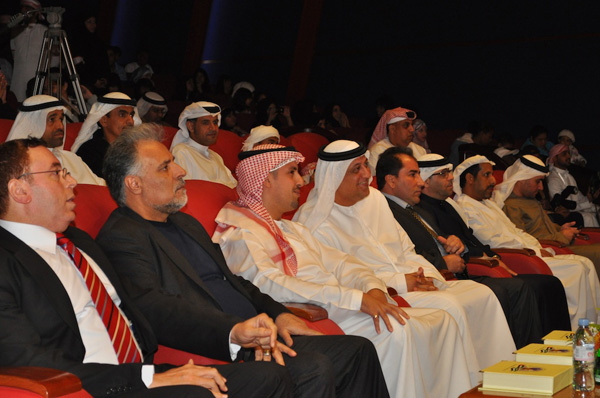 With Sheikh Sultan at the opening ceremony were, from left, Egyptian Chess Federation president Dr. Hisham El Gendi, FIDE Vice Presdient Mohammed Kambouzia of Iran and FIDE Vice President Nizar El Haj of Libya.

Nidjat Mamedov resigned on the 89th move after almost six hours of play. Tiviakov uncorked a check that would win material and forced resignation on the 89th move after five and a half hours of play. A large crowd following the game on monitors burst into applause.

The match for third place was just as tense. Saidali Iuldachev scored first for Tashkent, beating Nikola Sedlak in onlh 32 moves. Iuldachev opened the center against the French Defense of Sedlak and won a Bishop to force resignation.

Alexei Barsov of Tashkent used the French Defense against Milos Perunovic. Barsov repeated position in a Rook and Pawn endgame to draw in 40 moves.

Ivan Ivanisevic on board one smashed the Pirc Defense of Marat Dzhumaev with a rustic attack. Ivanisevic use a kingside pawn storm to pry open the castled king of black and threaten mate on the 24th move. The win on top board gave the Serbs the edge in the Berlin System tie break which gives more weight to a win on top board.

The victory was sealed when the match on board two between Andrey Kvon of Tashkent with White and Robert Markus of Novi Sad ended in a draw in 46 moves in a blocked position arising from the Kin'g Indian Defense.

Meanwhile in the $30,000 Al Ain Classic where players from the World Cities carried over their points to the Swiss System event, two French Grandmasters tied for first. Edouard Romain and Maxime Vachier-Lagrave scored a total of 7 points to tie for first. GM Tigran Kotanjian of Armenia who played in the Swiss from the start finished third with 6.5 points. 

Al Ain Classic winner GM Edouard Romain receiving the Champion's Cup from Sheikh Sultan bin Khalifah Al Nahyan

Visit the official site http://worldcitieschess.com/ to download pgn files and view the photo gallery. 
---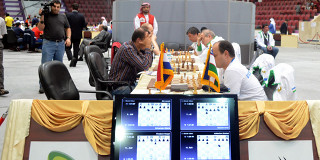 Top seeds Hoogeveen and Baku face each other in today's finals of the World Cities Chess Team Championship while Novi Sad and Tashkent battle for third place in the exciting climax of the week long tournament in Al Ain, United Arab Emirates.

Hoogeveen drubbed Tashkent 3:1 to advance to the final match while Baku outclassed Novi Sad 3.5-0.5 to climb to the last rung of the knockout. Visit the official site worldcitieschess.com to watch games live starting 3pm and download pgn files and view photo gallery.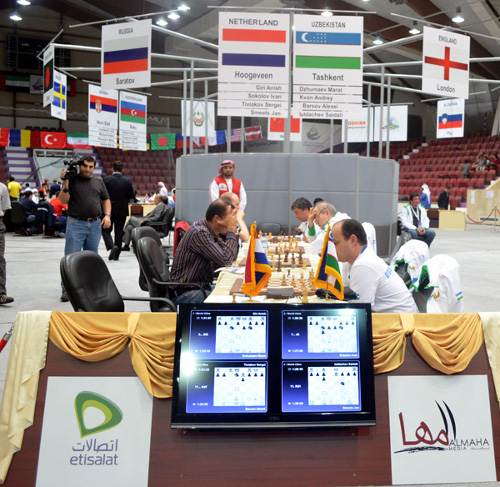 Hoogoven-Tashkent


Ivan Sokolov made short work of IM Andrey Kvon's Nimzo Indian defense. Sokolov posted his Queen deep in Black's territory and added pressure with doubled Rooks. Kvon lost a pawn and resigned on the 33rd moves under the mounting attack.

On board 3, previous round hero Sergei Tiviakov also used the Nimzo Indian defense but could only draw with Alexei Barsov in 41 moves of a Rook and Pawn endgame.

Super GM Anish Giri, playing black on top board, used the Sicilian Scheveningen to seal the win for Hoogeveen as he defeated Tashkent's Marat Dzhumaev. Giri forced Dzhumaev to exchange Queens on the 30th move to transpose to a favorable minor piece endgame for black. Giri created a passed pawn and limited movement of the White Bishop.  He then advanced his pawn menacingly to the seventh rank to force resignation in 51 moves. With the match already decided, the fourth board game still continued between Jan Smeets of Hoogeveen and Saidali Iuldachev of Tashkent up to 77 moves close to midnight.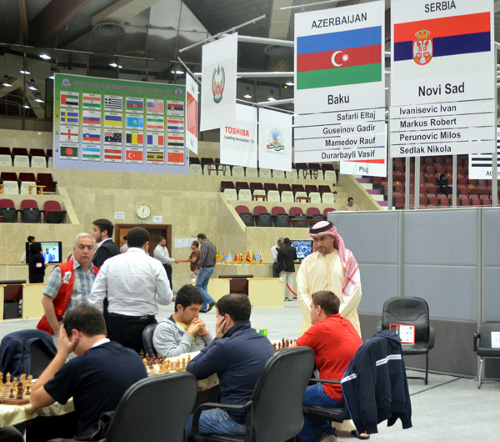 Baku - Novi Sad

First to finish in the Baku-Novi Sad Match was Vasif Durarbayli of Azerbaijan. He crushed the French defense, Tarrasch variation, of Nikola Sedlak in 50 moves. Sedlak blundered with an overworked Queen and allowed Durarbayli to sacrifice the exchange and win a Knight on the 19th move. After a forced exchange of Queens on the 32nd move to transpose to a pawn endgame with Bishop and Knight for Durarbayli vs. Rook, Sedlak resigned on the 50th move.

On board three, Milos Perunovic of Novi Sad attacked the closed Sicilian defense of Rauf Mamedov and won the Black Queen in exchange for Rook and Knight. The Bishop pair of Mamedov allowed for a perpetual check for a draw on the 33rd move.

Young Eltaj Safarli, playing black on top board for Baku, also played the Sicilian defense against Ivan Ivanisevic of Novi Sad. In the Closed variation, Safarli allowed an exchange of his Queen for Rook and two pieces. Safarli advanced his rook pawn and faced with a promotion, Ivanisevic resigned on the 38th move.
With the match already won, Gadir Guseinov of Baku embarked on a kingside pawn storm against the Philidor defense of Robert Markus of Novi Sad. Guseinov penetrated with his Queen and weaved a mating net with the help of his Knight and center pawn to force resignation on the 37th move.

Anish Giri plays white to lead the Hoogeveen team in the tension filled finals against Eltaj Safarli and the Baku contingent without Gadir Guseinov who sits out the match starting 3pm in Al Ain. Novi Sad got white on top board against Tashkent in the fight for third place.

In the Al Ain Classic, seven players share the lead after 7 rounds. With 5.5 points each are GMs Maxime Vachier-Lagrave and Edouard Romain of France, Mircea Emilian Parligras of Romania, Wang Yue of China and Jaan Ehlvest of the USA, all who had carried points over from the World Cities. Also with 5.5 points are GMs Evgeni Miroshnichenko of Ukraine and Tigran Kotanjof Armenia who both started only in the Al Ain Classic.

Also coming from the World Cities are GMs Evgeny Sveshnikov of Latvia, Asghar Golizadeh of Iran and Emre Can of Turkey who trail with 5 points.

http://worldcitieschess.com/


---
And then there were four

The tension mounts as we near the climax of the knockout system. Many players say that the knockout format is more tense because of the finality of a result. It is always the last and deciding round – either in or out. No second chances.

In the Quarterfinal matches, the city of Baku was the first to go through as they outclassed the Wu Xi team of China 3:1. The Azerbaijan strategy paid off as Eltaj Safarli and Gadir Guseinov held to draws the two stronger Chinese players, GM Wang Yue and Ji Dan. The battle shifted to the lower boards. Baku's GM Rauf Mamedov outplayed Li Wenliang and Nidjat Mamedov outmaneuvered Fang Yuxiang to give Baku the 3:1 victory and a slot in the semifinals.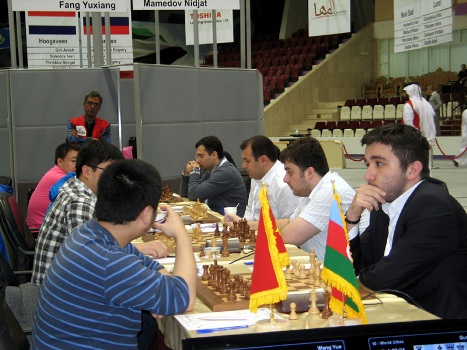 Next to qualify was Novi Sad. Serb Robert Markus used the King's Indian Defense to beat Hans Tikannen on board 3 for Lund, Sweden. Markus sacrificed a Knight on the 20th move and embarked on a king hunt which ended in checkmate on the 39th move.

Milos Perunovic followed suit with a temporary Knight sacrifice on the 22nd move against Carlsson Pontus. After a flurry of exchanges Perunovic netted two pawns and forced resignation on the 39th move. With a draw on board 4 against Swede Axel Smith, Nikola Sedlak sealed the victory for Novi Sad. The win by Swede Nils Grandelius on top board against Ivan Ivanisevic came too late to lift their spirits.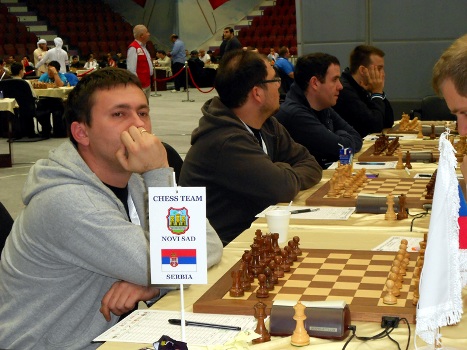 The Tashkent team qualified next at the expense of Athens, Greece. Saidali Iuldachev scored first on board 4 against Andreas Tzermiadianos in 38 moves of a King and Pawn endgame arising from a Ruy Lopez. After two draws on the middle boards, Marat Dzhumaev sealed the win for Tashkent by beating Ioannis Papaioannou for a 3:1 score. After the game we asked Uzbekistan Chess Federation head Husain Turdialiev "Good prize money?" He replied "If we win next even better." The fourth placed semifinalist receives $10,000 prize money out of a total $150,000 in this team tournament.

In the last match of the round, Hoogeveen came from behind to beat Saratov. The Russians scored first as Alexei Iljushin beat Jan Smeets on board 4 in 41 moves of a minor piece endgame. Much was expected of Dutch top board Anish Giri but he was held to a draw by Evgeny Tomasevsky. Dutch captain Ivan Sokolov also drew on second board with Igor Lysyj leaving the decision to the third board match between Hoogeveen's Sergei Tiviakov and Evgeny Romanov. The Russian GM lost a pawn on the 43rd move but as Sokolov commented later, the game looked drawish which would give the victory to the Russians.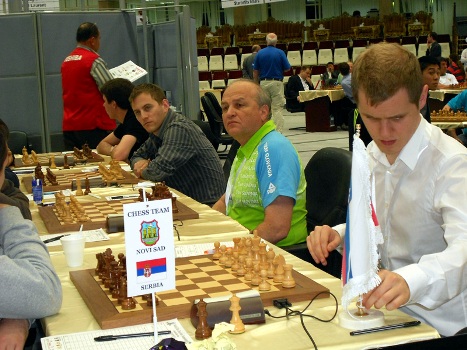 It was nearly midnight and everyone left in the hall had their eyes glued to the monitor as Tiviakov nursed a one pawn advantage in a precise same-colored Bishop endgame to force resignation on the 67th move. This meant Hoogeveen won the match by the Berlin system where more weight is put on the higher boards.

Download Results of Quaterfinals
Download Pairings Tree

http://worldcitieschess.com/
---

Teams Trimmed Down to 8 for Quarterfinal

You could feel the tension as the knockout phase started with the Round-of-16 in the World Cities Chess Team Championship in Al Ain, UAE. Athens, Tashkent, Saratov, Hoogeveen, Baku, Wu Xi, Lund and Novi Sad advance to the Quarterfinals.

The biggest upset was scored by Wu Xi as the Chinese team beat highly favored Lviv. Unknown player Ji Dan sacrificed a Knight on the 27th move against Ukrainian GM Yuriy Kryuvoruchko to gain two passed pawns in the center. After Ji Dan exchanged Queens, he marched the protected pawns to inevitable promotion and forced resignation on the 47th move.

As Li Wenliang and Fang Yuxiang bowed to their superior GM opponents, it was up to Chinese stalwart Wang Yue with black pieces on top board against GM Alexander Moiseenko. Moiseenko declined to repeat position in the opening which would have led to a draw. With less than two minutes on the clock in a closed position, Wang Yue opened up the center and penetrated with his Queen and Rook to threaten mate on the 88th move. With the match at 2:2, the tie was broken by the Berlin system which gives more weight to points on the top boards.

First to finish was the match between Lund and Riga. Swede Hans Tikkanen beat Latvian Arturs Neiksans on board 2 but Ilmars Starostits evened the score by beating Axel Smith on 4th board. Draws between Evgeny Sveshnikov of Latvia and Pontus Carlsson of Sweden, and between Normunds Miezis and Nils Grandelius on top board sealed the win by the Berlin System for Lund.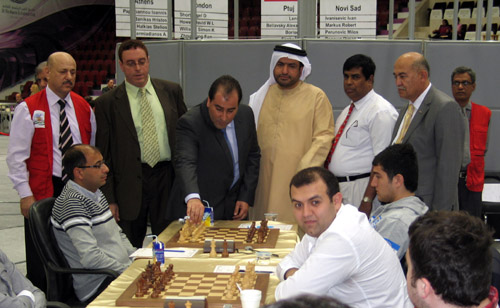 FIDE Vice President Nizar El Haj makes the ceremonial move at the start of the knockout phase. Looking on are federation officials, Egyptian President Dr. Hisham El Gendy, Hisham Al Taher of UAE, Luxman Wijesuriya of Sri Lanka and Husain Turdialiev of Uzbekistan.

Next to exit was Dhaka which faced the mighty Saratov team. The Russians scored quickly with wins by Evgeny Romanov and Igor Lysli over Bangladeshi Ahmed Minhazuddin and Ziaur Rahman, respectively. With an earlier draw on top board between Russian Evgeny Tomashevsky and Niaz Murshed, the victory was sealed leaving the last game to finish in the round which Evgeny Shaposnikov won against Debaraj Chaterjee.

A jubilant Novi Sad team won over Ptuj of Slovenia on board 1 victory by Serb Ivan Ivanisevic in 39 moves over Luka Lenic. Jure Skoberne countered by beating Dusan Popovic. Draws on middle boards between Serb Robert Markus and Alexander Beljavsky, and between Jure Borisek and Serb Milos Perunovic gave the win by Berlin System to Novi Sad.
The Hoogeveen team showed Chicago the door as highest rated Anish Giri beat Varuzhan Akobian from the black side of a Gruenfeld defense in only 41 moves. Jan Smeets widened the margin by beating American Benjamin Finegold. Two draws between Dutch Ivan Sokolov and Jaan Ehlvest, and between American Robert Hungaski and Sergei Tiviakov gave the Dutch a convincing 3:1 tally.

Tashkent was the next to qualify with a lopsided 3:1 score over Astana which saw top board GM Murtas Kazhgaleyev sitting out the match against their close neighbors. Saidali Iuldachev beat Kiril Kurderinov while Alexei Barsov beat Anuar Ismagambetov to put Tashkent in the lead. A draw on top board between Uzbek Marat Dzhumaev and Rinad Jumabayev sealed the win even as Pavel Kotsur countered for Astana by beating Andrey Kvon. Athens surprised London as Greek Stelios Halkias beat Simon Williams. Two draws followed between Brit Zhou Yang Fan and Andreas Tzermiadianos and between David Howell and Greek Hristos Banikas. On top board with a Rook down against Queen, Nigel Short had no winning chances and gave up on the 92nd move.

Finally top seed Paris fell to Baku, Azerbaijan. Young Eltaj Safarli set the tone by holding Frenchman Maxime Vachier Lagrave to a draw by repetition. Rauf Mamedov beat Romain Edouard and Vasif Durarbayli followed suit against Hicham Hamdouchi to give the Azeris the victory even as Laurent Fressinet countered with a win over Gadir Guseinov for a final score of 2.5-1.5.

Twelve players eliminated from the World Cities Round-of-16 have joined the Al Ain Classic, carrying over their points from four rounds. There are now 20 Grandmasters in the strong Al Ain Classic. After four rounds, GM Tigran Kotanjan of Armenia is in solo lead. GMs Mark Paragua and Alexander Raetsky tied at 3.5 points each are joined by GM Pavel Kotsur of the Kazakhstan team who carries over 3.5 points in the unique Al Ain System.

Download the results of Round of 16,  Board pairings for Quarterfinal

Visit official site http://worldcitieschess.com/ and watch games live, download pgn and see photo gallery for both World Cities and Al Ain Classic.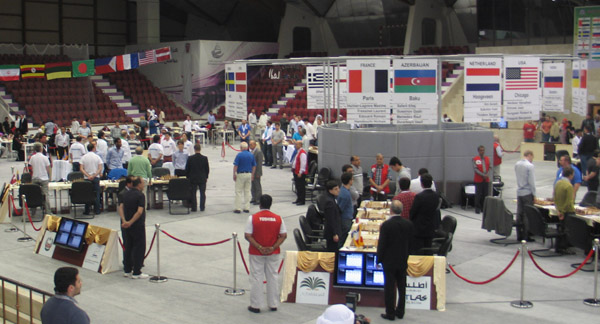 Teams stand in a minute of silence in memory of the father of Mehrdad Pahlevanzadeh of the who passed away the night before. 
---
Teams trimmed to Round-of-16

The 24 teams have been trimmed down to 16 for the knockout phase of the World Cities Chess Team Championship in Al Ain, UAE. Group winners were Lund, Sweden; Saratov, Russia; Lviv, Ukraine; Astana, Kazakhstan; Paris, France; and Hoogeveen, Netherlands, in groups A to F, respectively.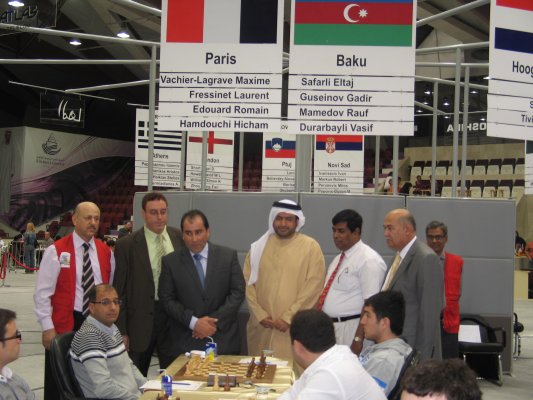 FIDE Vice President Nizar El Haj (second from left) leads ceremonies for the Round of 16 knockout phase.

In second place in their groups with direct qualification were London, England; Ptuj, Slovenia; Athens, Greece; Baku, Azerbaijan; Chicago, USA; and Novi Sad, Serbia, from groups A to F, respectively.

Qualifying as third placers were Dhaka, Bangladesh; Tashkent, Uzbekistan; Riga, Latvia; and Wu Xi, China.

Eliminated were host Al Ain, UAE; Chennai, India; Caberra, Australia; Timisoara, Romania; Teheran, Iran ; Kampala, Uganda; and Cairo, Egypt.

The knockout phase begins with the Round-of-16. 

Download the results of Rd 3
Download the crosstables of the Preliminary Round Robin groups.
Download the Rd 3 bulletin.
http://worldcitieschess.com/


---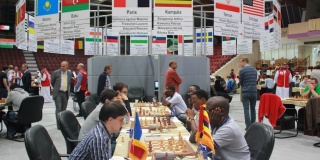 Tight Race in World Cities Chess Team Championship
After the second round of the World Cities Chess Team Championship in Al Ain, UAE, there are clear leaders and clear tail-enders in most groups. This is the result of the round robin system which groups four teams of different rating categories. Now the focus shifts to the race for second and third place in each group.

The leaders of the various groups are Lund, Sweden in group A, Saratov, Russia in group B, Riga, Latvia in group C and Hoogeven, Netherlands in group F. There are ties for the lead in the other groups between Baku, Azerbaijan and Astana, Kazakhstan in group D and between Paris, France and Chicago, USA in group E.

Teams are jockeying for the second qualifying slot and the "best third place". The top two of each group advance to the Round-of-16. So from 6 groups will come 12 qualifiers. That means four more teams will come from the six 3rd placed teams. Ranking and ties are resolved as follows: Match points, Game points, direct encounter (by match points then game points) , by two SB systems, by the Berlin System board count and as a last resort by playoff.

Visit the official site to watch games live, download pgn files and see the photo gallery. Visit chess-results.com for round by round results and standings.

Concurrent with the World Cities is the Al Ain Classic. Some 52 players from 23 countries are competing in the $30,000 Swiss System tournament. Players eliminated from the World Cities may carry over their points to the Al Ain Classic after the Preliminaries, Round-of-16 and Quarterfinal matches.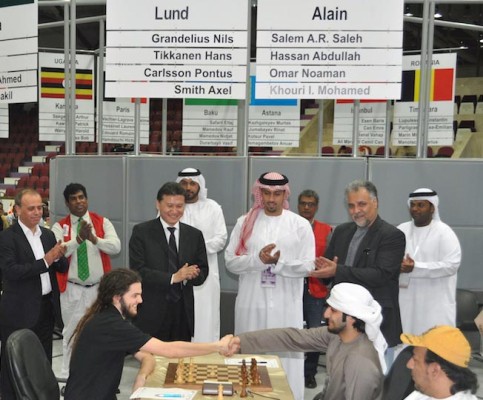 FIDE President Kirsan Ilyumzhinov visited the second round of the World Cities Chess Team Championship. Looking on the handshake by GM Grandelius of Lund (SWE) and GM Saleh of Al Ain (UAE) are, from left, FIDE VP Ali Nihat Yazici of Turkey, FIDE Zone President Luxman Wijesuriya of Sri Lanka, President Ilyumzhinov, Asian Chess Federation president Sheikh Sultan bin Khalifah Al Nahyan, Haroon or Rashid of Bangladesh and FIDE Vice President Mohammed Kambouzia of Iran.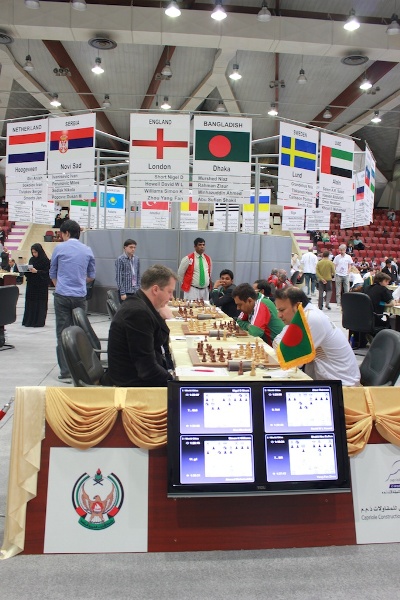 GM Nigel Short vs. GM Niaz Murshed in the match between London, England and Dhaka, Bangladesh. Monitors are installed for all boards to allow spectators to conviently watch all games live.

Round 2 results

Crosstable after Rd. 2

http://worldcitieschess.com/
---
World Cities Team Chess Championship has started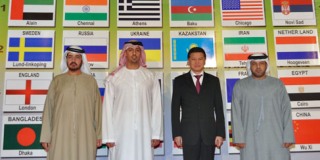 After the draw for groups, FIDE President Kirsan Ilyumzhinov and Organizing Committee chairman and president of the Asian Chess Federation Shiekh Sultan bin Khalifah Al Nahyan pose in front of the pairing board. At left is Ibrahim Al Bannai, president of the Arab Chess Federation and at right is Saeed Al Megbali president of the UAE Chess Federation


The World Cities Chess Team Championship got off to an exciting start as teams started jockeying for position in their Round Robin preliminary groups to aim for the top two and advance to the knockout phase. FIDE President Kirsan Ilyumzhinov and Sheikh Sultan bin Khalifah Al Nahyan led colorful opening ceremonies where captains drew lots for grouping.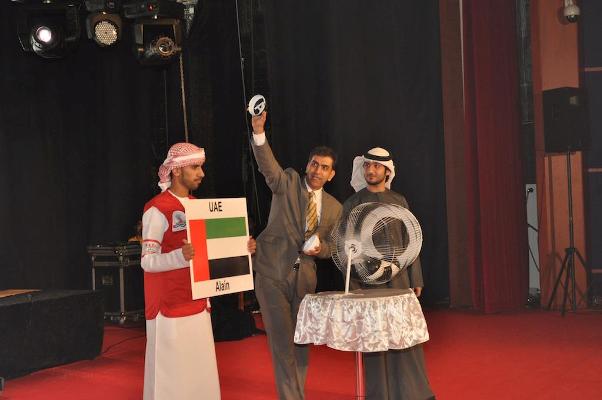 IA Mehrdad Pahlavenzadeh of the Asian Chess Federation raises the group A ball drawn by GM Salem A.R. Saleh (right) of the UAE. By order of category, each captain took turns drawing balls with group names hidden inside

In group A, Dhaka, Bangladesh beat host Al Ain, UAE 3:1 while Lund, Sweden upset London, England 2.5-1.5.

In group B, Tashkent, Uzbekistan crushed Chennai, India 3.5-0.5 to take a commanding lead as Saratov, Russia could only edge Ptuj, Slovenia 2.5-1.5.

In group C, Lviv, Ukraine blanked Canberra, Australia 4:0 while Riga, Latvia shaded Athens, Greece 2.5-1.5.

In group D, Baku, Azerbaijan smashed Istanbul, Turkey 3:1 while Astana, Kazakhstan beat Timisoara, Romania 2.5-1.5.

In group E, Chicago, USA took hours to subdue Kampala, Uganda 3.5-0.5 while top seed Paris, France smashed Tehran, Iran 3:1.

In group F, Hoogeveen, Netherlands whitewashed Cairo, Egypt 4:0 while Novi Sad, Serbia creamed Wu Xi, China 2.5-1.5. Aside from the top two of each group, the best third place complete the teams advancing to the Round-of-16 knock out match.

At the opening ceremonies, the 24 teams were ranked into four categories by average rating. Team captains per category took turns to draw for groups and pairing numbers. Chief Arbiter Casto Abundo and Mehrdad Pahlevanzadeh conducted the draw. The upset of the opening round was the victory of Lund, Sweden over higher ranked London, England on wins by Swedish GM Carlsson Pontus and IM Axel Smith. Pontus crushed the French defense of British GM Simon Williams in 54 moves. Swedish IM Axel Smith used the Sicilian defense to beat Zhou Yang Fan in 53 moves. Lund top board GM Nils Grandelius sealed the win by holding English GM Nigel Short to a draw in 34 moves of a Ruy Lopez. GM David Howell struck back for England, beating GM Hans Tikkanen in an opposite colored Bishop endgame.

Dhaka beat host Al Ain 3:1 on a win by GM Ziaur Rahman over IM Hassan Abdullah, and a walkover by 8 IM Abu Sufian Shakil as the other two games were drawn between the host's GM Salem Saleh and GM Niaz Murshed, and between UAE IM Omar Noaman and IM Minhazuddin Ahmed.

Tashkent crushed Chennai 3.5-0.5 on wins by GM Marat Dzhumaev, IM Andrey Kvon and GM Alexei Barsov over IM Nikil Shyam, FM Rajesh VAV and Niranjan Navalgund. Uzbek GM Saidali Iuldachev drew with Murali Karthikeyan.

Saratov stayed close behind, edging Ptuj 2.5-1.5 won a sole win by GM Evgeny Shaposhnkov over GM Jure Skoberne as the other three games were drawn between Russian Evgeny Tomashevsky and GM Luka Lenic, between Russian GM Igor Lysyj and GM Alexander Beliavsky, and between Russian evgeny Romanov and GM Jure Borisek.

The Lviv blanked Canberra 4:0 on wins by the all GM contingent of Alexander Moiseenko, Yuriy Kryvorucko, Sergey Fedorchuk and Martyn Kravtsiv over FM Christopheer Wallis, IM Vladimir Feldman, Eugene Schon and Karl Zelesco, respectively. Riga's GM Arturs Neiksans and Evgeny Svehnikov delivered full points over GM Hristos Banikas and Stelios Halkias, respectively. GM Ilmars Starostits clinched the win, drawing with IM Andreas Tzermiadianos. GM Ioannis Papaioannou struck back beating GM Normunds Miezis.

Chicago's GM Varuzhan Akobian, IM Andrew Hungaski and GM Benjamin Finegold taught Kampala a lesson, beating CM Patrick Kawuma, CM Bob Bibasa and FM Stephen Kisuze, respectively. FM Harold Wanyama prevented a shutout, holding GM Jaan Ehlvest to a draw.

Paris slapped Tehran on wins by GM Laurent Fressinet and GM Romain Edouard over IM Pouria Darini and GM Asghar Golizadeh, respectively. Games between French GM Maxime Vachier-Lagrave and GM Ehsan Ghaem Maghami and between French GM Hicham Hamdouchi and GM Morteza Mahjoob.

Overall second seed Hoogeveen got full points with wins by GMs Anish Giri, Ivan Sokolov, Sergei Tiviakov and Jan Smeets over GM Essam El  Gindy and IMs Samy Shoker, Mlhamed Ezat and Ibrahim Hasan Labib.

Novi Sad scored on the lower boards as GM Mmilos Perunovic and GM Nikola Sedlak beat IM Li Wenliang and Fang Yuxiang, respectively. Ji Dan struck back for Wu Xi against GM Robert Markus while GM Ivan Ivanisevic drew with GM Wang Yue. At stake in the first knock out team competition in FIDE is the Sheikh Zayed Cup and a total of $150,000 in cash prizes. Visit the official site at http://worldcitieschess.com/ to watch games live and download pgn files of all games. Follow results and pairings at chess-results.com.

Concurrent with the World Cities is the $30,000 Al Ain Classic. Players whose teams are eliminated in the World Classic can carry over their points to the individual Swiss System. Players from 52 federations are competing in the open with 6 Grandmasters, 3 WGM, 14 IMs and 3 WIMs. This unique Al Ain system has been approved by FIDE as an international title tournament under normal rules for players who play nine games. The total number of players will increase after the elimination of teams from the World Cities preliminaries, Round of 16 and quarterfinals. A youth championship is also being held concurrently in the chess festival.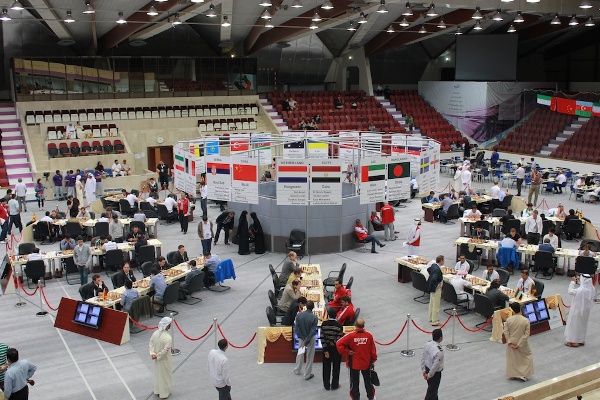 Flags and players name hang behind each match from the control tower at center which houses the computer control room for live broadcast of games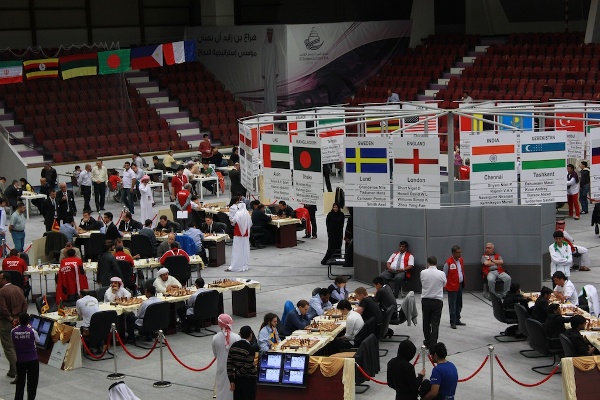 A Match Arbiter (in red vests) watches over each match, similar to Olympiads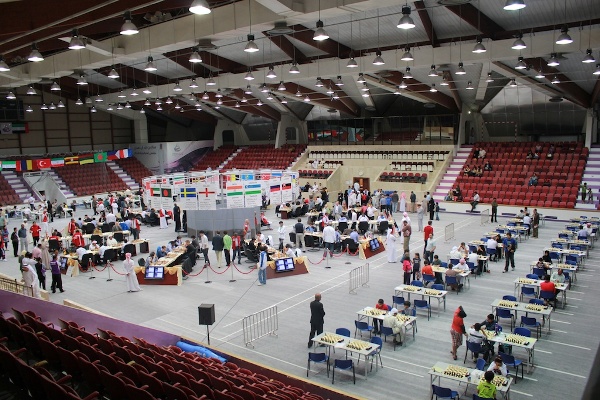 A view of the playing hall with three tournaments, the World Cities Chess Team Championship in the center, the Al Ain Classic in foreground and the youth championship in background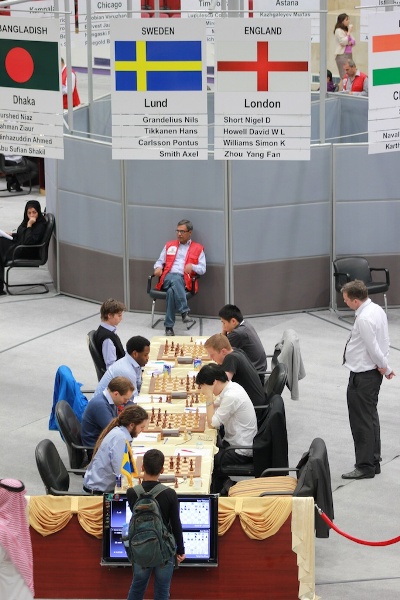 Four games of each match are displayed on monitors to allow spectators to conveniently watch the game and the players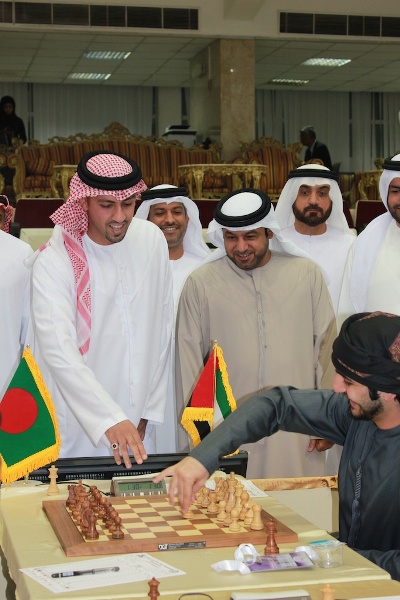 Sheikh Sultan bin Khalifah Al Nahyan starts the clock of GM Salem Saleh of Al Ain at the start of the round