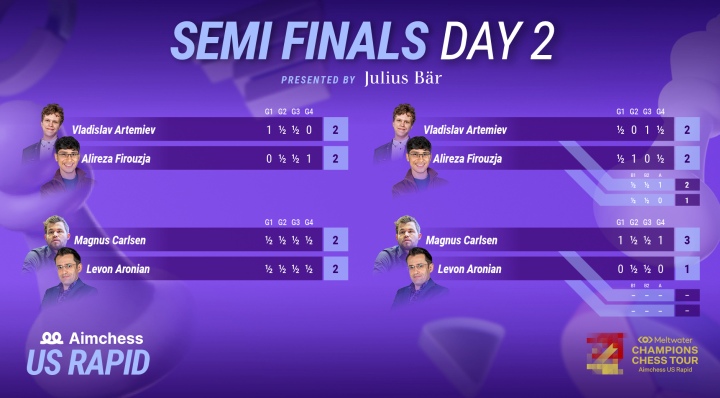 Magnus Carlsen has reached his fifth Meltwater Champions Chess Tour final and will face the new Russian sensation Vladislav Artemiev. The World Champion battled through a tough Aimchess US Rapid semi against Levon Aronian to win 3-1 and make tomorrow's decider.
Hoping to turn the tables on him is 23-year-old Artemiev, who was super-smooth best as he won a fascinating clash of styles against the tricky, trappy teenager Alireza Firouzja.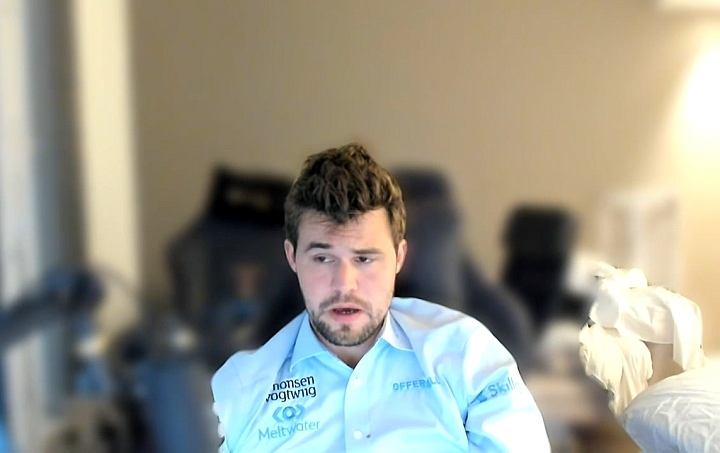 Heaping praise on his potential opponent before the result was known, Carlsen said of Artemiev that he is, "Somebody who has just a sublime positional feeling!" And in beating Firouzja, Artemiev displayed all his talents. After a 2-2 yesterday, Artemiev and Firouzja's second match started in a similar vein as the two - the youngest in the tournament - played out a nervy draw.
But then it heated up. Firouzja was at his flashy best in the second as he unleashed a killer f3 pawn push that crushed Artemiev's position.
The win put him in the lead. But in the next game, Artemiev hit back immediately to tie the match going into the fourth game.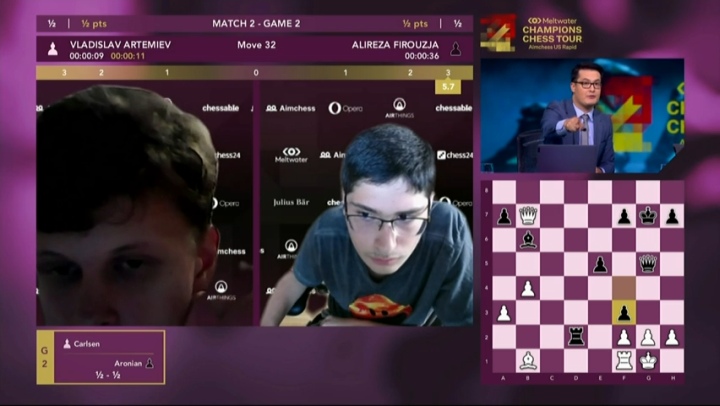 With both players going toe-to-toe and looking for a win, the final game ended in a draw to take the match to tiebreaks. After two fighting draws in the blitz section, Artemiev finally broke through in an "Armageddon" play-off.
Artemiev, who has now reached an impressive two finals in three Tour events, said the final would be "two big days for me" as he geared up for his toughest test yet.
In Carlsen's semi, the die was cast with an opening game win for the Norwegian that left Aronian needing to strike back to level the match. The 38-year-old Armenian pushed hard and had chances - but Carlsen held firm and stayed in the lead.
Getting desperate, Aronian created a crazy, complicated position where there would be chances for both sides. But it was Carlsen who found the way through, and Aronian collapsed.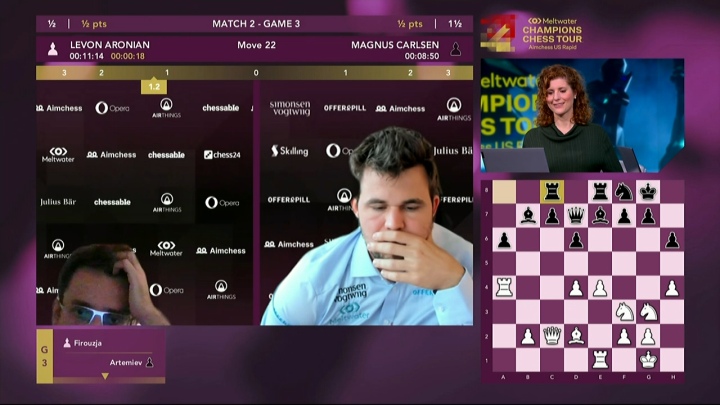 Carlsen admitted afterwards: "The last game was so unbelievably shaky." He added: "The first game was really the only one that I played well, and I'm happy that it was enough. It was one of those rare games where you have a plan and everything works."
Magnus said the other three games were "anything but easy". Carlsen said it's "very nice" to be in a final, but he needs to "step it up" to win.
It was a hard-fought semi-final win for a relieved Carlsen, who reaches another final in the Meltwater Champions Chess Tour final.
Todays's final starts at 17:00 CEST. All games will be played in the chess24.com playzone.
Coverage with full commentary is available on www.championschesstour.com or www.chess24.com.

For further information, please contact:
Leon Watson, PR for Play Magnus Group
leon@chessable.com
+44 7786 078 770