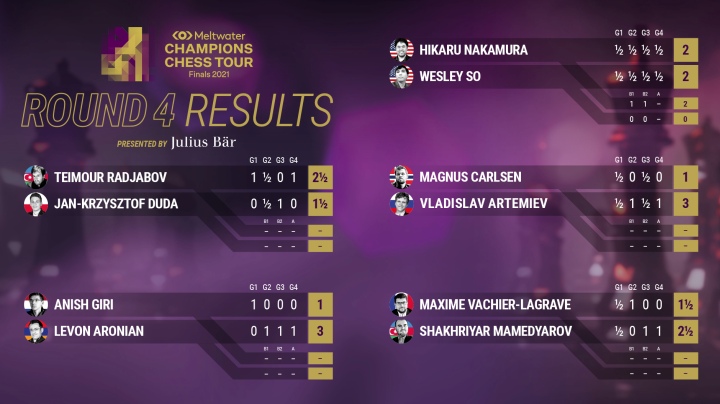 Wesley So blew a chance to get within two points of Magnus Carlsen as both the frontrunners lost in a dramatic day at the Meltwater Champions Chess Tour Finals. The American started off 5 points behind Carlsen on the leaderboard and could have cut that to 2 with a much-needed win over fellow countryman Hikaru Nakamura.
But after the pair played out four ultra-safe draws to leave their match hanging on tiebreaks, So then crashed out in the blitz section. Instead of taking the maximum 3, he had to settle for knocking a single point off Carlsen's lead.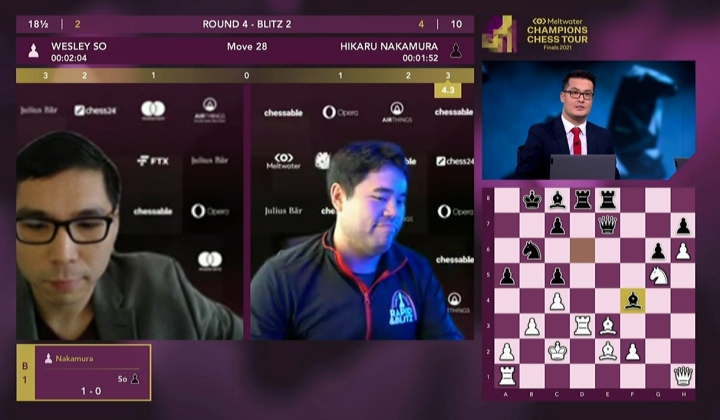 It was an opportunity squandered for So who must have been left regretting his tactics in the rapid section of the game. So left the broadcast without being interviewed after the defeat and so wasn't able to explain.
So's loss came after Norway's World Champion was downed by Russia's latest big chess hope Vladislav Artemiev, who beat him twice in a nervy Round 4 match.
Artemiev showed nerves of steel as he calmly steered the fourth game in his favour as Carlsen launched increasingly desperate attacks. The Russian had missed a chance of his own to finish off Carlsen in three as he needlessly offered up a draw by repetition while in a strong position. Carlsen, at that point, breathed a sigh of relief.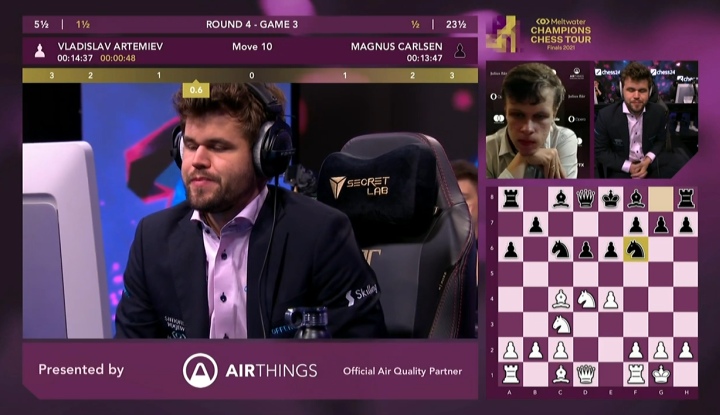 Artemiev, who was the runner-up in both the Goldmoney Asian Rapid and the Aimchess US Rapid, was always going to be a dangerous opponent for the title-chasing Carlsen.
Artemiev showed exactly why in the second game as he crashed through to go ahead and set up a difficult evening for Norway's world number 1. Carlsen, it seemed, played overly risky chess when he could have locked the game down.
Artemiev said afterwards that he had tried to play more aggressively against the champion, and his plan worked well.
He added: "It's a little surprise for me that I play in the Finals tournament because before that, I only played in three tournaments."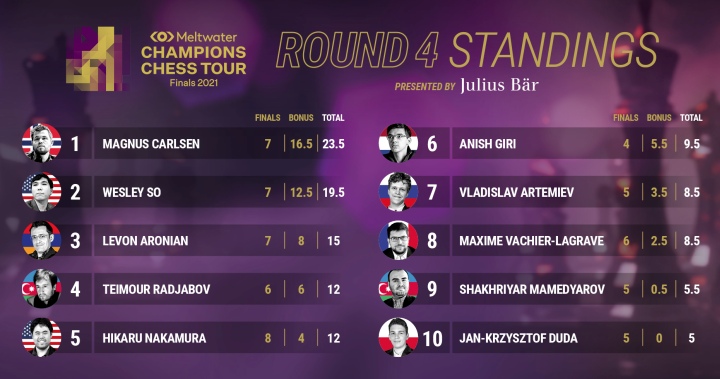 It was a bad day at the office for the Dutch number 1 Anish Giri, who lost three games in a row to a resurgent Levon Aronian.
Shahriyar Mamedyarov, meanwhile, scored his first match-win in the Finals with a 2-5-0.5 victory over the Frenchman Maxime Vachier-Lagrave.
The last result was a 2.5-0.5 win for Teimour Radjabov who beat the Pole Jan-Krzysztof Duda.
The Finals of the 2021 Meltwater Champions Chess Tour sees the world's best chess players face off across nine rounds of rapid chess from September 25 to October 4.
Tune in on www.chess24.com, YouTube or Twitch starting at 17:00 CET each day.
For further information, please contact:
Leon Watson, PR for Play Magnus Group
leon@chessable.com
+44 7786 078 770