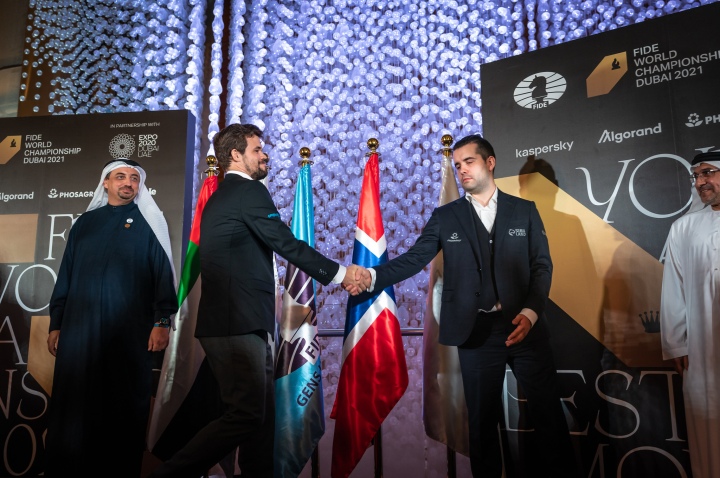 Challenger Ian Nepomniachtchi will have the advantage of the first move when the FIDE World Championship begins on November 26th. Champion Magnus Carlsen had the right to choose first - by puncturing one of two large gold balloons at the opening ceremony in the Dubai Opera - and the crisp *pop* revealed a shower of black confetti, awarding the white pieces to the challenger.
This ceremony was one of few words, after a lengthy Q&A session with the press earlier in the day, where the combatants traded subtle digs and respectful compliments, as well as addressing a few complex questions.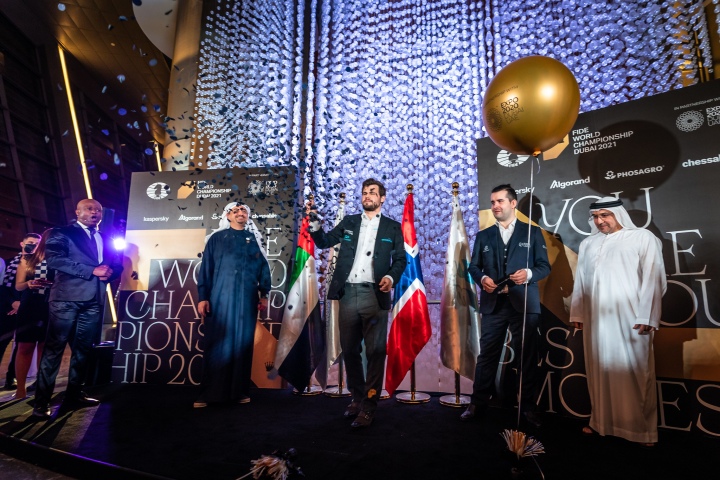 What about women?
At the press conference, the players were quizzed about the possibility of a woman eventually bridging the rating gap and becoming a candidate for the world championship since they are currently such a minority in the chess world and do not play exclusively in open events. Ian said he saw no difference in general, except that there were fewer women playing seriously. He predicted that it would just be a matter of time before a 'really strong female player' emerged and pointed to the example of Hungary's unparalleled but retired talent, Judit Polgar.
Magnus felt the topic was 'way too complicated to answer in a few sentences' but felt that the current situation was largely down to cultural factors. "What I would say in general is I encourage everybody to play chess and what I've found around the world is that young girls find as much joy as young boys in the game of chess, and if that could be communicated more, I think that would be very helpful."
The subject did move FIDE President Arkady Dvorkovich to chime in, saying that FIDE plans to offer coaching and programs to help talented girls create career opportunities in chess, targeting the age groups that have traditionally evaporated to pursue other professions.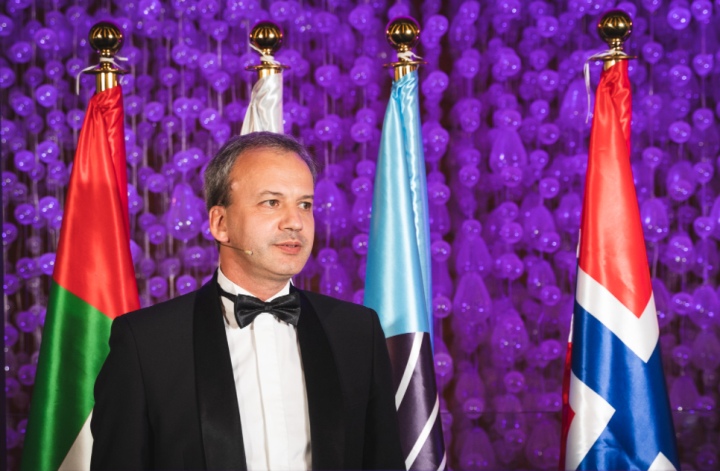 Insights
Both players agreed that even the proliferation of online blitz games flooding their databases could and should be examined in case they provided some inspiration for new ideas to add to their opening arsenal, and both were in total accord about the best advice for aspiring champions.
Ian: "I'll just try to say that you've got to enjoy what you're doing, and you should just enjoy what you do if it's chess or science or sports or basically whatever."
Magnus: "Enjoy what you do! If you're going to excel in a field, I think, at least my philosophy is, that that has to be the main component."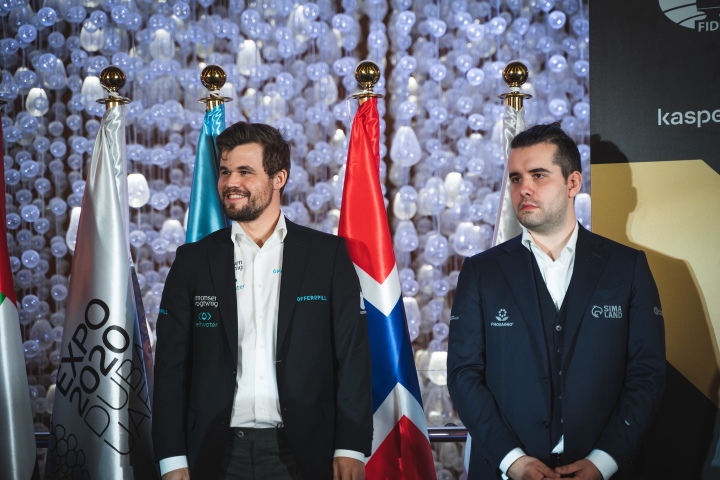 Colours
One question has become more topical now that the draw for colours has been completed, and that is whether the players would prefer to begin the duel with white or black. Nepomniachtchi had joked about this, saying that he would only prefer not to have 14 blacks and that 'hopefully the rules are strict so it will be more or less balanced'.
Magnus was more serious, and confessed that he probably slightly preferred to start with white for psychological reasons but didn't feel it made a significant difference.
In recent 12-game title matches, keeping any possible impacts of colour sequence to a minimum has meant that the alternation was switched mid-way, so that the person starting with white also ended with white, and the other player received two whites in a row in the middle. This year, with a 14-game match and an odd-numbered mid-point, the colours will simply alternate throughout.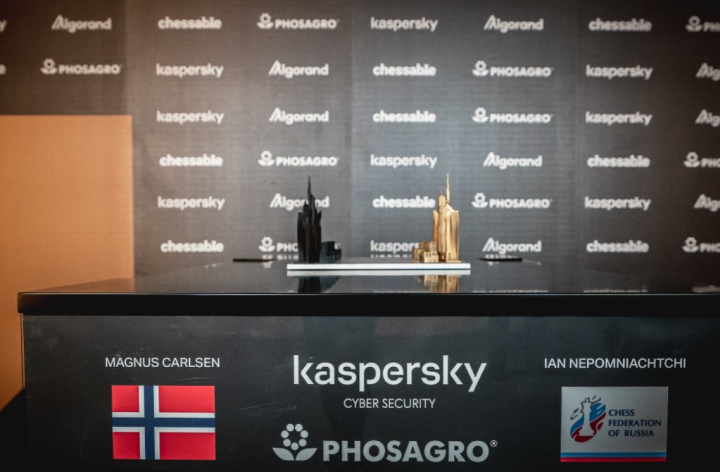 More sports
Why all this talk of whites? The subject can return again to sports angles to chess. One of the traditional ways the advantage of the first move has been 'translated' for a novice audience has been to compare it to having the serve in tennis. It seems far from ideal, though - serve is a huge edge, and there are no draws at set or match, so it is either decisive or disastrous.
A likely better analogy is that playing white is closer to home-field advantage in football (soccer), significant but less tangible, and one that the away side is often just content to neutralize and draw.
Countdown
Today, the final day of rest or preparation before battle, the players or their representatives should be inspecting the venue for those finicky but extremely important details such as the comfort and settings of their chairs, the lighting, noise levels. If not for the historic pioneering complaining of Bobby Fischer, these vital ingredients of optimal concentration would not be part of the pre-match organizational ritual.
And then, preparations should be complete, and the players ready to enter the ring.
Text: Jonathan Tisdall, Press Officer press@fide.com
Photo: Eric Rosen
Official website of FIDE World Championship Dubai 2021