Day two of the Saint Louis Rapid and Blitz kicked off with an all-decisive bloody round. Magnus Carlsen came back powerfully, winning all three games today after finishing day one with a fifty percent score. While the World Champion called his games from rounds four and six "gifts", he particularly enjoyed his round five win against Leinier Dominguez. Carlsen now sits on top of the leaderboard, a full point ahead of his closest rivals. Tomorrow is the last day of the rapid portion of the tournament, where each win is worth double the points.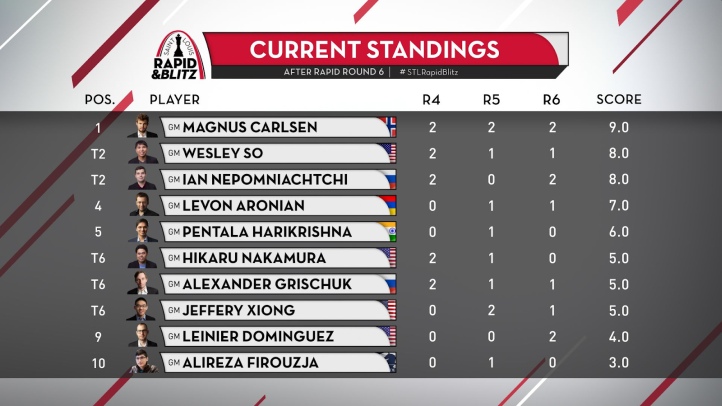 Round 4
The day kicked off with the crucial pairing of Carlsen vs. Aronian. The Armenian's opening experiment with the Grunfeld turned out disastrous as the World Champion held all the cards: a dominant center, better pieces, and the safer king. The win was quite effortless as Aronian's position simply fell apart.
Ian Nepomniachtchi leapfrogged Pentala Harikrishna and took the lead after outplaying the latter. The Russian's passed "d" pawn was a thorn in the position that became more dangerous as pieces were traded off. Ultimately, Harikrishna had to give up a piece to stop the pawn from queening and resigned a move later.
Wesley So joined Nepomniachtchi in the lead by defeating his countryman Leinier Dominguez. The game was extremely imbalanced with So attacking his opponent's king and Dominguez pushing his passed pawn. Dominguez' innocent-looking check misplaced his bishop, making the only defensive idea impossible.
Both Hikaru Nakamura and Alireza Firouzja were coming off of a difficult first day. The players reached a fresh position with an unusual pawn structure after trading queens in the opening. Nakamura got the upper hand by winning a pawn in the endgame, then picking up a few more. He gave up his rook for his opponent's passed pawn, but his pawn avalanche was too much for Firouzja's lone rook to handle.
Jeffery Xiong and Alexander Grischuk reached an interesting imbalanced position with two minor pieces against a rook but the game ended abruptly when the American teen blundered his rook.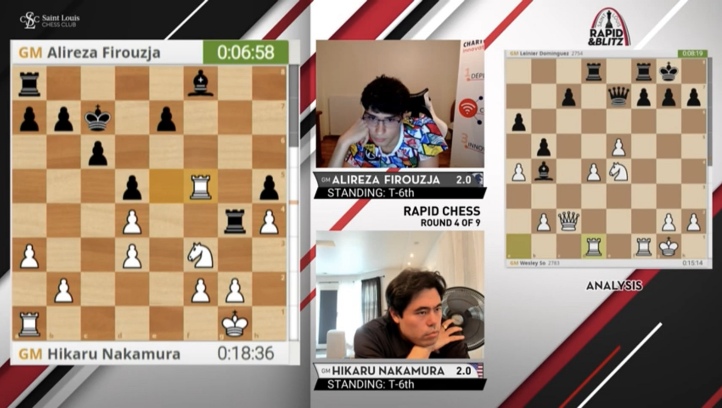 Round 5
This was the calm after the storm with only two decisive results. Carlsen was quite pleased with his victory over Dominguez, instantly spotting a beautiful rook sacrifice and taking advantage of his opponent's overloaded rook. The American resigned four moves later.
Xiong chose an unusual opening, the Alekhine Defense, against Nepomniachtchi in order to get a playable position. To his surprise, the game resulted in a 21-move miniature where he demolished his more experienced opponent. The Russian player suffered the consequences of a greedy pawn grab while leaving his king in the center.
Grischuk and Firouzja drew Nakamura and So respectively. Aronian had good chances against his former co-lead Harikrishna but was unable to make anything out of them.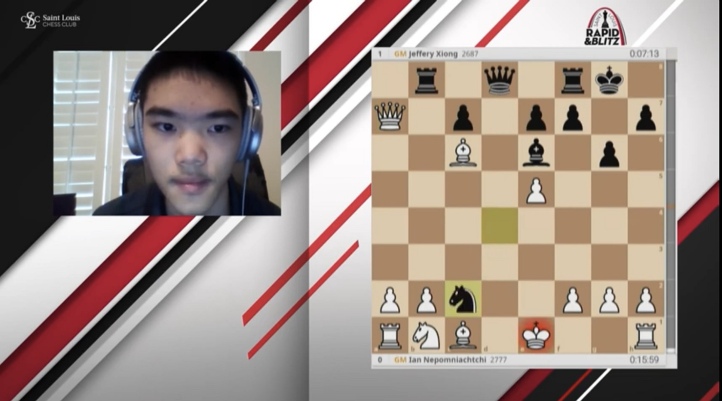 Round 6
Carlsen continued his winning streak, this time defeating Harikrishna. A one-move blunder cost "Hari" the game. His close rival Wesley So was not able to keep pace and fell a point behind after drawing Grischuk.
Nepomniachtchi joined So in a tie for second after defeating Nakamura in a tumultuous game. The U.S. Champion sacrificed three pawns but misplayed the position and found himself down material. As it was starting to look like Nakamura might escape, he grabbed a poisoned pawn and fell into a mating net.
Firouzja suffered his own heartbreak when he ran out of time in a complicated position against Dominguez. The game between Xiong and Aronian was a solid draw.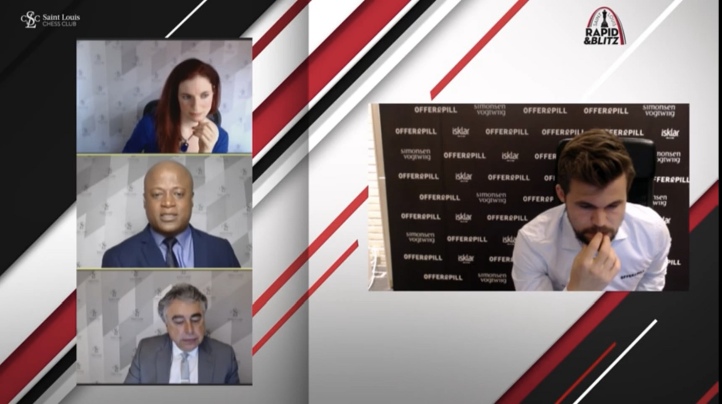 Text: WGM Tatev Abrahamyan
Photo: official website
Press Contact: Rebecca Buffington rbuffington@saintlouischessclub.org