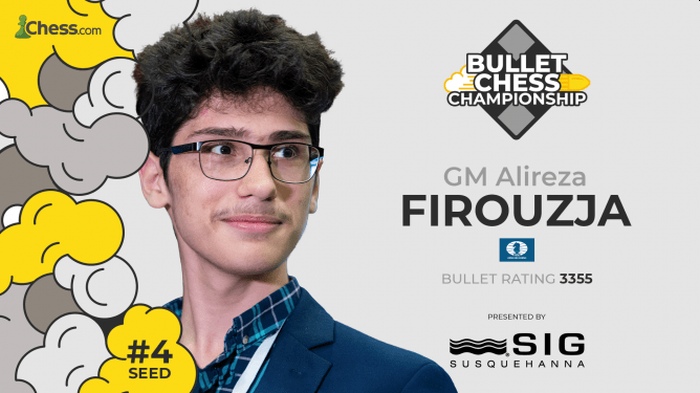 GM Alireza Firouzja won the 2021 Bullet Chess Championship presented by SIG. The Iran-born super-GM first eliminated top favourite GM Hikaru Nakamura in the semifinals and then was too strong for GM Andrew Tang in the final.
The Bullet Chess Championship presented by SIG ran April 5-7, 2021 on Chess.com among the very best bullet players on the planet. Only World Champion Magnus Carlsen was missing from an otherwise star-studded field. Firouzja earned $10,000 for his victory.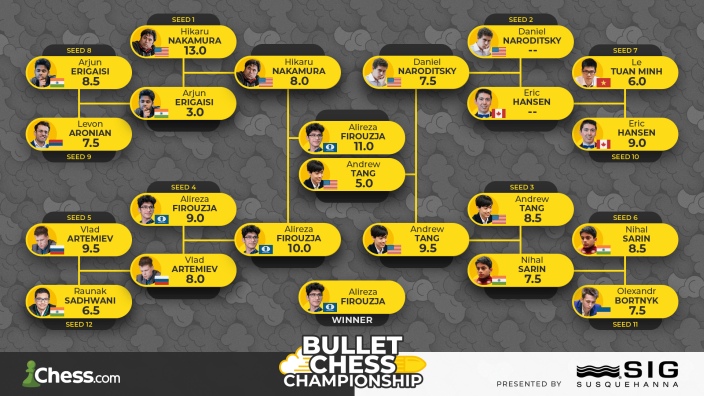 Semifinals
In the semifinals, the action started with GM Daniel Naroditsky, making his first moves in the championship, against Tang. Because GM Eric Hansen had to withdraw at the last moment, Naroditsky reached the semis without playing.
Charlotte resident Naroditsky didn't need much of a warmup as he took a 4-3 lead before the half-time break and later increased it to 6-4. Tang, however, levelled the score to 6-6 with incredibly fast play. As 7-7 was on the scoreboard with three minutes left, Tang convincingly won two games in a row to secure a place in the final.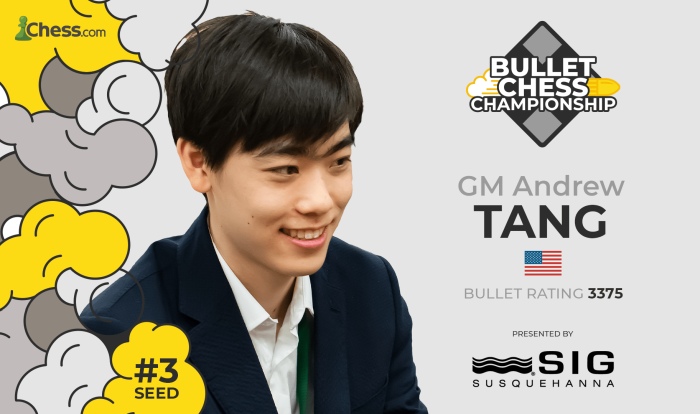 Right after, the much-anticipated match between Firouzja and Nakamura started. It was a repeat of the final of the Bullet Open Championship from the end of 2020 and also of the 2019 quarterfinal when both times Nakamura emerged victoriously. The American GM was definitely the slight favourite again, also because he had just beaten GM Arjun Erigaisi 13-3 the other day.
Nakamura had an excellent start and was about to go 3-0 when he blundered a piece and it was 2-1 instead. He still reached 4-1 anyway, winning game five in the nick of time.
With Nakamura leading 6-3 at halftime, few would have predicted Firouzja to win this match. However, the second half saw a completely different picture with the Iran-born prodigy winning that second "set," also nine games, 7-2 to take the match 10-8.
"[During the break] I thought I had to play more relaxed and play more like I'm playing every day against Naroditsky or like this," Firouzja explained his comeback. "That way I could have a chance, at least."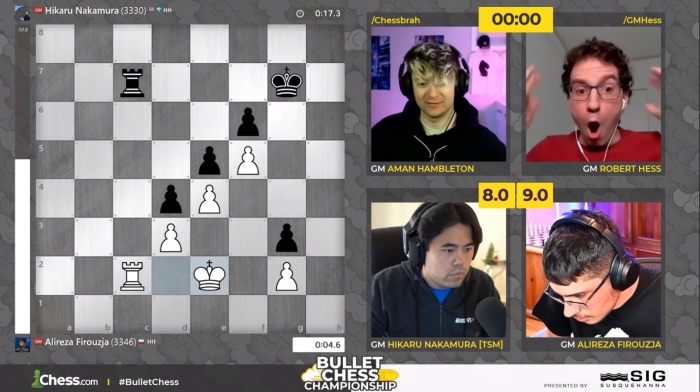 The end was an absolute nailbiter, with Nakamura winning a must-win game to make 8-9 with 21 seconds left on the match clock. Having double the amount of time (22 seconds vs. 11 for Firouzja) he seemed on his way to flag his opponent, make 9-9 and force a playoff. He also could have won a piece there but instead, he blundered his own rook.
"It was a bit of luck I guess, but overall I think I played good chess against Hikaru," Firouzja would later say. "The first games were a bit shaky but after that, it was pretty decent."
Final
Having taken such a huge hurdle, Firouzja then dominated the final against Tang. He won the first five games before Tang, who was sporting his Cloud9 jersey, could do something back.
Now known for his slow starts, Tang had come back from being down 5-1 the day before. This time, it wasn't going to happen as he simply couldn't get into top form while Firouzja is simply on fire these days – he also won the last two Titled Tuesdays.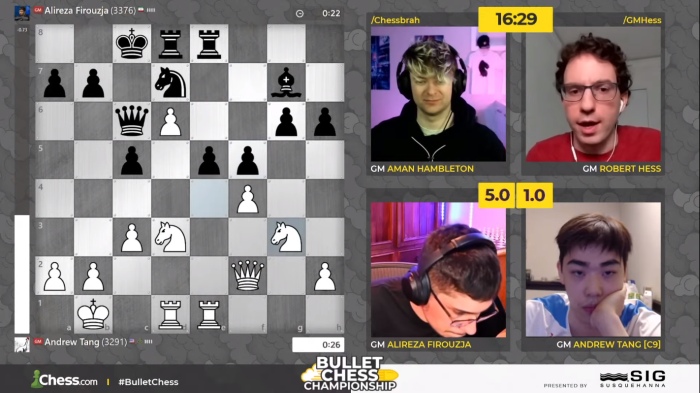 By winning the last two games, Tang could at least set an "acceptable" final score but the 11-6 didn't leave any doubts. Firouzja took the $10,000 first prize while Tang earned $6,000. Both Nakamura and Naroditsky won $2,500.
Firouzja definitely had his share of winner's luck as GM Vladislav Artemiev had him on the ropes in the quarterfinals and only needed to let the match clock run down for nine more seconds to win their match. Instead, the Russian GM resigned, allowing another game after which Firouzja eventually won.
Speaking after the final, Firouzka called that quarterfinal match "a miracle," adding: "I should have lost that, a 100%. I got lucky, I guess."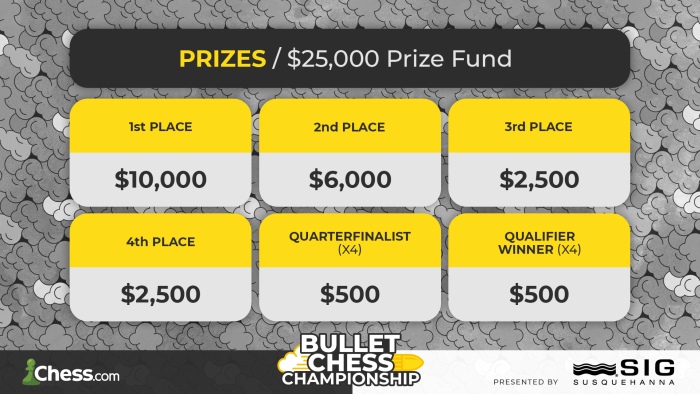 The 2021 Bullet Chess Championship is presented by Susquehanna International Group, LLP (SIG). SIG is a global quantitative trading firm founded with a growth mindset and an analytical approach to decision-making. As one of the largest proprietary trading firms in the world, SIG benefits the financial markets by providing liquidity and ensuring competitive prices for buyers and sellers. SIG brings together the brightest minds, the best technology, and an expansive library of industry data to design and implement qualitative trading strategies that make it leaders in the financial markets. Beyond trading, SIG is active in global private equity, structured capital, and institutional brokerage.
Text: Peter Doggers (chess.com)
Photo: Chess.com